You can duplicate any goal you have visibility into and assign the copied goal to yourself or someone else.
You can duplicate a goal you have visibility into and to assign the copied goal to either yourself or someone else. You do not need to be the owner or contributor of a goal in order to duplicate it.
There are two ways to duplicate a goal:
1. From your Goals Home page, locate the goal you want to copy. Click the three dots to the right of the goal and select Duplicate Goal.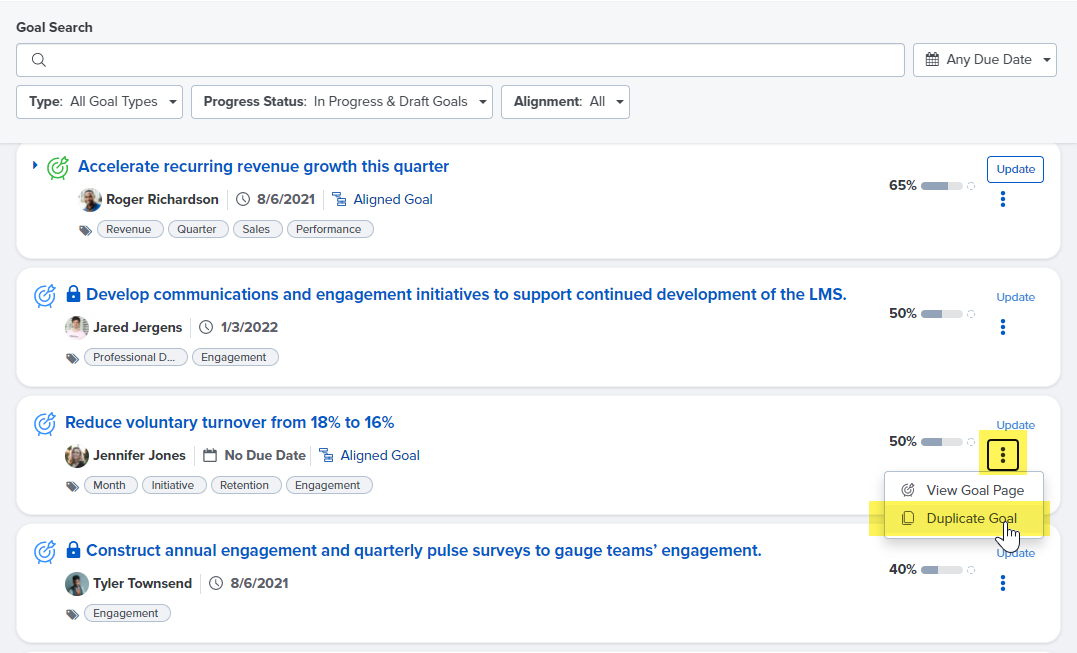 2. You can also duplicate a goal from within the individual goal page. To duplicate a goal, click the More Options drop down menu and select Duplicate Goal.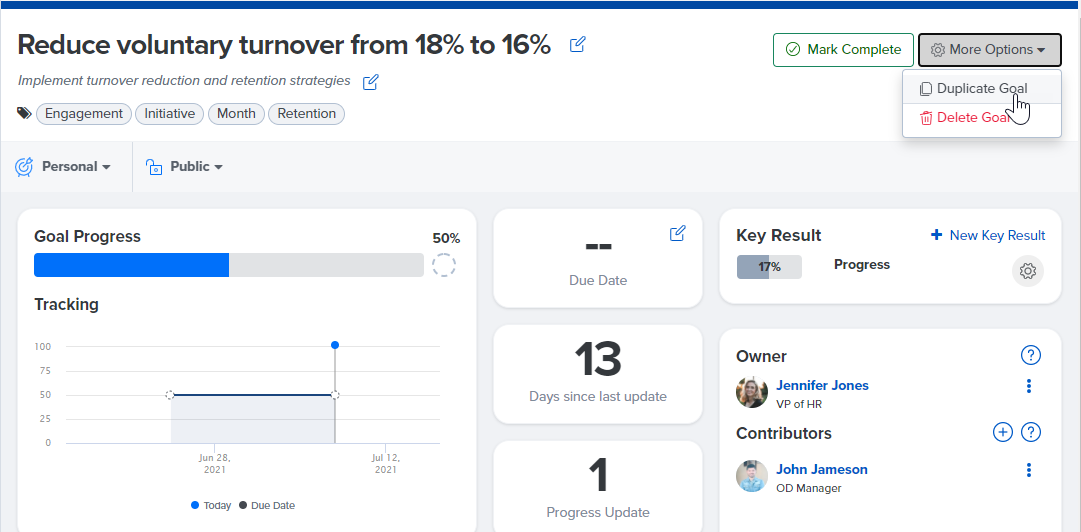 Once you've selected Duplicate Goal, a menu will prompt you to configure the goal that you've chosen to duplicate.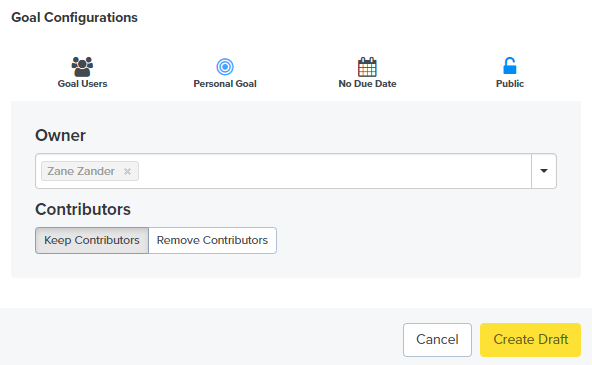 From here, you can edit any aspect of the goal, including the name and description of the goal, the goal owner, and the due date.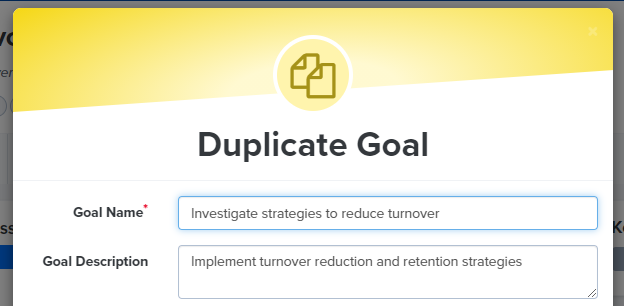 Whenever you duplicate a goal, you will be added in as the goal owner for that duplicated goal; however, you can remove yourself as the goal owner by clicking the X next to your name and adding in a new colleague as the goal owner.
You can also choose to keep the progress of the goal or to reset (clear) the progress made on the goal.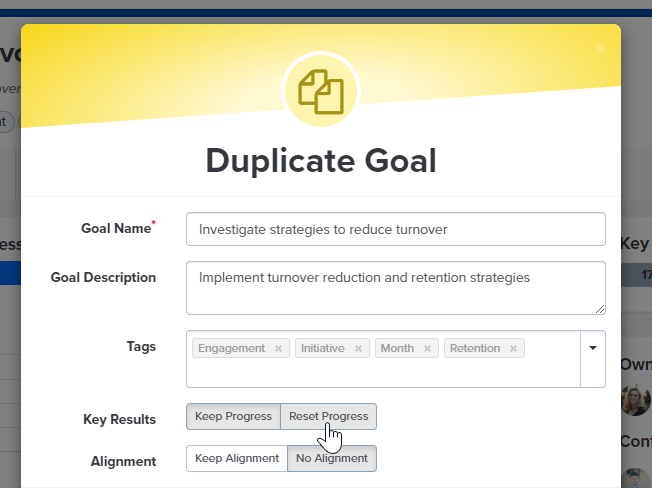 When you have configured the goal, click Create Draft. This takes you to the detailed page with information about the goal.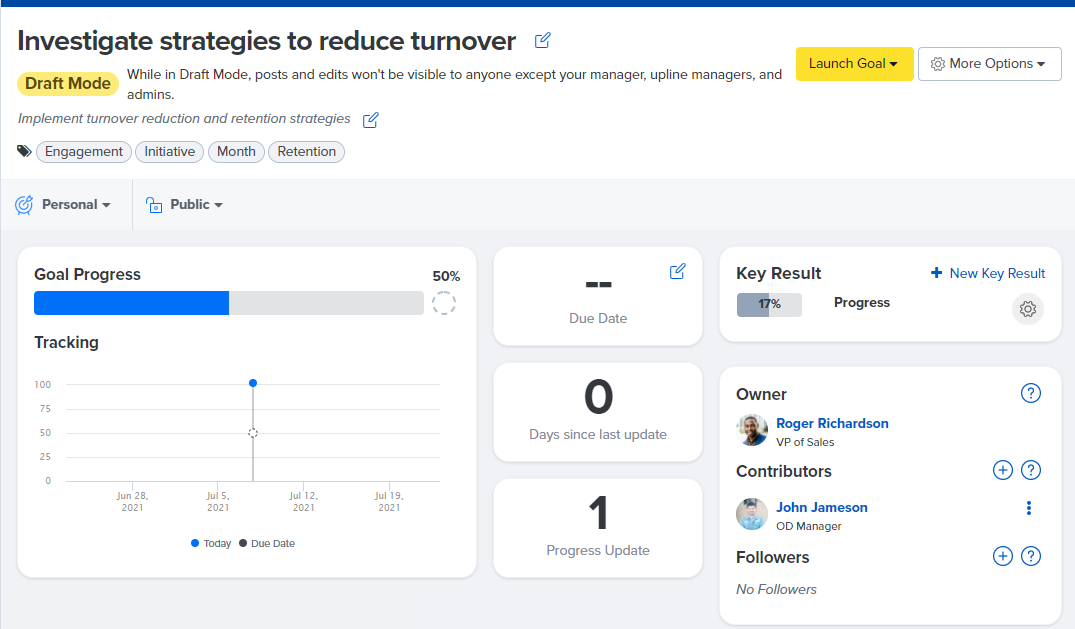 From this page you will launch your goal to officially mark that the goal is live (open) in Quantum Workplace. Click Launch goal and then specify whether you would like to keep the existing goal activity or "start fresh" to remove the transcript of activity that appears below the Recent Activity heading. Then, click Launch Now.