As an Admin or Focused Admin, you can send out a Pulse Survey to any subset of your employees, your entire organization, or even people outside your organization. There are two steps to launching a Pulse Survey. First, you will create a template, or question set, and then you will set up a cycle to invite people to take your survey.
IN THIS ARTICLE:
How to Build a Pulse Template
How to Launch a Pulse Cycle
How to Build a Pulse Template
From Administration, go to Surveys & Pulses.
Click Templates.
Select New Template.
Name the template; click Save and Continue.
Click the New Question button to begin adding questions. You can build the survey with Open Ended, Bullet Point, Multi-choice, Scaled, and/or NPS items.
The below example shows the setup for a Scaled item.
Enter the Question text.
Select "Show help text/description" if you would like to show additional clarifying details for the Respondents taking the survey.
Select the Category name to edit the Category that this question will appear under in analytics. If the item is a new question that does not come from the library, it will default to "Uncategorized". You can choose to add a Category for the questions you create, or you can use the Best Practices Questions that are pre-configured with Categories. You can choose to modify a Category for this template only or to modify the Category stored in the Question Library for all templates going forward. The Category will be invisible to the survey takers, but will appear in Analytics.
Select the Scale for the response options.
You have the option to make it a Required item.
Choose the setting for "Comment on response is..." follow-up item:

Required: The "Please elaborate on your answer" follow-up item will display and will be required.
Encouraged: The "Please elaborate on your answer" follow-up item will display but won't be required.
Optional: The "Please elaborate on your answer" follow-up item will not display, but there is an add comment button that you can click on to add the follow-up item.
Click Add Question once you're done with the item setup. You can also edit, move and delete the survey items once they're created.
Once you've finalized your content, you can click Preview to see what the template will look like to the survey taker. To make the template available to be used in a Pulse Survey, click Activate.
How to Launch a Pulse Cycle
To launch a pulse survey, you will create a cycle in which you will determine who should be invited to take the survey, when the survey should launch, and more details. Begin by navigating to Administration > Surveys & Pulses.
Click New Survey.
Select whether is it going to be a single cycle or an automated cycle. (Most surveys other than New Hire or Exit Surveys should be set as a single cycle).
Title your Pulse Survey.
Optionally, provide additional information about the cycle that you can include on the email invite and the top of the survey.
Decide if you want managers (non-admin users) to access analytics for their downline reports. Check the box next to Allow managers to access analytics... to enable this.
Choose whether the responses will be confidential or attributed. If they're going to be anonymous, you also set your minimum threshold for responses need to reveal results.
In the Advanced Options, you can select how your employees will access and take the survey.

Click Save and Continue.
Select your template. Note: You can also create questions in this step instead of using a template, but you will not get trending data unless you use a template. Click Save and Continue.

Add respondents to the survey. You can manually add users via the Add Respondents button, or upload survey takers' email addresses via Import Respondents.

Via the Add Respondents button you can either select specific individual employees, all employees, or all managers. You can also filter by specific user or demographic.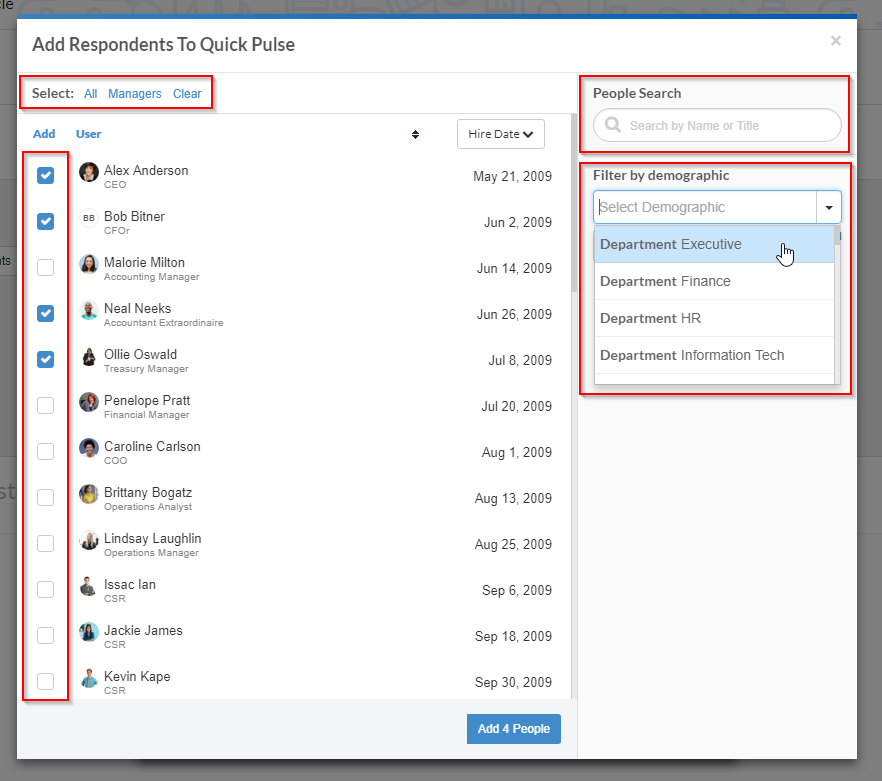 11. Schedule the launch. Note: You can edit the launch date and time, the reminder dates (including the number of reminders), and the cycle lock date and time. The cycle lock is the date when the Pulse survey closes; at this time, no one can take the survey. If you need to extend your Pulse survey later, you can always go back into your cycle and push that date out.

12. Schedule your Survey Launch. Click Save and Continue, then Schedule Launch.