As an Admin, you can send out a Pulse Survey to any subset of your employees, your entire organization, or even people outside your organization.
To begin setting up your Pulse Survey, navigate to the Surveys & Pulses page in Administration and click New Survey.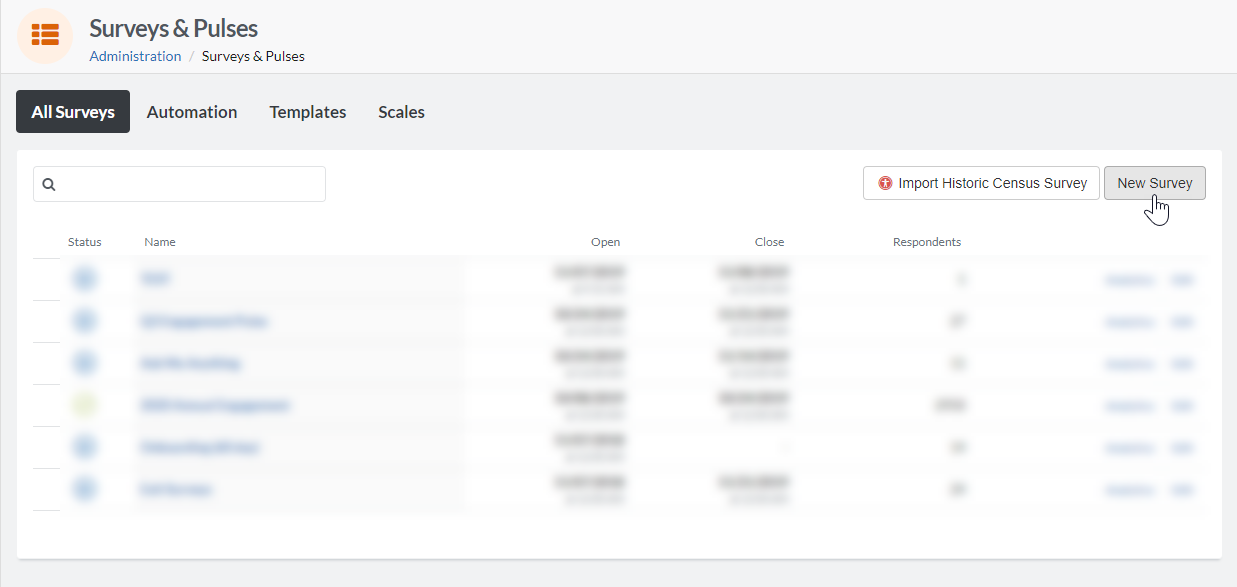 Selecting Your Template (Question Set)
Once you click New Survey, you will see a collection of best practice survey templates created by QW experts. Click on the survey you would like to use, or if you prefer, you can use any template that you've previously created. To access a template that you have created, click the tab titled [Your Company Name] Templates.

Select the template that you would like to use:


A preview screen will display the questions on this template. Click Use this template to continue.





Cycle Set Up

Once you've selected your template, you'll see the following screen:

Schedule: Keep the Survey set to Single unless you want to set the survey to go out on a recurring basis or create a New Hire or Exit Survey.
Survey Name: Add a title for your survey.


Note: The Survey Name will appear on the top of the survey that your employees take and in the invitation and reminder emails your employees receive about the survey.


About This Survey: In this field, provide additional information or instructions about the survey for your survey-takers if you would like to add information to the email communications and the survey. You must select Include in emails and survey? for this text to be visible to your survey-takers.





Manager Analytics: If you want managers (non-admin users) to view analytics for their down line reports, check the box next to Allow managers to access analytics for their hierarchy.


Advanced Options:



Confidentiality: Choose whether the survey will be confidential or attributed. If it's confidential, set a minimum number of responses need to reveal results.
Send email for new responses to: For attributed surveys only, you can choose to enter your email address (or a colleague's) in order to receive an alert when someone completes the survey.
Survey Access: Select how your employees will access and take the survey. If your employees have email addresses on file, leave this set to Email. If some of your employees do not have email, they will need to either enter their employee ID or enter a code generated by our system to take the survey (you will be able to download these codes in Step 3: Respondents).


Once you're finished entering the above information, click Save and Continue.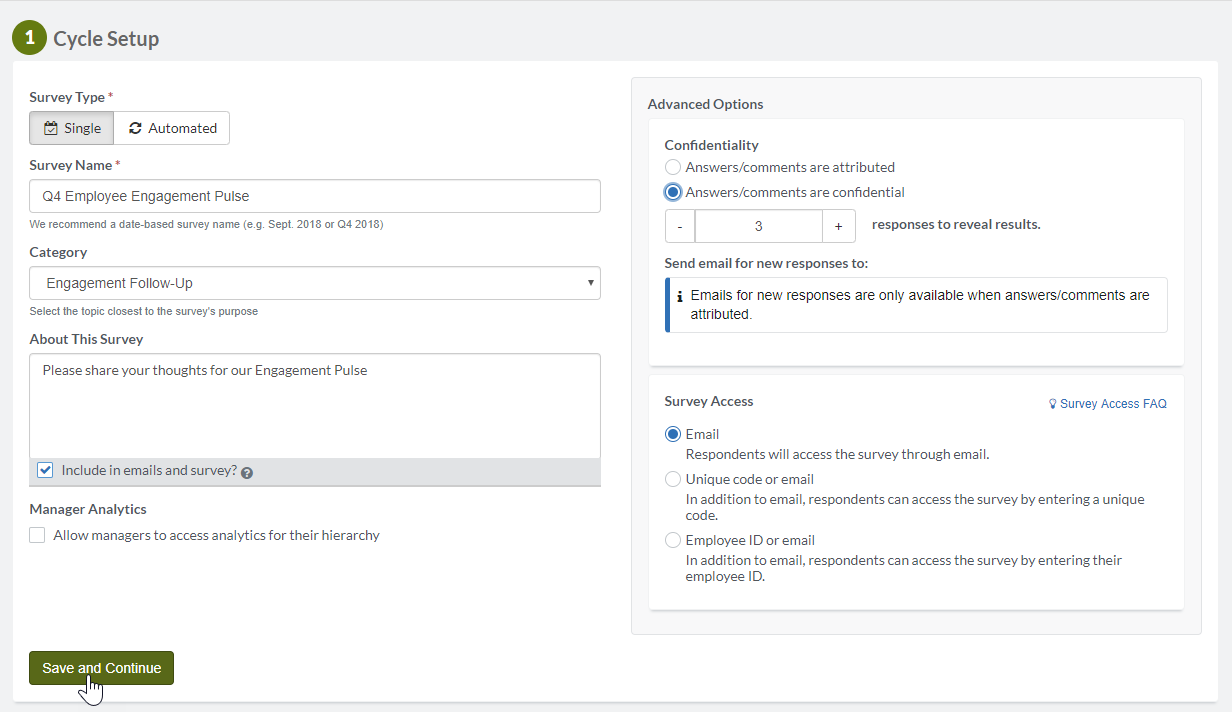 Review Questions

The resulting screen will display all survey questions from the template you've created or added. Scroll down and select Save and Continue.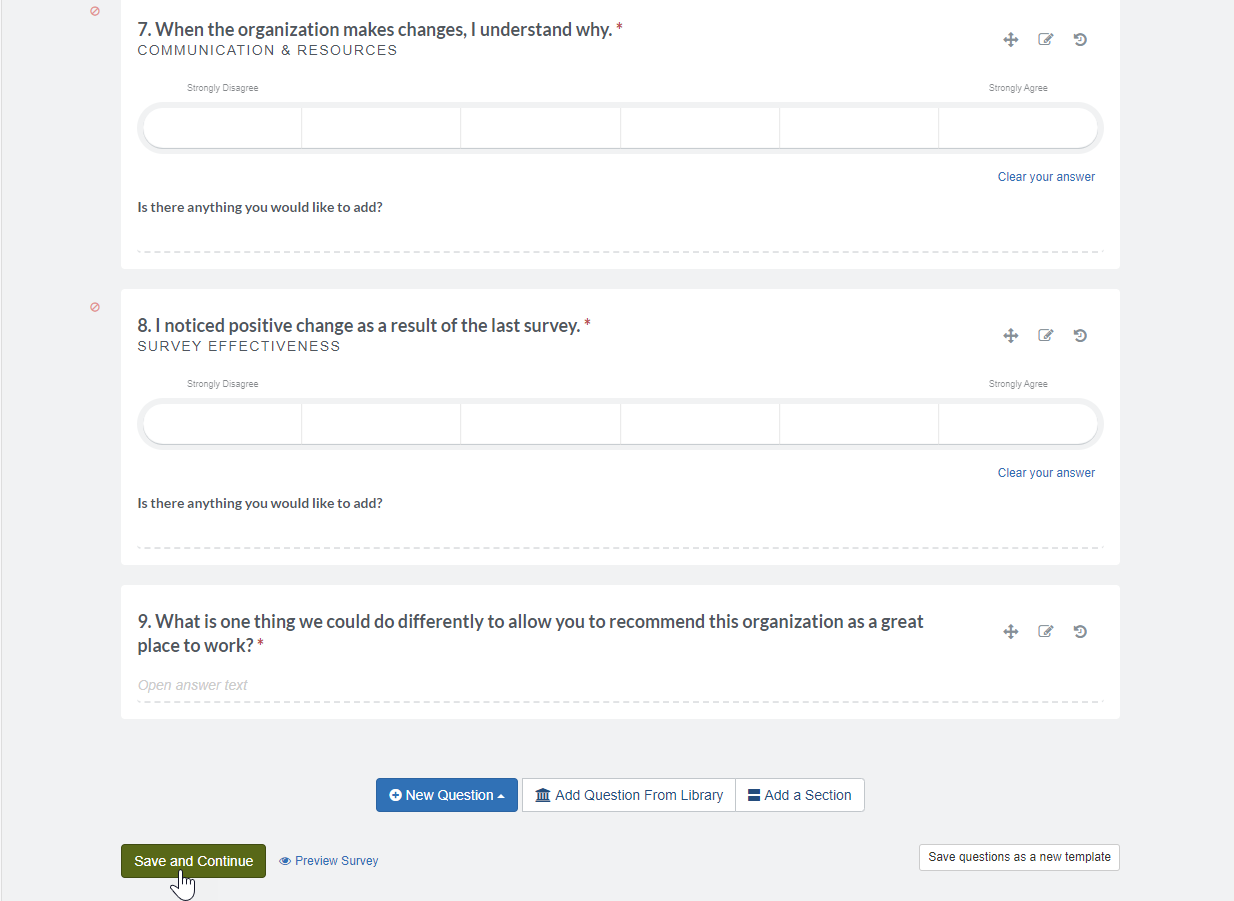 Respondents
In the Respondents section, you'll decide who should be invited to take the survey.

To invite your employees to take the Survey:


Click
Add Respondents
. From here, you can invite specific individual employees, all employees, or all managers to take the survey.
You can use the People Search and Filter by demographic functions on the right side to search for a particular employee or department to add to the survey. Click the
Add # People
button and then
All Done
to advance.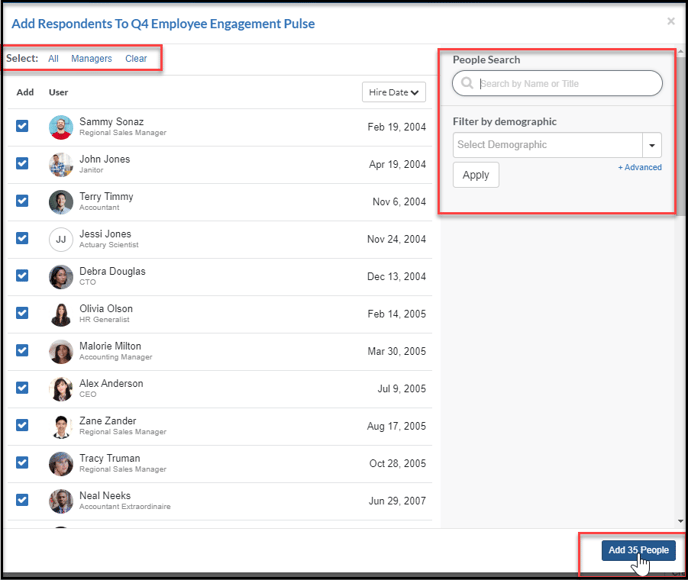 PRO TIP: Want to import email addresses for your employees to invite them to take the survey? Click Advanced under the Filter by demographics header in the Respondents section to paste in employee email addresses to invite them to take the survey. (The Import button works for external users only).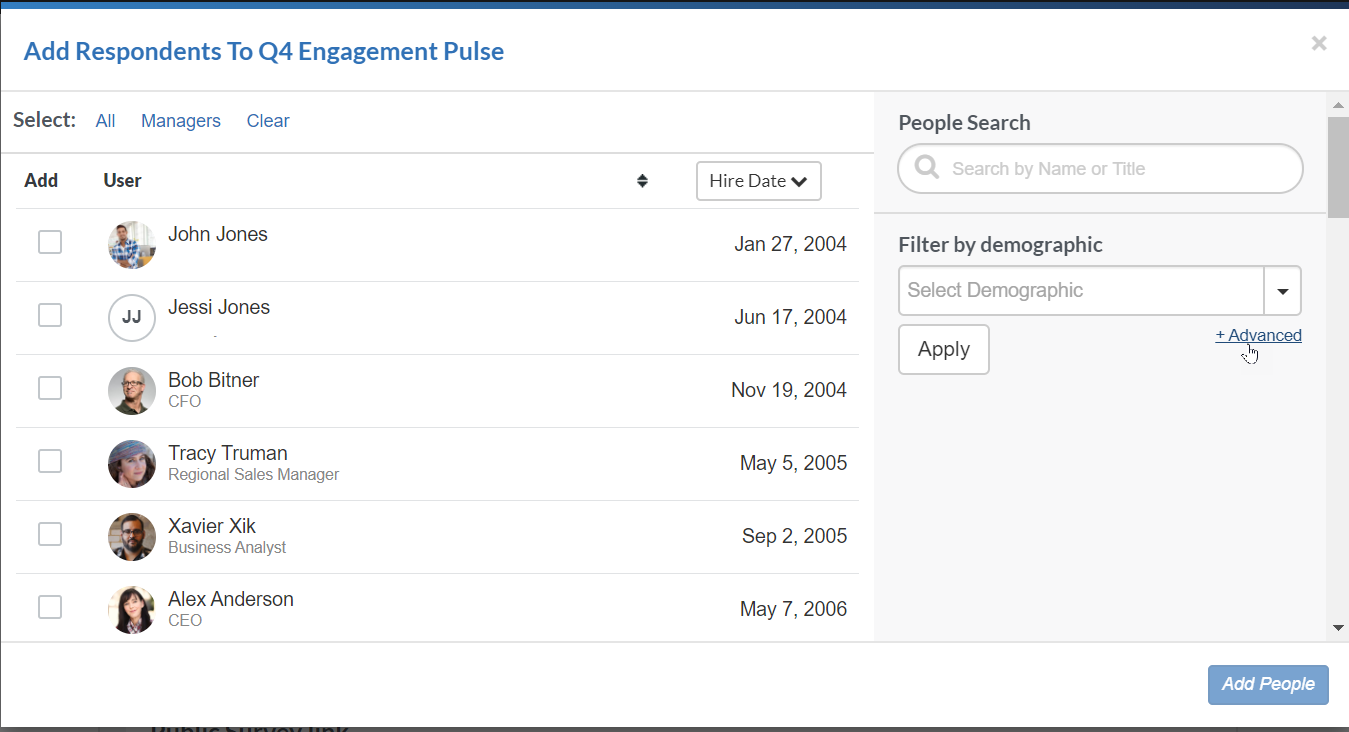 To invite people outside your company to take the survey:


Click the Import Respondents button. Then, paste in the email addresses of anyone you would like to invite to take your survey. Click Import to save.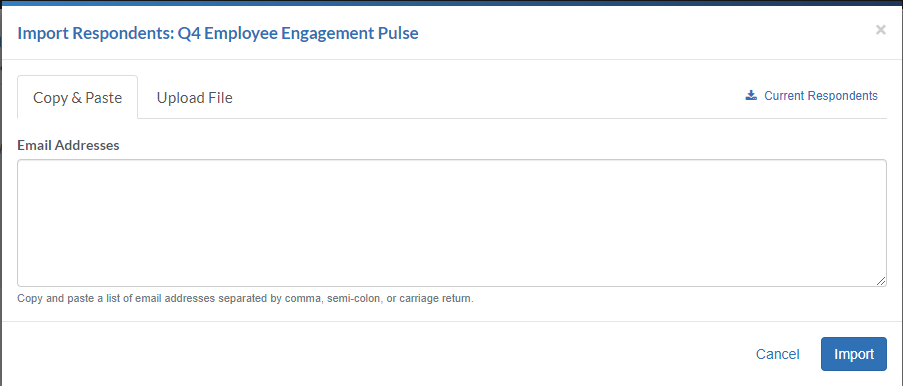 Set Survey Dates and Launch

The Set Schedule & Milestones section is where you select the dates for your survey and schedule the launch.
Cycle Launches: Set the date and time you would like the survey to officially open; if your employees have email addresses, this is the approximate time that emails invitations will be sent to them. Please note that our software may send email invitations to your employees in batches (waves) and that the time you select is approximate.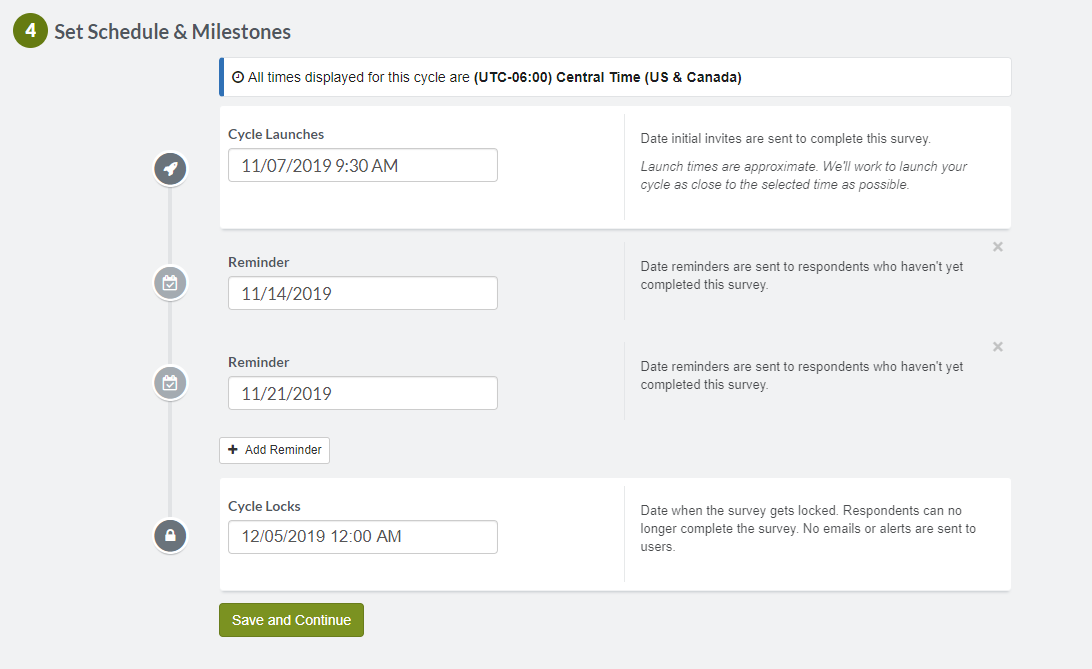 Reminder: Select the dates that you would like reminder emails to send, if applicable. Or, click the X to remove reminder emails.
Cycle Lock Date: Set the close date for the survey (the date on which people are no longer able to take the survey.)


You can edit the launch date and time, the reminder dates (including the number of reminders), and the cycle lock date and time at any point before those dates occur.
Finally, click Save and Continue and then click Launch (if you have set your survey to launch immediately) or Schedule Launch.