How to Change Your Account Settings
You can open your Account Settings via the drop down menu in the top right corner under your name.

From your Account Settings you can do the following:
Change your Time Zone
Change Your Password
Upload a Profile Photo
Specify your Email Preferences
General Tab
From the General tab you can update your time zone, password, and other account details. Please note that if your organization utilizes an HRIS integration with Quantum Workplace, certain details such as your name, job title, and email address will be overwritten by the HRIS integration the next business day. If this occurs, please contact your HR team for assistance.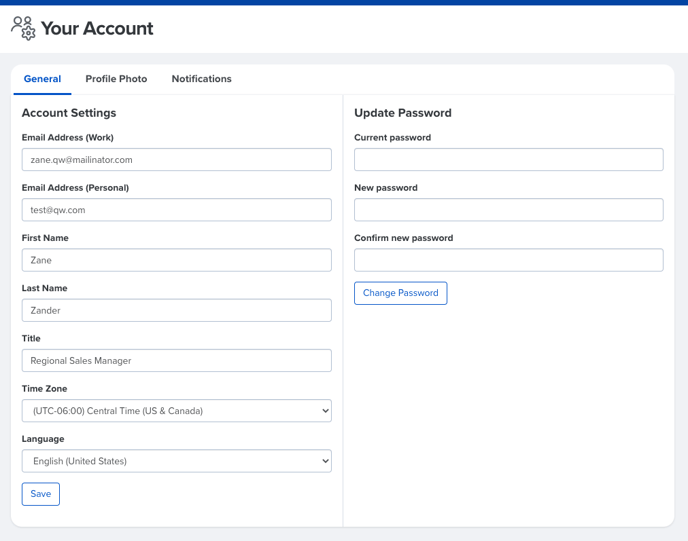 Change Your Profile Picture
From the Profile Photo tab you can upload a photo.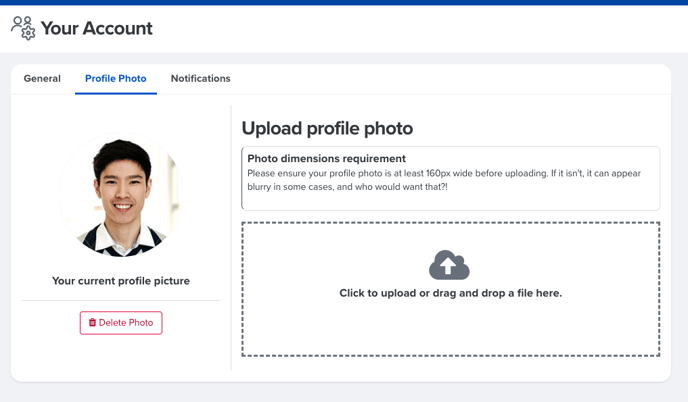 Note: Your image size is limited to 5MB, and ensure your image is at least 80px wide before uploading, otherwise it will appear blurry.
If you delete your profile picture, your initials will appear throughout the site where your picture did before.
Notification Preferences
From the Notifications tab, you can specify where you would like to receive your notifications, the frequency of notification delivery, and which notification summaries you would like to receive. You can learn more about your Notification Preferences in this detailed article.