As an admin, empower your employees to act on survey results with Action Plan Assignments.
In this article:
Overview
Action Plan Assignments allow you to add users to act as Action Plan Owners or Viewers at specific nodes or for people within the automatically generated Manager Org Tree or any custom org tree.
As an admin, you can configure who has what Action Plan permissions, as well as where those assignments apply within the org tree of choice.
Learn more about Action Planning.
Action Plan Assignments
There are two different assignments for an action plan. Each assignment has specific functions and permissions when managing an action plan as explained below.
Action Plan Owners
Action Plan Owners can:
Add Insights and Action Items to their Action Plans
Mark Action Items as complete
View the team's results
An Action Plan can only have one Owner at any given time.
Action Plan Viewers
Action Plan Viewers have visibility into a team's results including the action plan but can not edit the action plan.
Note that Viewers are not displayed on the Action Plan as Owners are, even if they have active Viewer assignments.
Assign a User to an Assignment
As an admin, to assign a user to an assignment: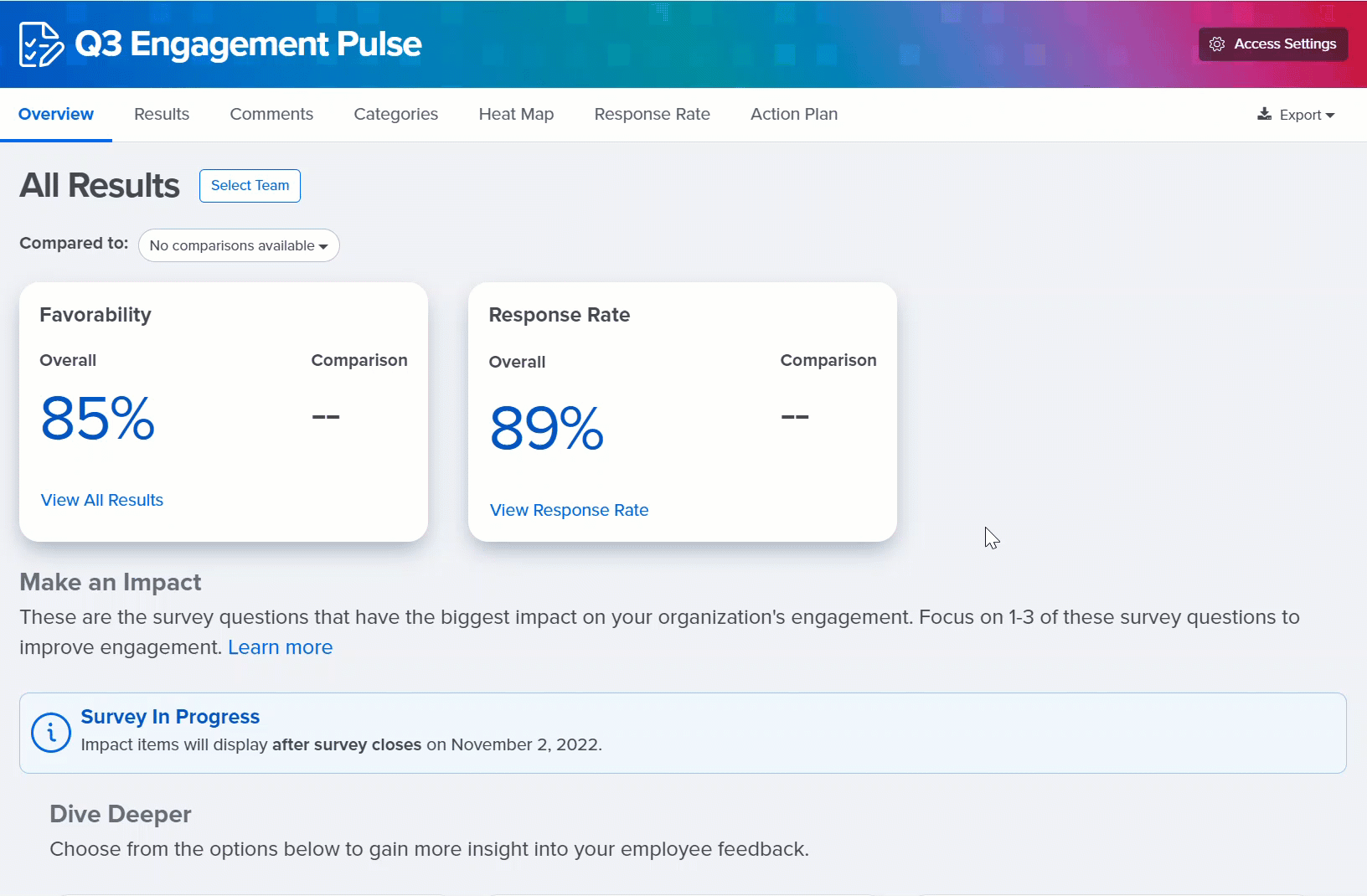 From the Analytics drop-down menu in the left-hand navigation menu, click Surveys & Pulses
Click the survey in question
Click Access Settings in the top-right corner
Click the appropriate org tree, whether it be the automatically generated Manager Org Tree or a custom org tree created by your organization
Expand the tree and identify the node/branch that the assignment should apply to
Click the Edit icon at the end of the node
Enter the name(s) to assign them to the selected node
Under Role, use the drop-down menu to select the appropriate Role
Under Action Plan, use the drop-down to select the appropriate Assignment

the Role must have Action Planning enabled to be given an Assignment for the Action Plan

Click Save
All Results
All Results refer to an action plan at the organizational level.
The action plan at this level is managed by the Action Plan Owner of the All Respondents assignment.
Additional users may be added to the All Results action plan as Action Plan Viewers but there can only be one Action Plan Owner at any given time.
Switch Between Action Plans
If a user is the Owner of more than one Action Plan, use the Select Action Plan drop-down menu in the Action Plan tab to switch between Action Plans.