How to Assign a Goal to Someone Else
Have you created a goal, but you want to assign it to someone else? Find the goal you want to edit (via Home, Goals, or your profile). On the right side of the Goal page there will be a list of contributors and observers.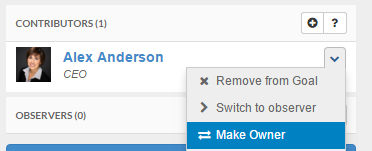 From here, you can select the contributor or observer you want to make the new owner. If they do not appear in the list of contributors/observers, you may add them as either a contributor or observer and then switch them to owner.
The current owner of the goal, as well as, a system admin or an up-line manager can assign a new owner in this way. The admin and up-line manager do not need to be a part of the goal to change the goal's owner. This is true for Personal, Team, and Organizational goals.