In this Article:
What are Highlights?
Who can Create Highlights?
Who can View Highlights?
What Data can be used to Create a Highlight?
What are Highlights?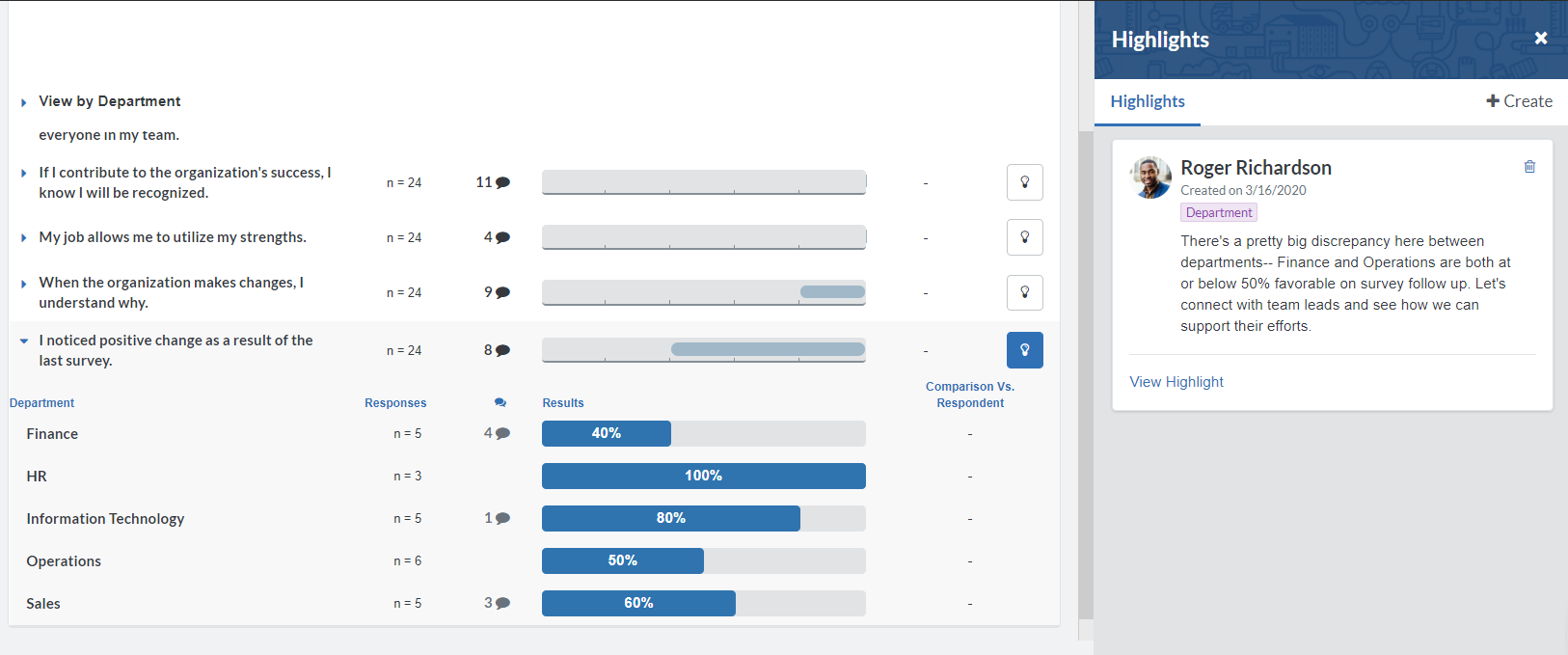 Highlights are essentially bookmarks for your survey data that allow you to save a specific item on the survey that you want to call to your colleagues' attention or revisit later. Highlights can be created for survey items with or without any slices, filters, or comparisons, and can be added to scaled, multi-choice, NPS, and rank items. For example, if you notice a large disparity in how different departments answer the survey item, "I know I can count on my team," you can apply the department slice to that item and highlight it in order to call your colleagues' attention to the gap between departments. You also have the option to add a comment to any highlight you create so that the reason you bookmarked that survey item is clear to yourself and your colleagues. Once you've added a highlight, anyone who has visibility to that survey data will be able to see that you've
highlighted that data point and read any context that you've written to accompany it.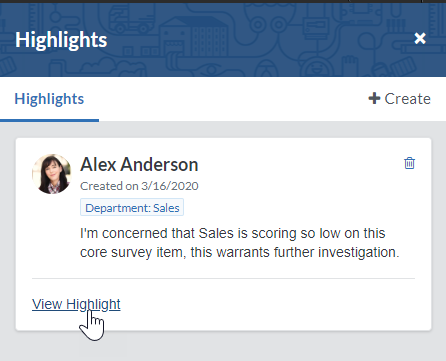 All highlights that you add will be saved to the new Highlights tab so that you and your colleagues can view the data point associated with them at any time. To view the data points associated with any highlight (which includes the survey item and any saved slice or filter), click View Highlight.
Who Can Add Highlights?
Admins and managers who have analytics enabled for a particular Pulse can add highlights. Highlights will be attributed to the person who created them-- each highlight includes the name and avatar of the person who added it.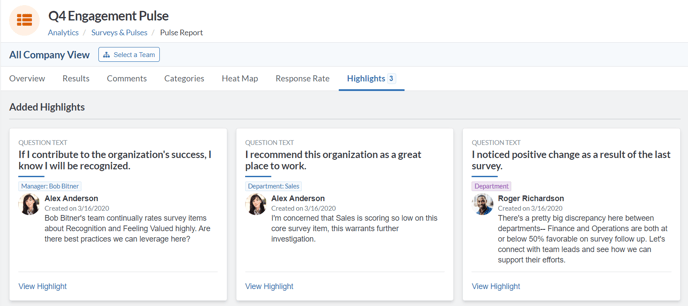 Who Can View Highlights?
The purpose of Highlights is to get teams on the same page about which data points to focus on. Because of that, highlights are not private to you-- they are visible to your colleagues.
Top-Level Admins can view all highlights, regardless of who created them.
Analysts can view all highlights, regardless of who created them.
Managers' visibility into highlights is based on their position in the manager hierarchy. That is, managers can see all highlights that were created by anyone in their downline.
Managers cannot see highlights created by their upline managers or an Admin unless that highlight is specifically about their own team's data. That is, managers are only able to see highlights made by Admins if the Admin has created a highlight specifically about the manager's team's data, using the Team Select button.
When you view Highlights, you can flip the toggle Show Only Your Highlights on to narrow your view to just highlights that you have created.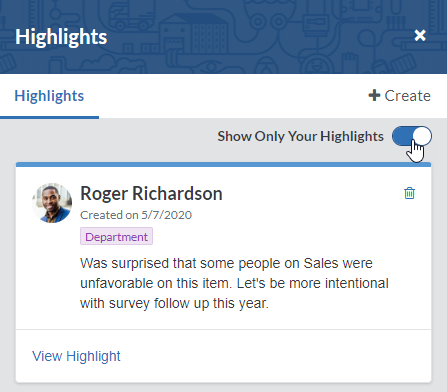 What Data can be used to Create a Highlight?
Currently, any data visible from the Results tab can be used to create a highlight. This means that you can create a highlight about any scaled, NPS, multi-choice, or rank item. Data located on the other tabs cannot be used to create a highlight at this time.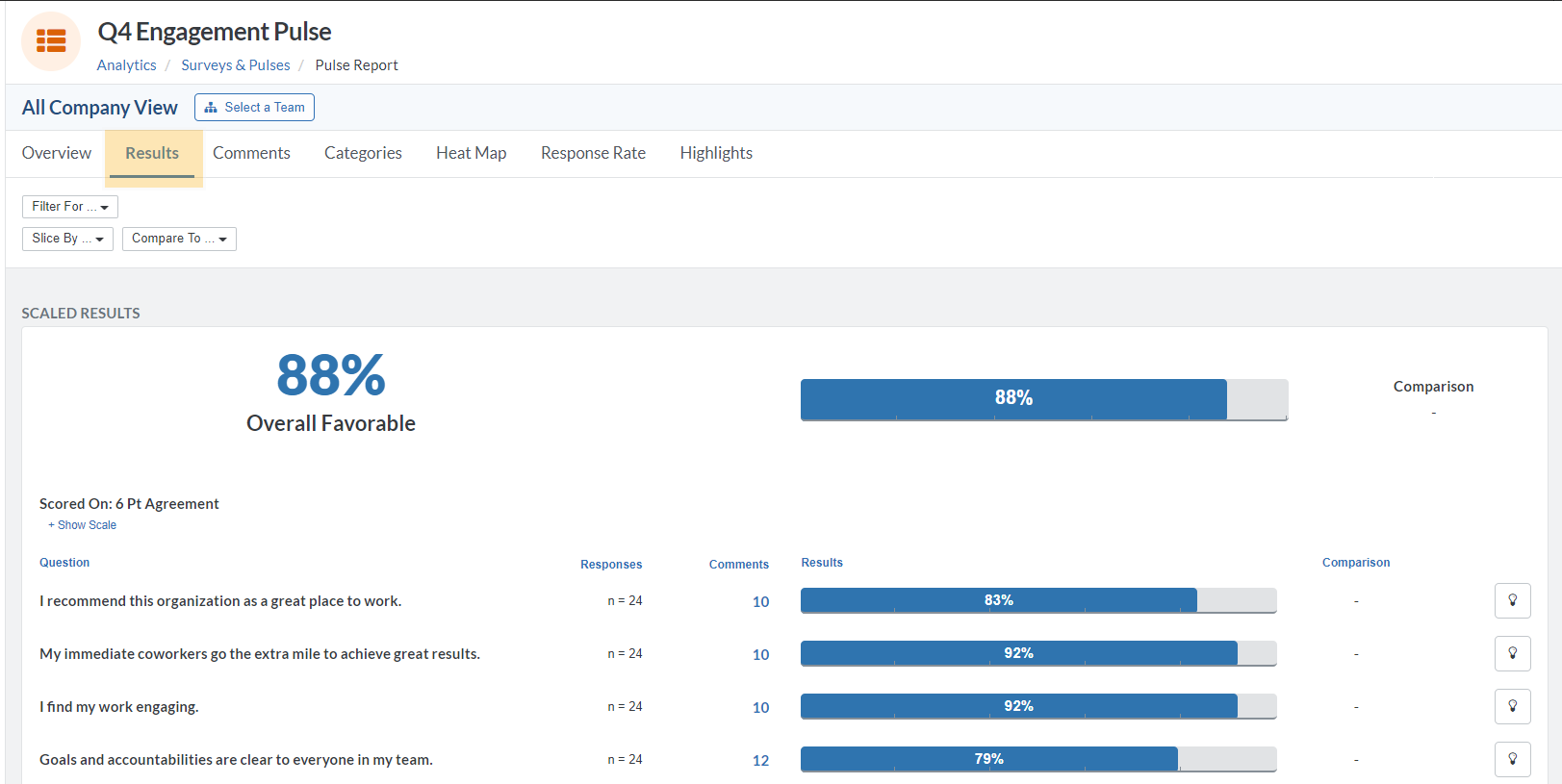 Within the Results tab, you can apply a comparison (e.g. a benchmark), slice, filter, or some combination thereof and then select a specific survey item with all of those comparisons/slices/filters applied to create a highlight: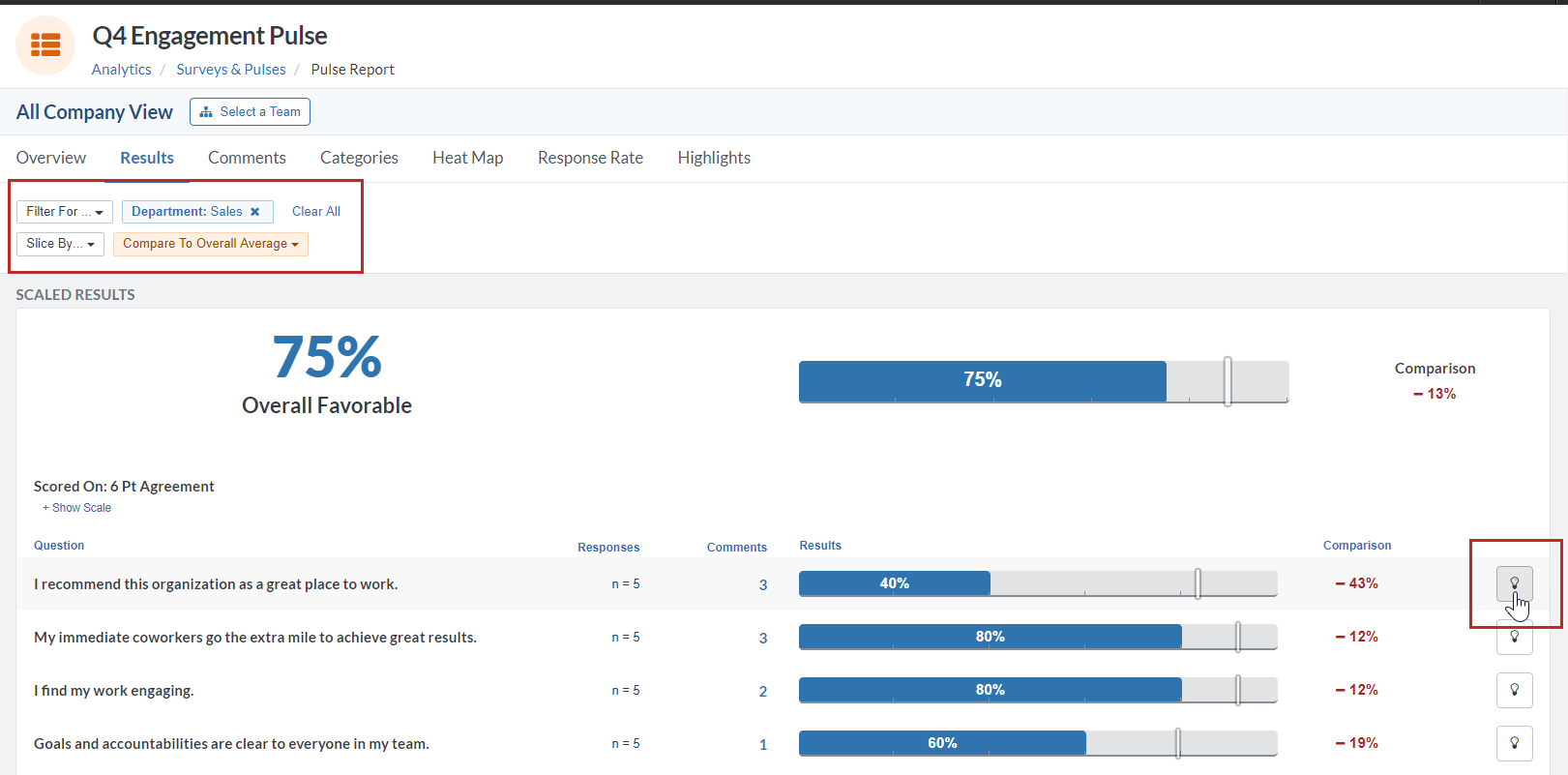 That said, you do not need to apply a slice, filter, or comparison to create a highlight; you can create a highlight for any survey item from the Results tab without adding a slice, filter, or comparison. In addition, you can add multiple highlights for a single item.