There are two ways to sort goals: tags and categories. Goal tags are employee-level sorting. Goal categories are admin-controlled labels that are placed on goals to give a high-level look at goals in each category important to the company.
In this article:
Goal Tags: Searchable terms that employees can add to their goals to help them categorize their own goals.
Goal Categories: Admin-created and controlled categories that employees can add to their goals to help create a high-level overview of where the company's goals are focused.
Goal Tags
Goal Tags are searchable terms that employees can add to their goals in order to help categorize goals as relating to an overarching theme or strategic initiative.
Admin users can add goal tags to all goals, while employees can only add tags to the goals that they create or own.
All users have the option to add goal tags to any goal that they create. To add goal tags, click Tags in the first step of the Goal Wizard, the Name & Type page.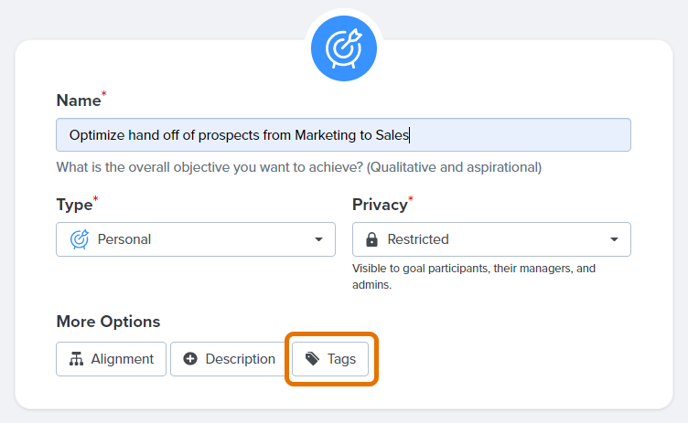 Next, type in the text of the goal tag you would like to add. Any word or phrase can be used as a tag. You can add multiple tags by clicking Enter on your keyboard after each tag.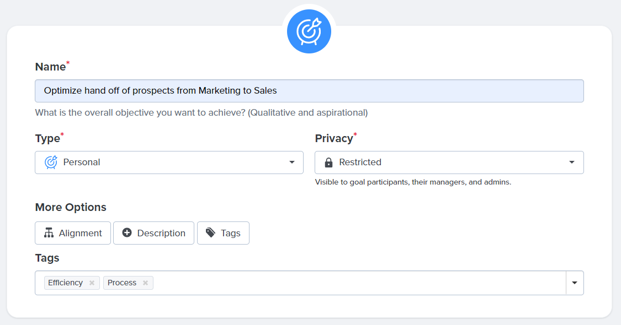 Goal owners and Admin users can also add tags to a goal at any time from the Goal Detail page.
To add a tag, click the existing tags at the top of the goal page and type in the text of the new tag you would like to create. Then, hit the enter key and click Save to add the tag.

From the Goals home page, you can search for all goals that include a particular tag by using the Goal Search menu at the top of the screen. Simply type in the tag you would like to search for and click on the Tag when it appears in the menu.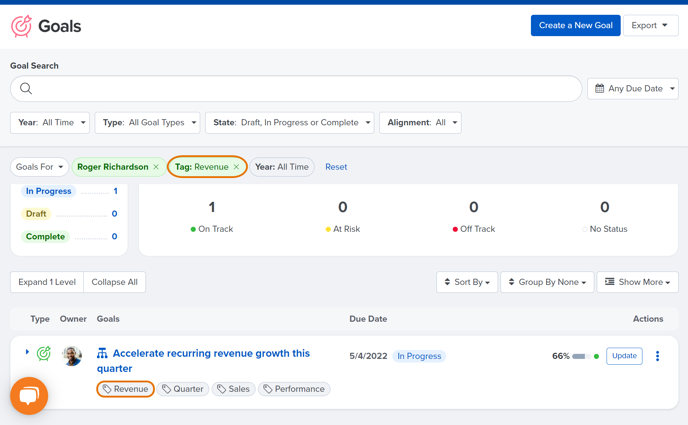 Note: By default, your view of Goals will include goals that you are personally affiliated with only.
You will need to remove the filter with your name in order to view all goals throughout the organization that include the tag you are searching by.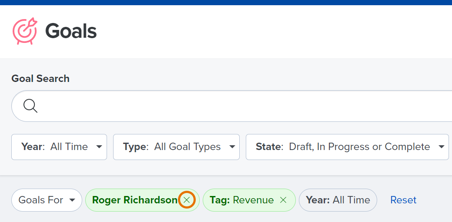 Goal Categories
While tags are great for employees, each employee can tag their goals differently. For example, a "Sales" goal can be tagged as "Sales", "Sales Goal", "Saels", and more. There isn't a restriction on what a tag can be.
Goal Categories, on the other hand, are created solely by admin users and will be associated with goals created by employees.
To create a goal category, as an Admin, navigate to Administration in the left-hand navigation menu followed by Goals. Then, click Goal Categories before clicking the Create New Category button.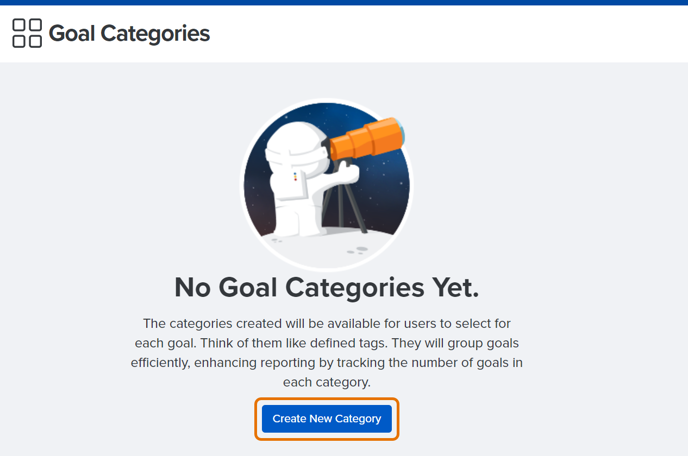 When creating a goal category, the admin names the category and can add translations if any additional languages are included. For the category to be able to be added to a goal, click the Enabled? toggle on.
Here, we're creating an active goal category for "Sales" with one translation: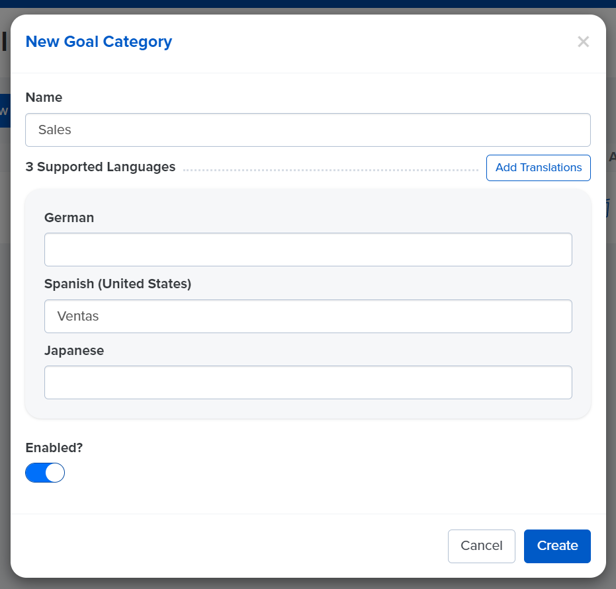 You will immediately see your category in the administrative list of Goal Categories. For now, admins or employees who own the goal will be able to go in and place their goal in a category on the Goal Details page.

Employees can click the Categories icon to select an active category or deselect a category. A goal can only have one category selected. There must be at least one category for users to choose a category.
After a category is selected, the category will show on the Goal Explorer page.

Categories are also searchable. As you type out your category, they will appear in their own category.