In This Article:
Why Use Goals?
Most organizations set goals in some form to measure organizational performance, but goals are about more than your company's bottom line. As an employee, setting an effective goal can help you focus your attention on what is most important and prioritize your workflow accordingly.
Using Goals in Quantum Workplace can help give you visibility into how your colleagues are contributing to the organization's success- and conversely, can help bring your contributions to light.
Goals Page
To view and create goals, click Goals from the panel at the left.

Your Goals Page will display any goals that you are associated with i.e. goals that you own or have been given visibility into. If your organization is new to using Goals, you might not be associated with any goals yet. In that case, this page will be blank for you.
If you have already been added to goals, or if someone at your organization has created goals on your behalf, your Goals Home will display all of the goals that you're associated with. You can click on any goal to view the details for that goal.



Creating Goals

To create a goal, click the Create a New Goal button in the top right corner of your Goal Home Page. This will take you to the Goal Wizard that guides you step-by-step through the goal creation process.
Your progress is automatically saved as you progress through the goal. If you have to leave the session and return, you will resume from where you left off.
Name & Type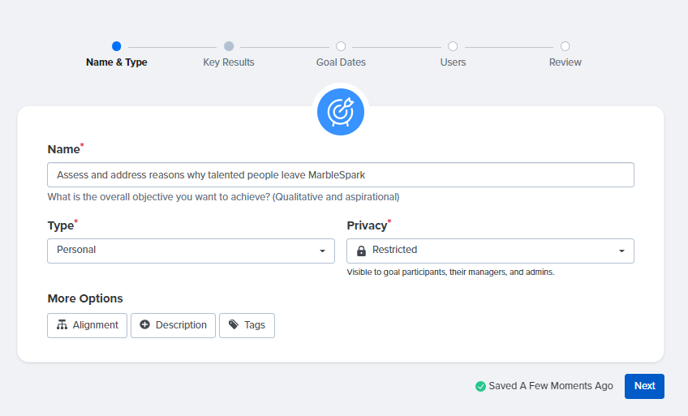 On the first page, enter and select the Name, Type and Privacy options for your goal.
After entering the name of your goal, click Type and expand the dropdown menu. Depending on the scope and purpose of the goal, choose from four options:
Developmental: Personal growth of a skill or competency, i.e. scheduling 1-on-1s with mentors, reading industry-related books, etc.
Personal: Goals set for yourself or individuals within your team to accomplish larger tasks and projects.
Team: Goals set for an entire team that reflect everyone's collaborative effort.
Organizational: Goals set for an entire organization.
Next, click the Privacy dropdown and select whether your goal is to be Public to your organization or Restricted, accessible to yourself, goal participants, their managers and administrators.
Under More Options, you have the optional abilities to enrich your goal:
Alignment: If your goal directly relates to an existing goal, you can choose to align your new goal to the existing goal for added visibility.
Description: Enter a brief description of your goal and its intended impact on your team and organization
Tags: Use Tags to add keywords to your goal to make it easier to organize and search for this goal.
Click Next to continue to the next page.
Key Results
On this page, you will enter the Key Result(s) for your goal. Key Results are the actions you have to take to accomplish your goal. Each Key Result should be separated to easily manage and track your goal progress.
In the Key Result field, enter your Key Result action. Then enter the starting and target values under Start and Target respectively. Click Unit to expand the dropdown and choose the measurement method best suited to your goal: percentage, numerical or dollars.
If the unit of measurement is Complete/Incomplete, the Start and Target value fields will be grayed out as the Start and Target values don't apply.
The Tracking field displays how the key result will track your goal based on the information you entered. Review this field to ensure the key result reflects your intention.

A: Click the + icon to add another key result
B: Click this icon to duplicate the selected key result
C: If you need to delete a key result, click the Trash icon to delete the key result.
Once you have entered the key results necessary for your goal, click Next.
Goal Dates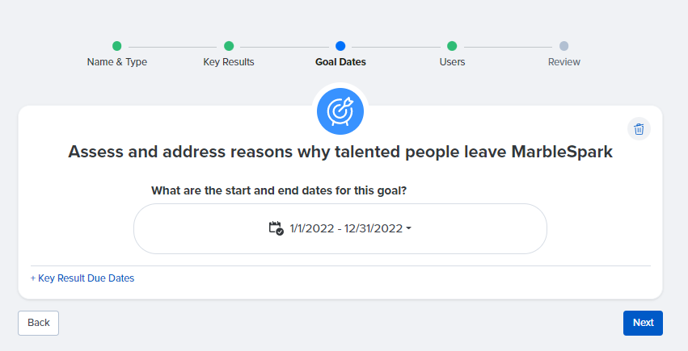 On this page, you will select the start and end dates for your goal.
Click the dates to expand the dropdown menu with a list of pre-set dates based on quarters and years or create a custom date range.
Once you're satisfied with the dates of your goal, click Next.
Users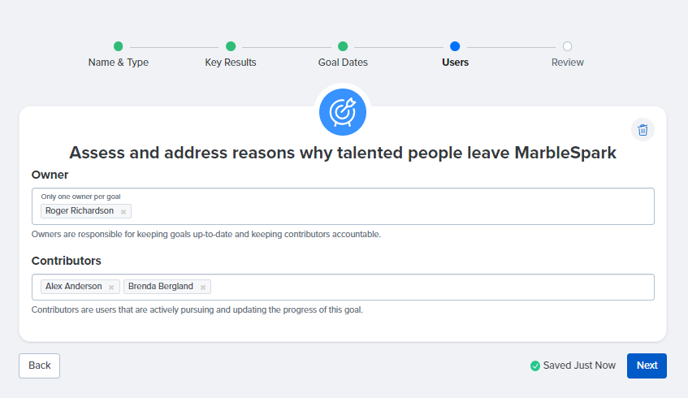 On the Users page, you can choose to add colleagues as Goal Contributors. To add your colleagues, click the field under Contributor, type their name and click on their profile. Any contributors are able to view and update the key results on your goal. Contributors will receive an email notification when they're selected.
By default, you will be made the Goal Owner, however, you can assign someone else as Goal Owner. Since there can only be one owner, you will have to remove yourself by clicking the x button next to your name. Then, in the now-blank Goal Owner field, enter the name of the colleague who will become the new Goal Owner.
Click Next to continue.
Review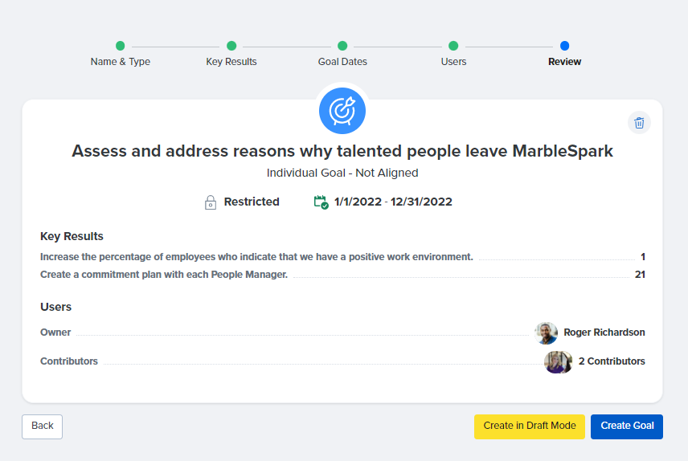 The Review page will summarize the key aspects of your goal.
If you need to make an edit to any part of your goal, you can navigate to any of the pages by clicking the dot of the appropriate page at the top of your screen.
If you wish to preview the finalized goal without making it public, click Create in Draft Mode. If you're ready to publish your goal, click Create Goal.
Viewing and Updating Goals
Once you create a goal, you will be taken directly to the goal detail page that includes all of the information about the goal that you just created. From this page, you can do the following:

A: View the current progress against the goal.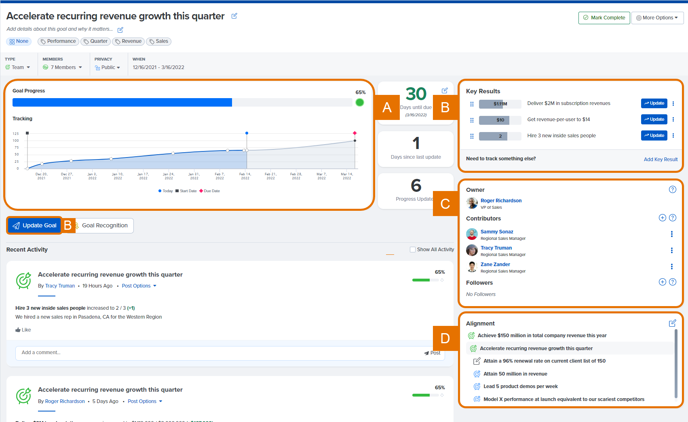 Searching for Goals
From the Goals page, you can search for goals that include a specific keyword in the title using the Goal Search field. The filters below the search bar can also be used to narrow your search results.


Alternatively, by clicking the Goal Search bar, you can select a pre-set search to quickly access all the goals that fall under each pre-set.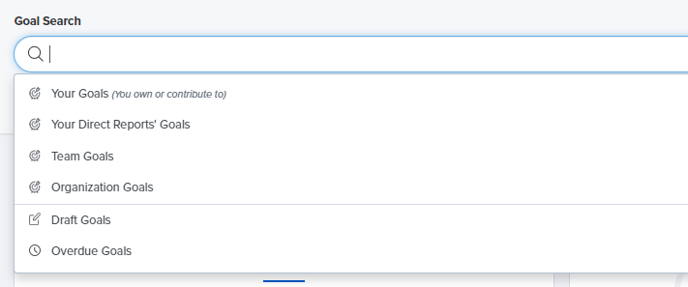 By default, when you visit the Goals page, you will be filtered down to goals that you are personally involved in. So any search you make will include the filters, Your Name and Year: Current.
To broaden your search, click the x in the filter bubble to delete the filter. You can also click Reset to return the filter for yourself and the current year, as they are the default.