In This Article:
Why Use Goals?
Most organizations set goals in some form to measure organizational performance, but goals are about more than your company's bottom line. As an employee, setting an effective goal can help you focus your attention on what is most important and prioritize your workflow accordingly. Using Goals in Quantum Workplace can help give you visibility into how your colleagues are contributing to the organization's success--- and conversely, can help bring your contributions to light.
Goals Page
To view and create goals, click Goals from the panel at the left.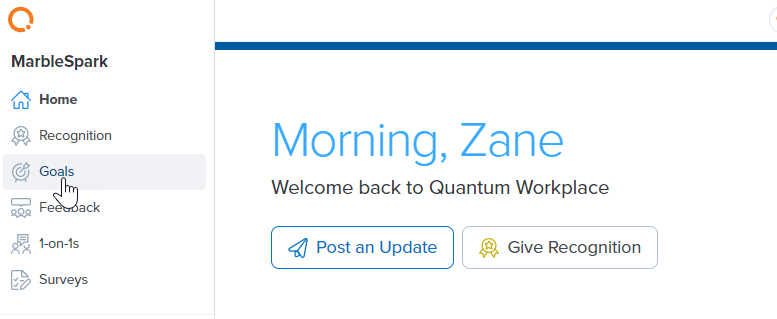 Your Goals Page will display any goals that you are associated with (e.g., goals that you own or have been given visibility into). If your organization is new to using Goals, you might not be associated with any goals yet. In that case, this page will be blank for you.


If you have already been added to goals, or if someone at your organization has created goals on your behalf, your Goals Home will display all of the goals that you're associated with. You can click on the text of any goal to view complete details for that goal.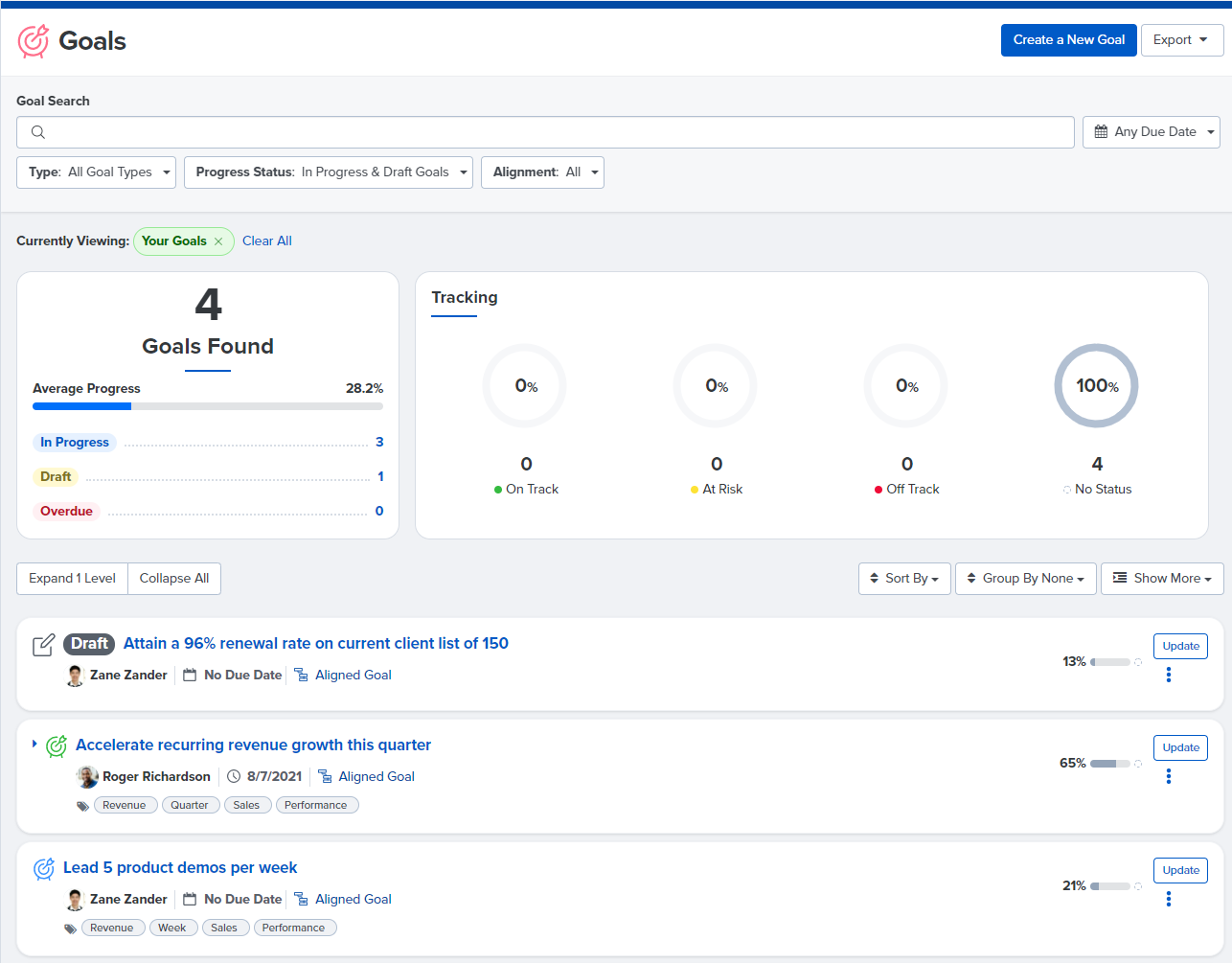 Creating Goals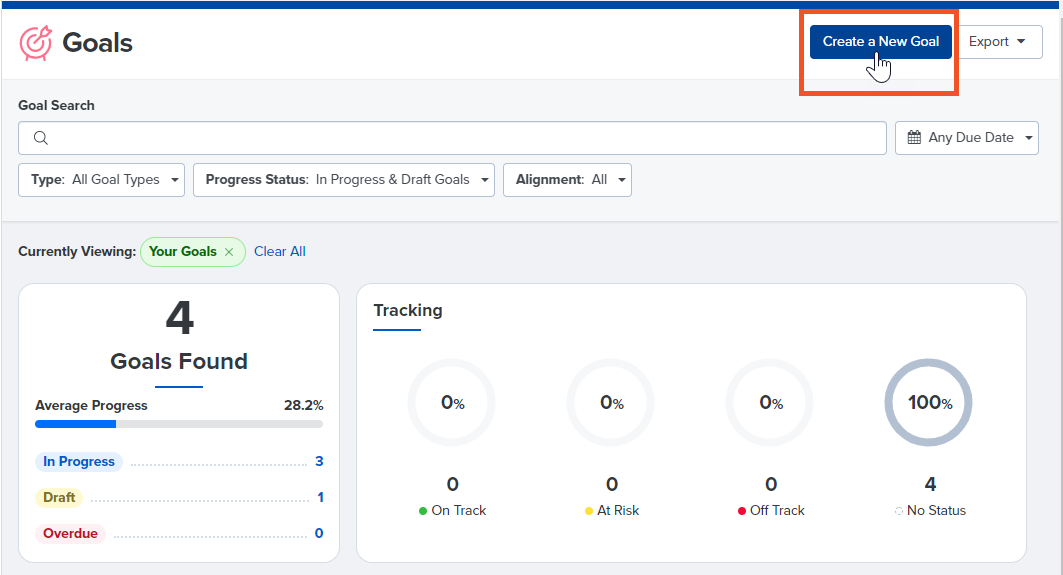 To create a goal, click the Create a New Goal button in the top right corner of your Goal Home Page. In order to create a goal, you will need to provide a title for your goal as well as the key results that you'll track and update to measure your goal's success.

You'll also need to decide on the Goal Type, designate any contributors to the goal, select a due date, and decide whether the goal should be visible to anyone in your company or only visible to you and your upline (public vs. private).
Goal Type


The default type of goal to create in Quantum Workplace is a Personal Goal, which is a goal that relates to your job responsibilities (e.g., what you intend to achieve in your role.) From the Goal Type tab, you will also see the option to instead label your goal as a Development Goal. Development goals are typically skills you want to develop or areas where you want to grow your knowledge.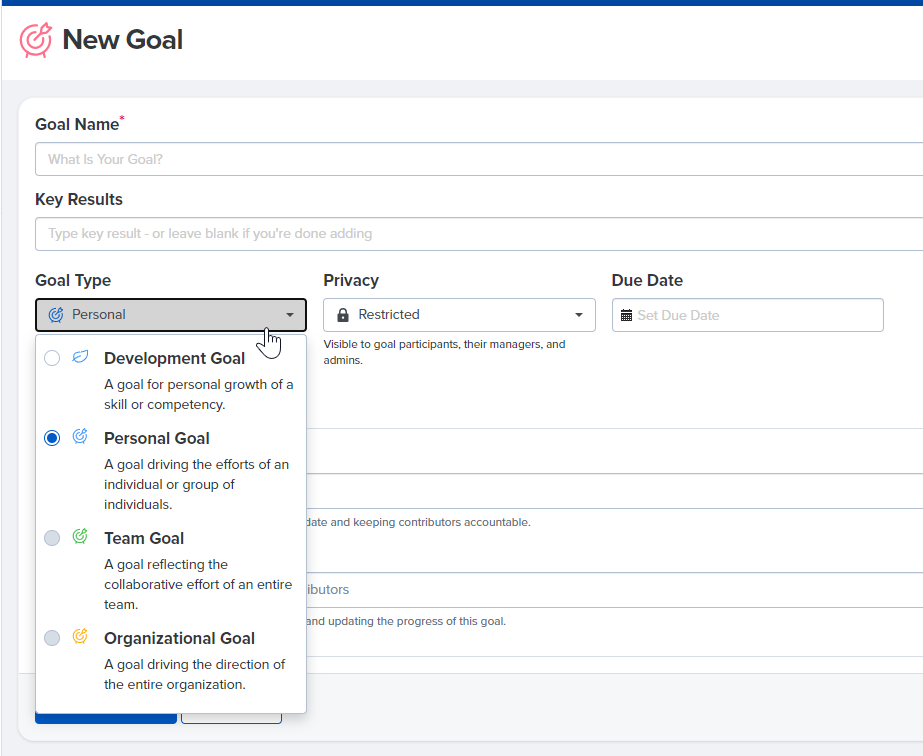 If you're a manager, you'll also have the option to create Team Goals, or goals that part or all of your team are working towards together. When you create a Team Goal, you will have the option to add either your direct reports or all downline reports to the goal in order for them to be "team members" of the goal and see if on their main Goals page.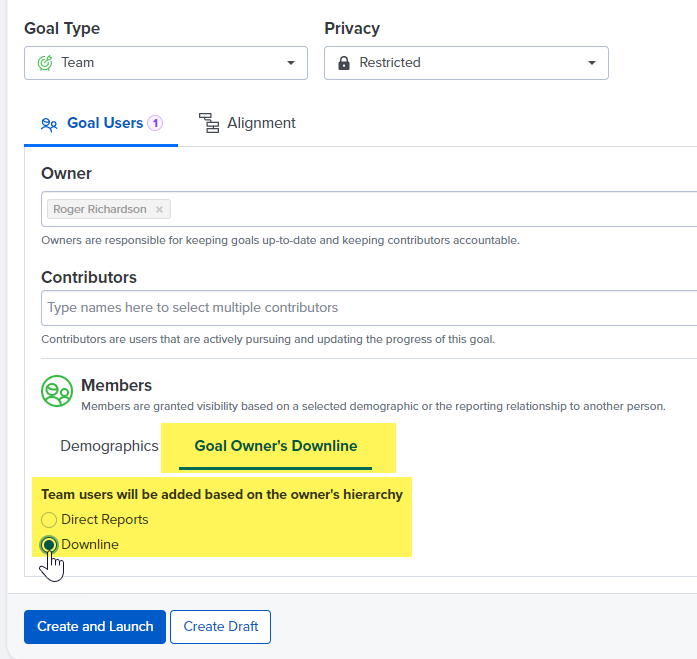 Alternatively, you can give an entire demographic (e.g. a department, division, or business unit) visibility into a team goal.

If you do not see the option to add your department to the goal, contact your HR team to enable this option or add your team members as goal contributors.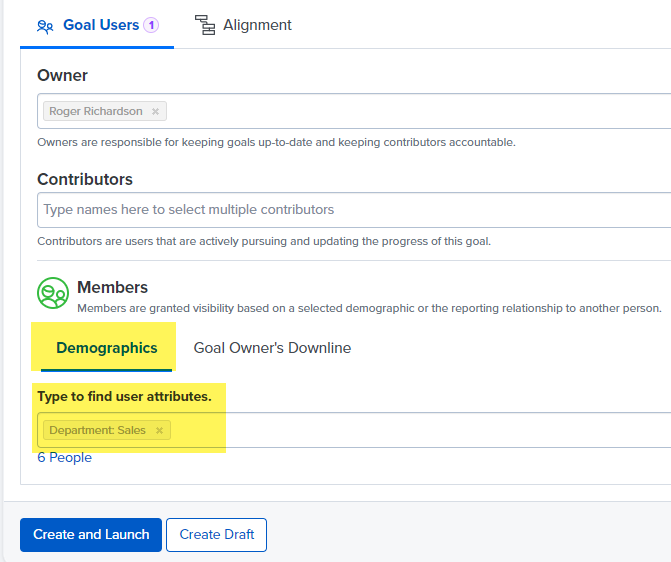 Goal Owners, Contributors, and Followers


Owners: By default, you will be the owner of any goal you create. However, you can remove your name under Goal Owner to designate a different person as the owner of that goal. There can never be more than one Goal Owner.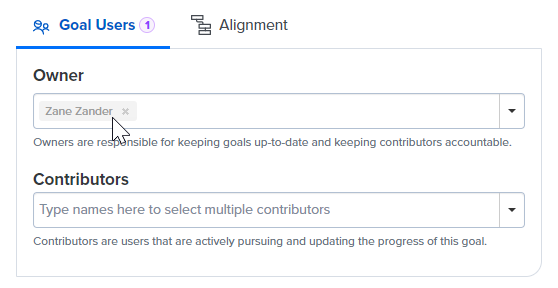 Contributors: Contributors can make updates to the goal. They will receive an email notification when you add them as a contributor.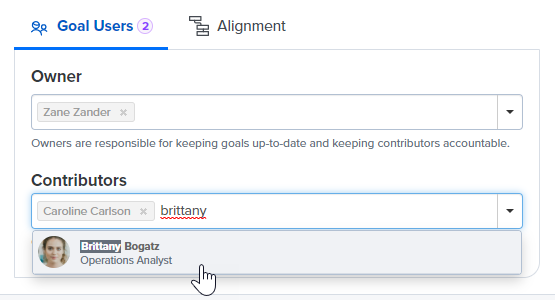 Followers: Followers have visibility into a goal that you add them to (even if it's restricted) but cannot update a goal. You can add Followers to a goal that's already been created, but cannot add Followers when you initially create a goal. Goal Followers will be notified via email when you add them to the goal.
Click here for detailed instructions on how to create a goal.
Viewing and Updating Goals
Once you create a goal, you will be taken directly to the goal detail page that includes all of the information about the goal that you just created. From this page, you can do the following:

View the current progress against the goal.
View all prior updates to the goal.
View and edit the goal contributors and followers.
View which other goals this goal is aligned with (associated with).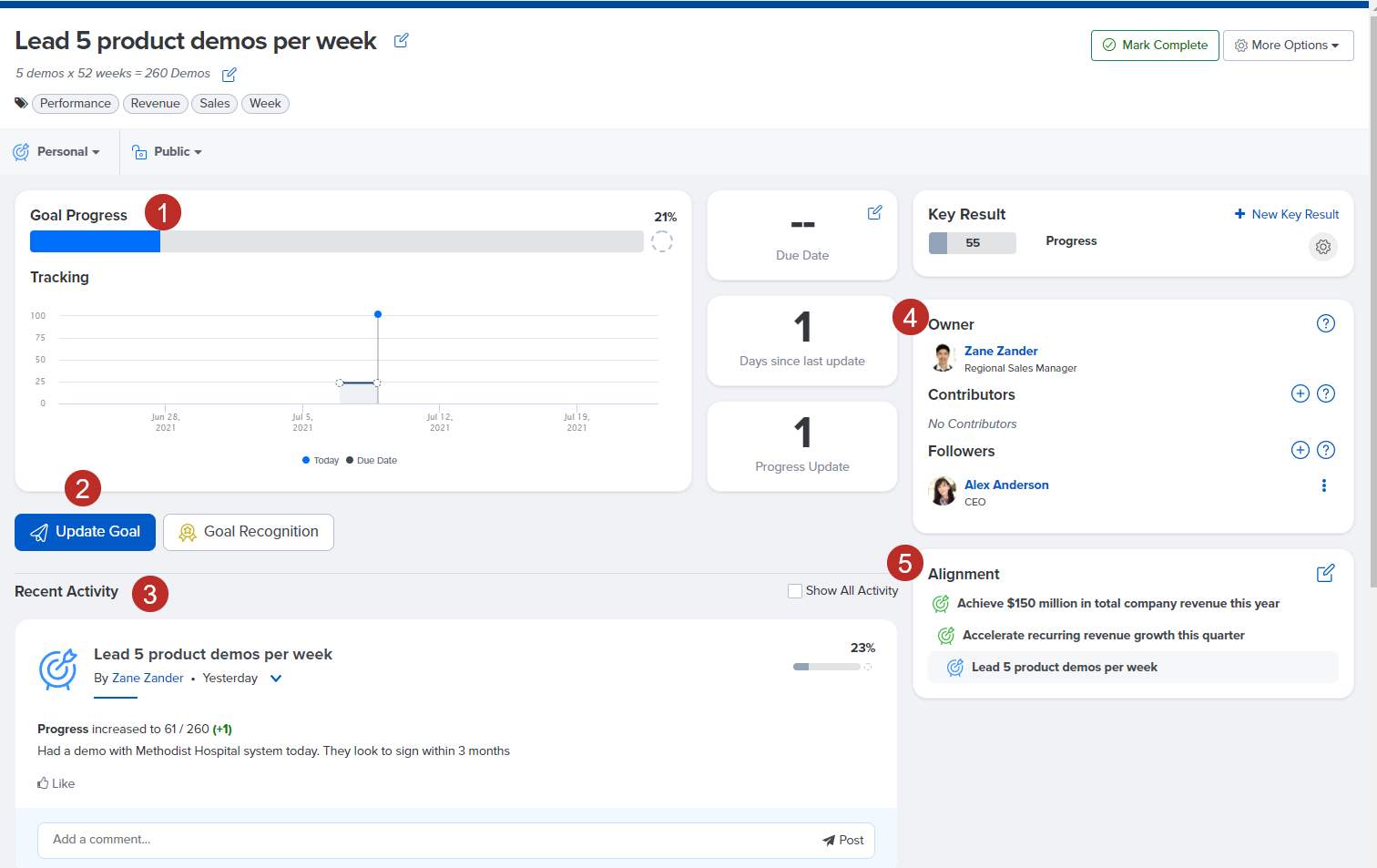 You can return to the goal detail page at any time by clicking on it from your main Goals page: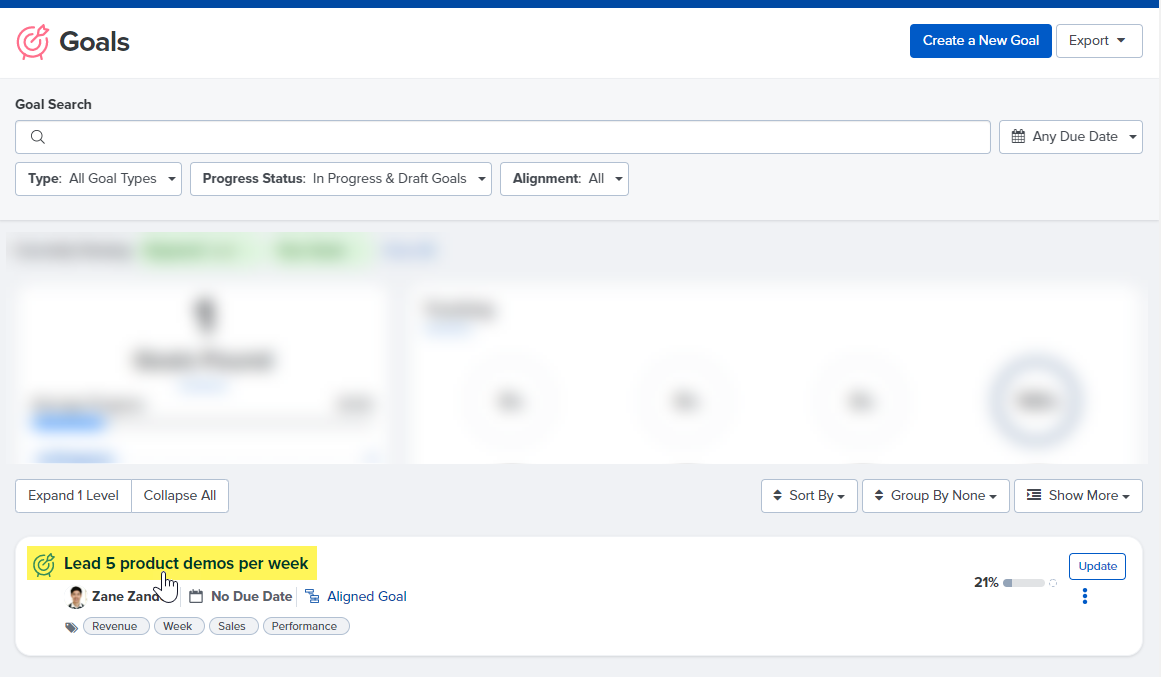 Searching for Goals
From your main Goals page, you can search for and view goals that include a specific key word in the title using the Goal Search field.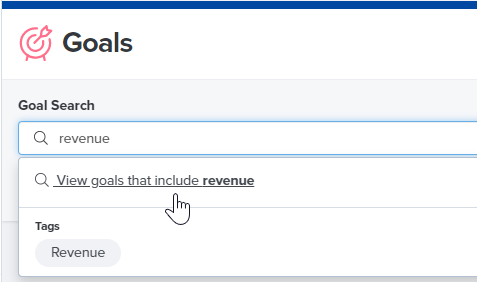 By default, every time you log in and visit the Goals page, you will be filtered down to goals that you are personally involved in, so every search you perform will layer on top of the "Your Goals" filter: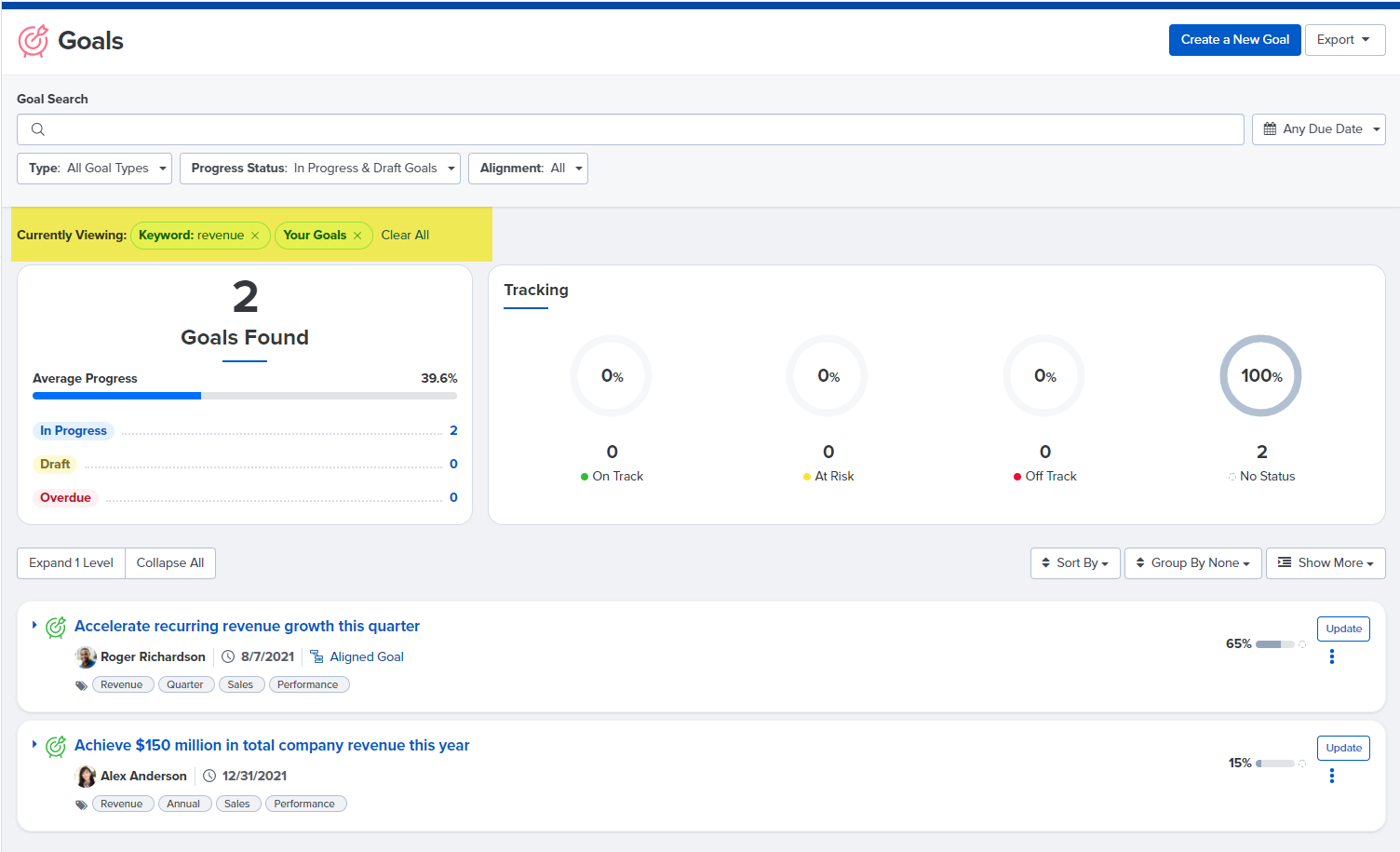 To remove any search term (including the "Your Goals" filter), click the X next to that specific search term: