As an Admin, the General Settings section of the site allows you to customize Quantum Workplace for your organization.
Note: The below functionality applies to Full Admins only; Focused Admins only have the ability to moderate flagged posts within General Settings.

To open General Settings, first navigate to Administration (from the drop down in the top right corner) and click General Settings.





From within General Settings, click on one of the tabs across the top to complete the following actions: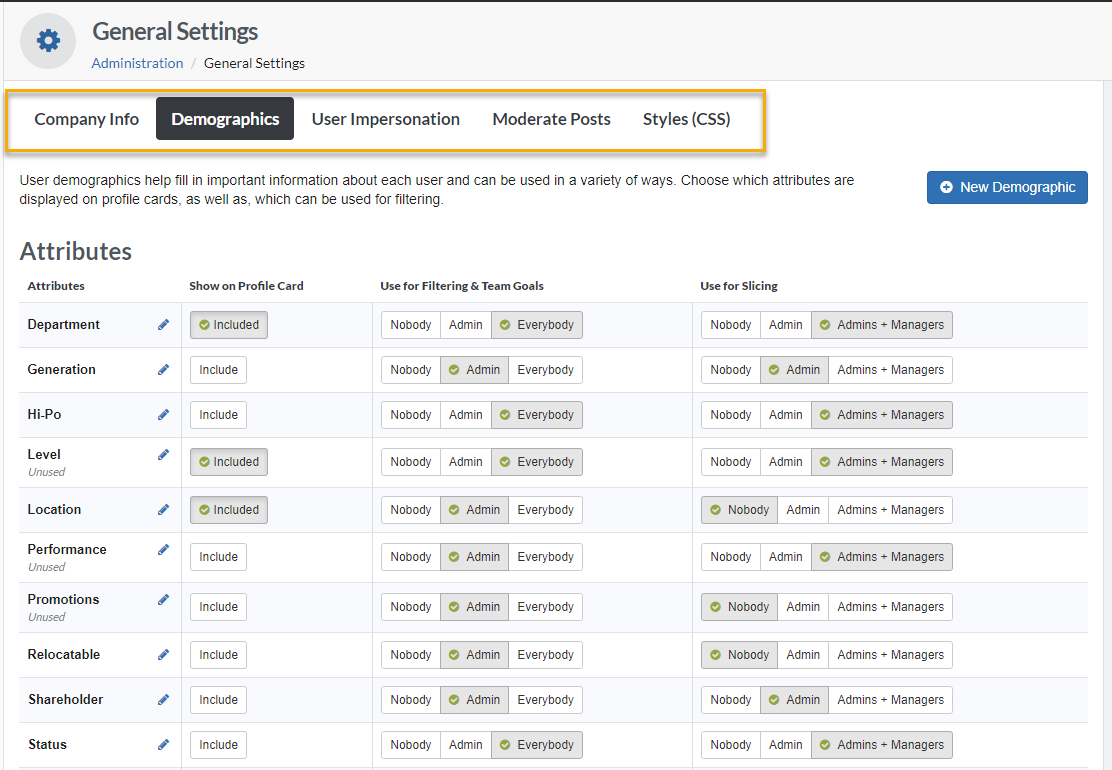 Company Info: Update your organization's name (used throughout Quantum Workplace) and update your organization's time zone. If you have more than one office location, this will typically be the time zone for your HQ office; individual users can update their preferred time zone in their account settings.


Demographics:
Within this section, you can complete the following actions:
Add demographics for your organization. Click the blue + New Demographic button to add a demographic that you plan to include in your bulk user import. This will allow you to map any demographic you add here (e.g. Department) to a particular column within your user import.
Decide which demographics should be displayed on employees' profile cards.
Decide which demographics your users should be able to search by within the site.
Decide which demographics should be available for filtering and slicing within analytics.

User Impersonation: Control which Admin users should have access to the Easy Impersonate feature.

Moderate Posts: If any Recognition or Goal posts have been flagged, they will appear here for you to moderate.

Styles (CSS): Within this section you can add custom CSS (developed by your team) to customize the appearance of your site.