IN THIS ARTICLE:
Below are the email notifications your employees may receive as part of your Feedback cycle, depending on the specific cycle set up. Email notifications are not customizable, with the exception of any text you add to the the "About this Cycle" section of your cycle set up page. If you add text to this section and check the box specifying that it should be added to emails, that text will get pulled into the body of the emails. The below examples only display the text that is automatically included in every email.
Select Feedback Providers Emails
The below email is sent out on the Cycle Launch date to Feedback recipients if they are required to select their own Feedback providers: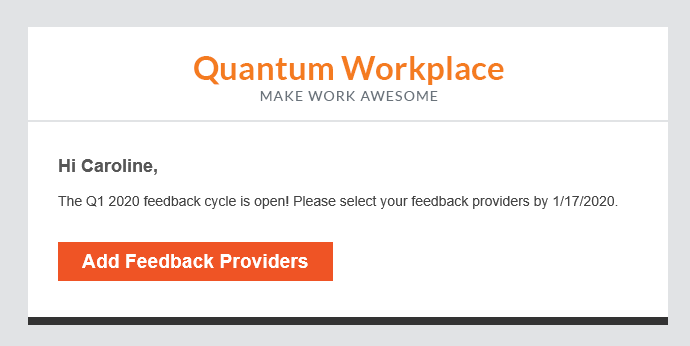 If managers are required to select feedback providers for their employees who are receiving feedback, they will also receive an email on the day that the cycle launches prompting them to select providers: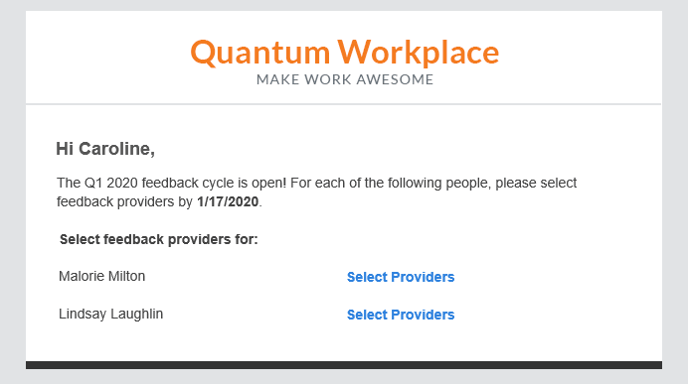 Provide Feedback Emails
The below email is sent to users who are selected to provide feedback for one or more of their colleagues or to employees who are asked to provide a self-assessment.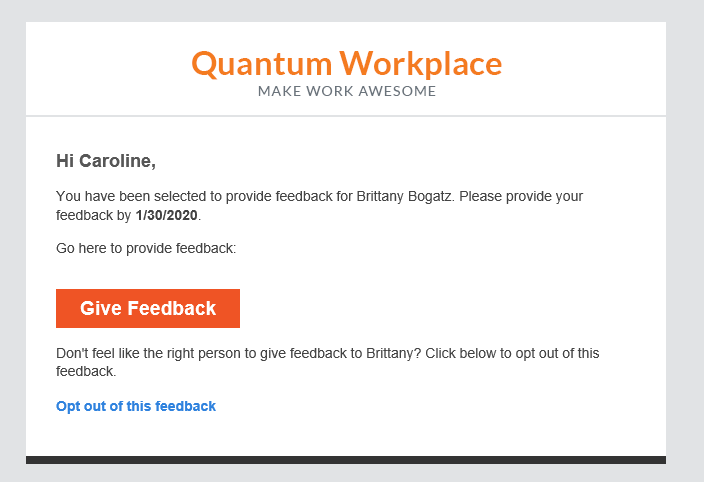 Note on Provide Feedback Emails: For cycles in which feedback providers were selected before the cycle launches (e.g. for cycles in which feedback providers are imported by an Admin before the cycle launches), the provide feedback emails will be consolidated such that one email will contain a list of everyone the employee for whom the employee needs to provide feedback. Emails will not be consolidated for any cycles in which some or all feedback providers are selected after the cycle launches.
Feedback providers also receive the below reminder email 3 days before the the due date to provide feedback if they haven't yet completed their feedback: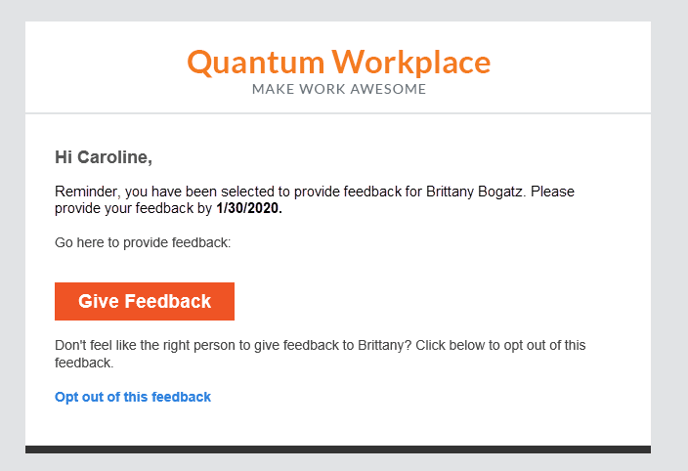 A final reminder is sent to any providers who haven't yet completed their feedback on the day before the feedback due date: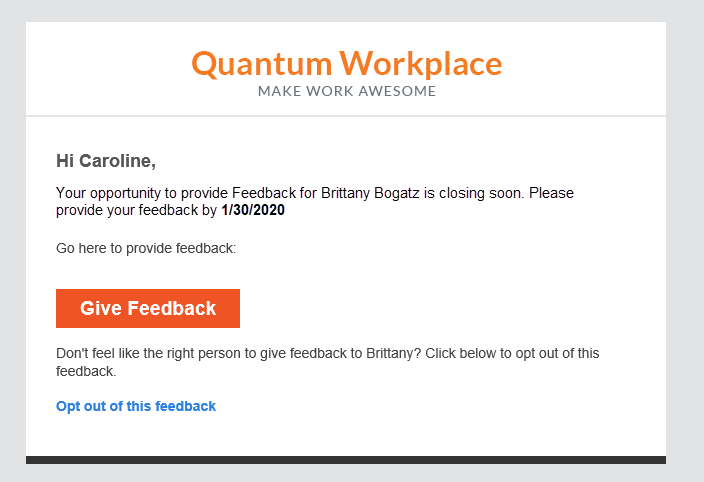 Feedback Shared Emails
If Feedback recipients are allowed to see the feedback they've received as soon as it has been given, they will receive the following email when someone shares feedback with them: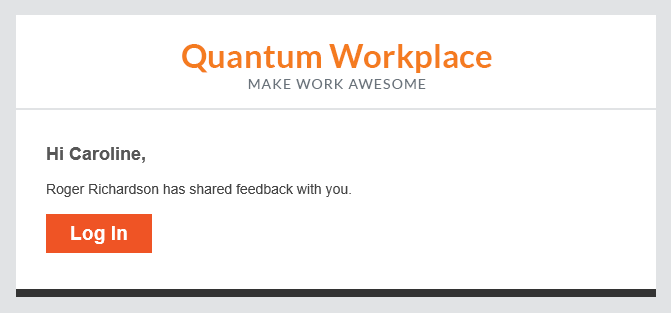 Feedback is Visible
If there is a "Feedback Visible" date specified for this cycle (e.g., if Feedback isn't automatically visible once it's submitted), some individuals will receive the below email notification depending on your cycle settings. If the employee and their immediate manager were granted visibility into this feedback, they will receive this email notification: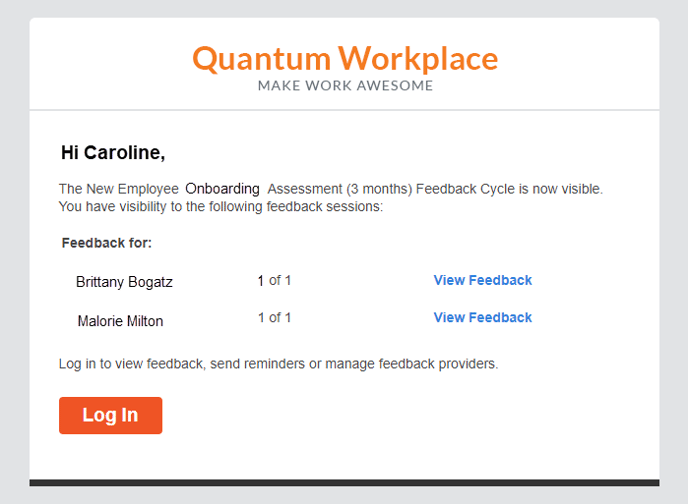 Focused Feedback
Focused Feedback cycles include two additional email notifications. Managers of employees receiving focused feedback receive an email notification prompting them to review the feedback their employee has received and provide a summary of the key takeaways (see below). This email is sent 3 days before the Focused Feedback due date: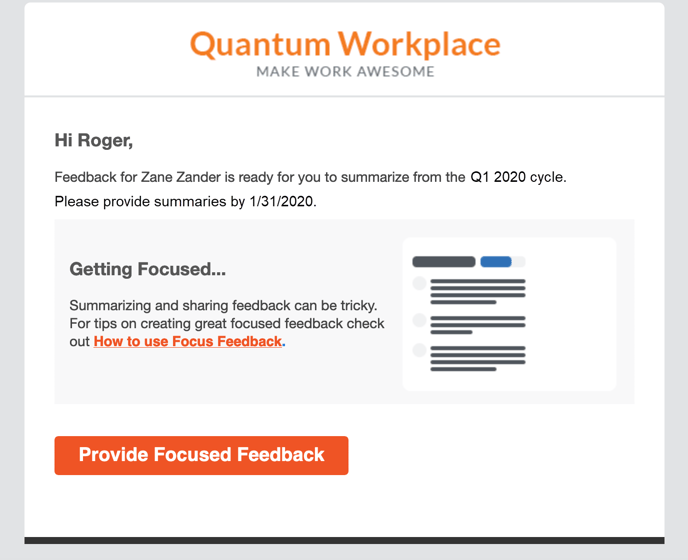 The employee receives the below email when their managers shares the summary of the feedback with them: