Within a 1-on-1, employees and managers can review Feedback together using the Feedback Conversation Booster. The Feedback Conversation Booster is available for all users that have both Feedback and 1-on-1s enabled.
Overview
Honest feedback is critical to professional growth, but that doesn't mean that knowing how to act on feedback is easy. In addition to processing input from multiple voices and dealing with constructive criticism, employees need to hone in on the most important insights from the feedback and identify tangible next steps to take based on those takeaways.

To facilitate this process, we have given employees and managers the ability to discuss any feedback an employee has received together within their 1-on-1s. By adding the Feedback Conversation Booster to a 1-on-1, employees and managers can view any Feedback session directly within their 1-on-1 and work together to identify key takeaways.


Use Cases
The Feedback Booster is particularly useful in situations in which multiple people need to provide input on a single employee's performance. For example, matrixed organizations may rely on direct managers, matrixed managers, and/or project leads to all provide feedback for a single employee. In these instances, the Feedback Booster helps the employee and their primary manager distill insights across all voices.
How to Add the Feedback Booster as an Admin

As an Admin, you can add the Feedback Conversation Booster to any 1-on-1 template in order to prompt your managers and employees to discuss Feedback that the employee has recently received. From within the 1-on-1 template, click Conversation Boosters. Under Feedback Booster, click Add to 1-on-1.

By adding the Feedback Booster to a 1-on-1 template, your managers and employees will have the opportunity to select which Feedback session they would like to discuss. In doing so, the Feedback will be pulled directly into the 1-on-1 so that the manager and employee can review responses together and discuss key takeaways and next steps for the employee to take.



How to Use the Feedback Booster as a Manager or Employee
Employees and managers also have the ability to add the Booster into their 1-on-1 by clicking the Conversation Boosters button from the bottom panel and clicking the Add button next to Feedback Booster.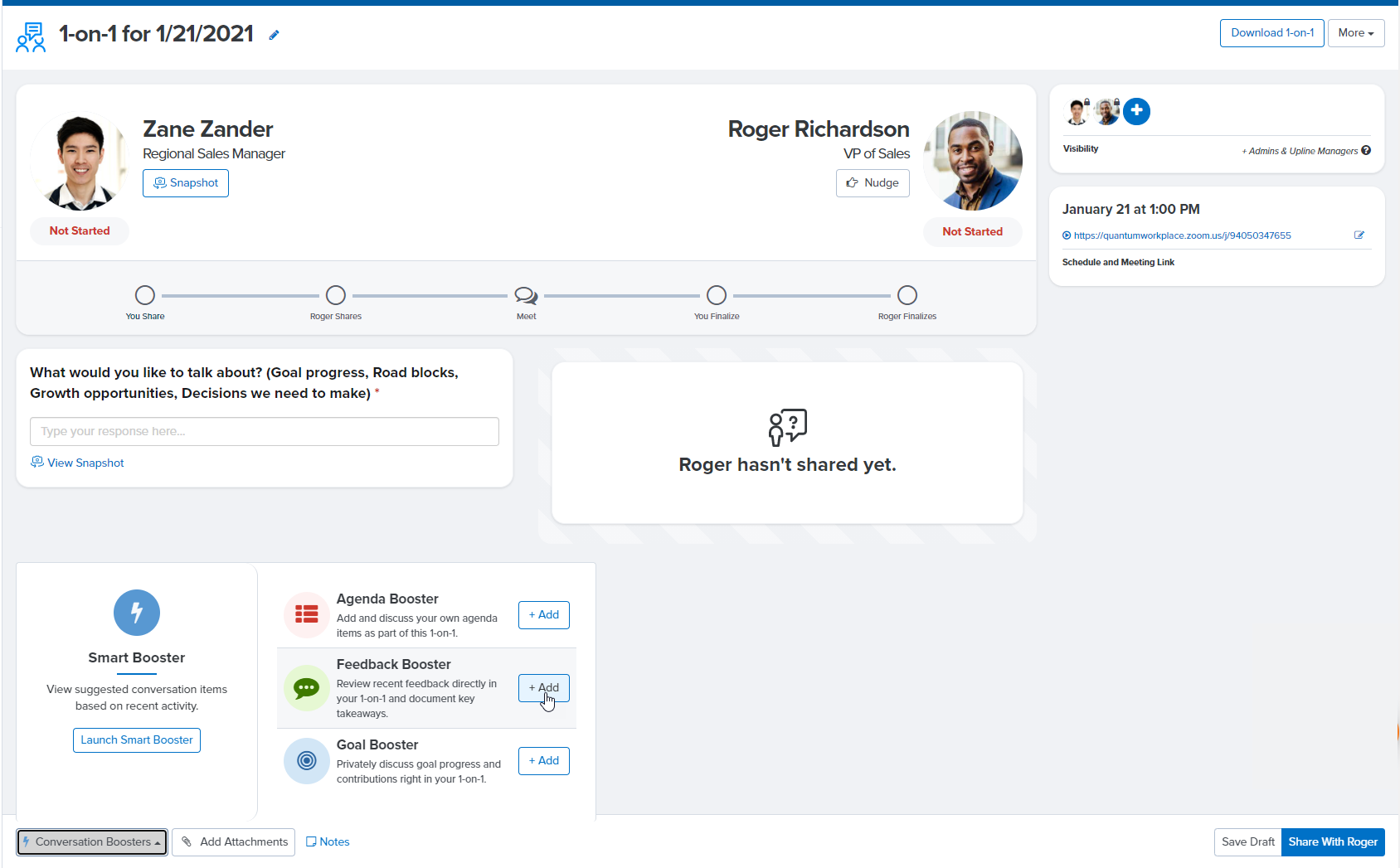 The Booster will be added to the end of your 1-on-1, so you may need to scroll down to view it. Under the Feedback Booster heading, click Select Feedback to open the Snapshot for the employee within this 1-on-1 conversation.


From within the employee's Snapshot, click Select next to the specific Feedback session that should be added to this 1-on-1. Note: You can only add one Feedback session into a 1-on-1 at a time.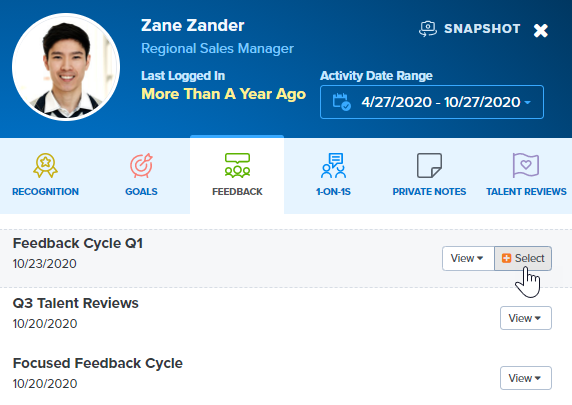 The feedback session you have selected will appear at the end of the 1-on-1. To brainstorm key points within the session that you or your employee should take action on, hover over a piece of Feedback and click the light bulb icon.


In the window that appears, type in your takeaways from this piece of feedback and click Create.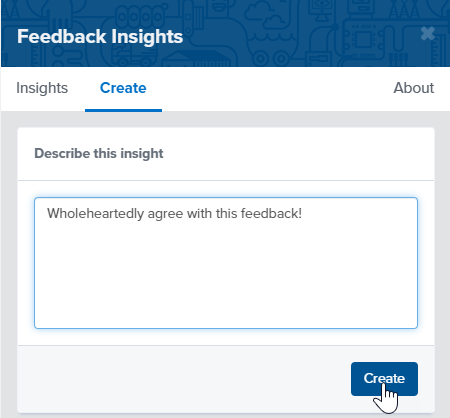 Both participants in the 1-on-1 will now see this saved Insight added to your 1-on-1. You can add Insights within the Feedback Conversation Booster at any point (both before and after you've shared your portion of the 1-on-1.