If your organization uses ADP Workforce Now® as your HRIS provider, you can easily integrate with Quantum Workplace so that your employee information updates automatically.
In this article:
Requirements
In order to set up an HRIS integration with ADP Workforce Now®, you will need to be logged into Quantum Workplace as an Admin user and you will also need to be able to log into your ADP Workforce Now® account. You will begin from Quantum Workplace Administration and work through a few steps in both Quantum Workplace and ADP Marketplace. Then, the Quantum Workplace team will do some work behind the scenes to finalize your integration and contact you once it's established.
Note on SSO (Single Sign-On) through ADP Workforce Now®
For most organizations that are currently using SSO (Single Sign-On), establishing an integration with ADP Workforce Now® will have no impact on a user's experience of logging into Quantum Workplace.

For organizations that are not currently using SSO, when a user logs in to Quantum Workplace they will see the option to connect their Quantum Workplace account with their ADP Workforce Now® accounts. Then going forward, they will have the option to use their ADP Workforce Now® account to log into Quantum Workplace.
If you prefer to have SSO enabled through ADP Workforce Now®, please contact your Customer Success Manager.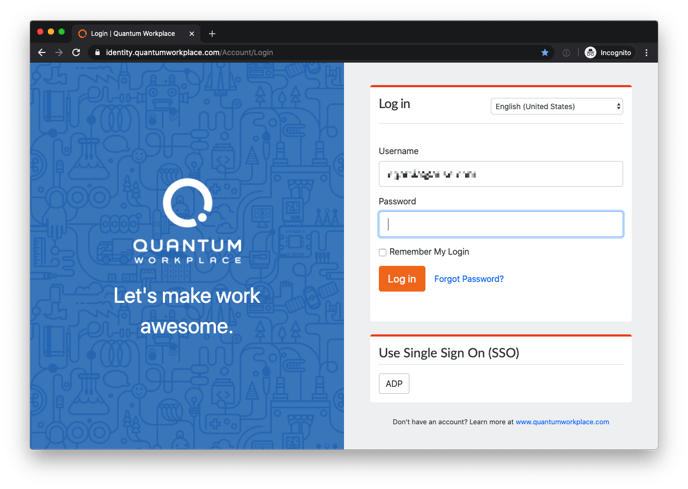 Begin from Quantum Workplace
To begin, open Administration within Quantum Workplace and select Integrations. Then, select HRIS/HRMS: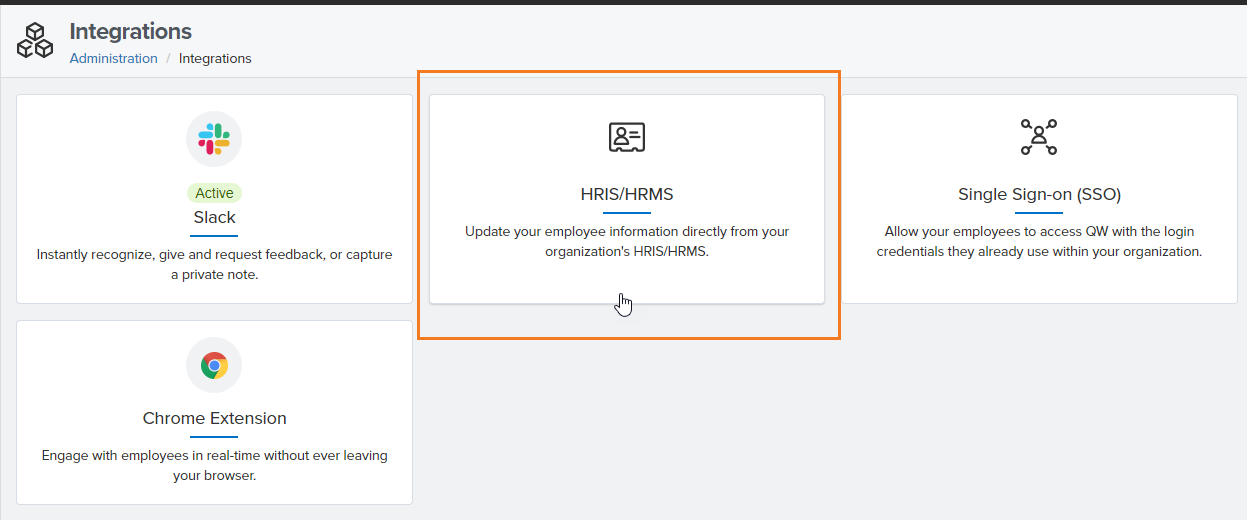 From the HRIS/HRMS Integration page, click on the card with the ADP Workforce Now® logo and then click Start ADP Integration.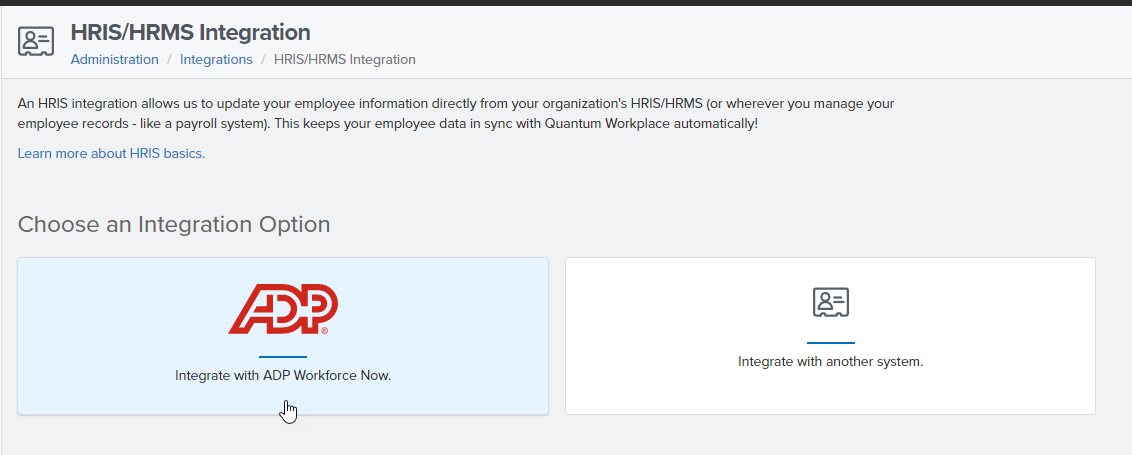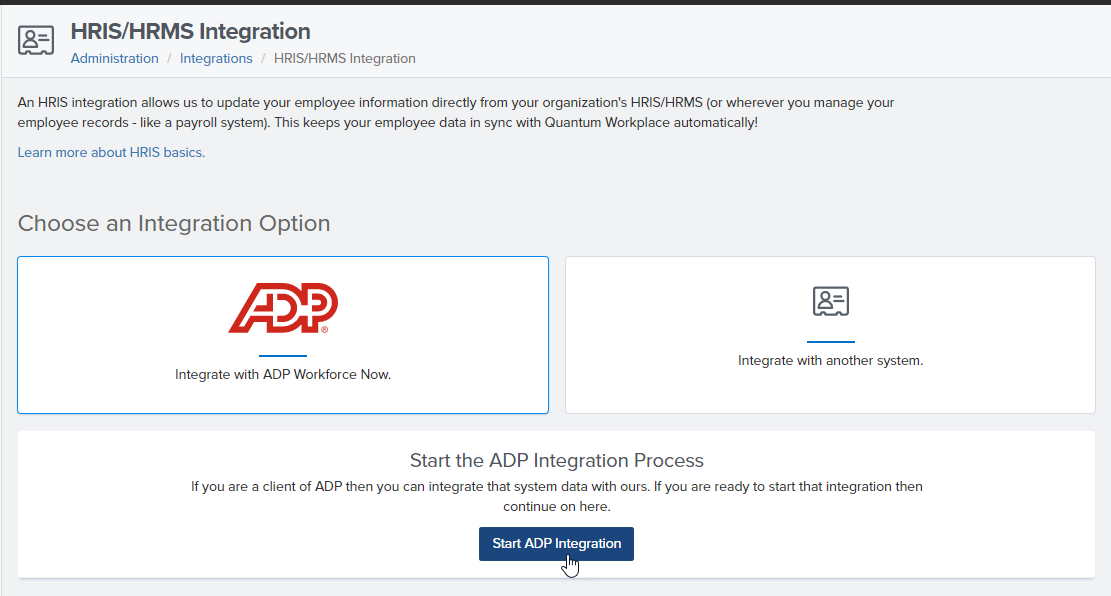 Next, you will see the following screen: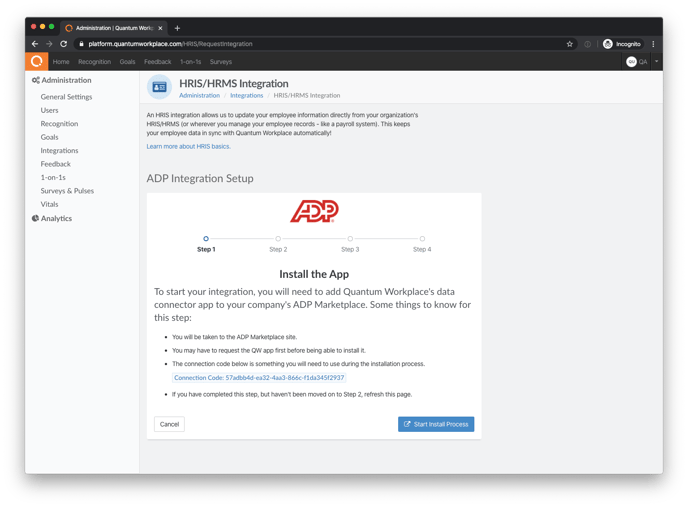 The purpose of this page is to let you know that you will be taken to the ADP Marketplace site to continue the set-up process and to provide you with your unique Connection Code which you will need to enter into ADP Marketplace to set up your integration.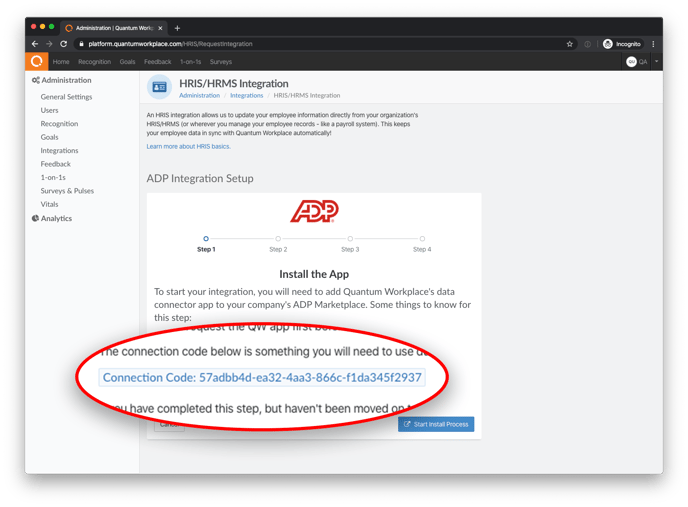 Be sure to copy the Connection Code that you see here. Then, click Start Install Process.

Log in to ADP Marketplace

Once you click Start Install Process, you'll be taken to ADP Marketplace. If you are not already logged into ADP Workforce Now®, you will be prompted to do so at this point.

Once you've logged into ADP Marketplace, you will see a screen displaying the Quantum Workplace Data Connector. Click Try the free edition to continue.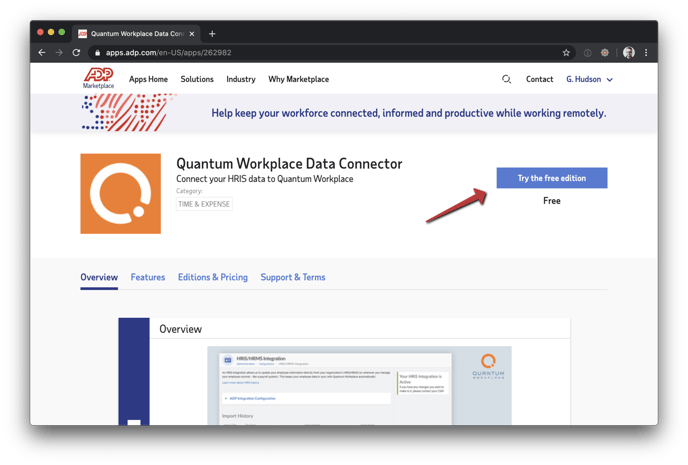 From the next screen, you will see that your charge is $0.00. Click Continue.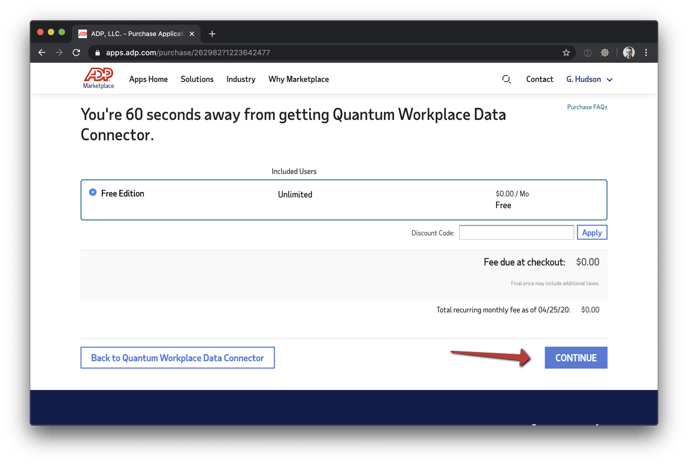 In the following window, paste in the Connection Code that you copied from Quantum Workplace. Then, click Check to validate that the code is correct. Once the code has been validated, click Continue.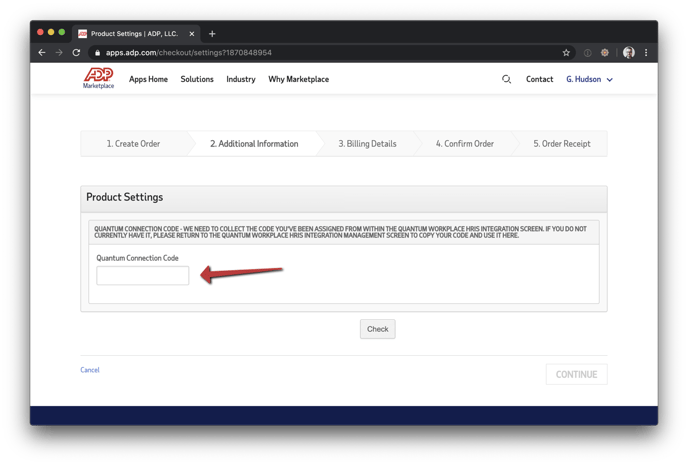 On the following page, agree to the Terms of Service and click Place Order.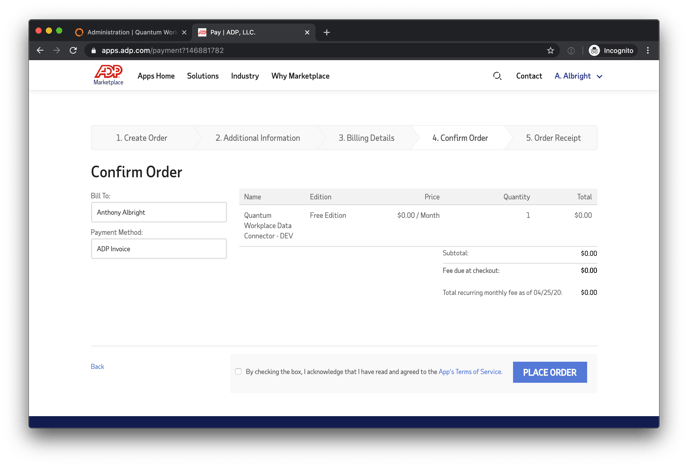 Return to Quantum Workplace
Now you will need to return to your Quantum Workplace account to continue. On the below screen, you will give your consent for Quantum Workplace to access your ADP Workforce Now® data. Click Start Consent Process.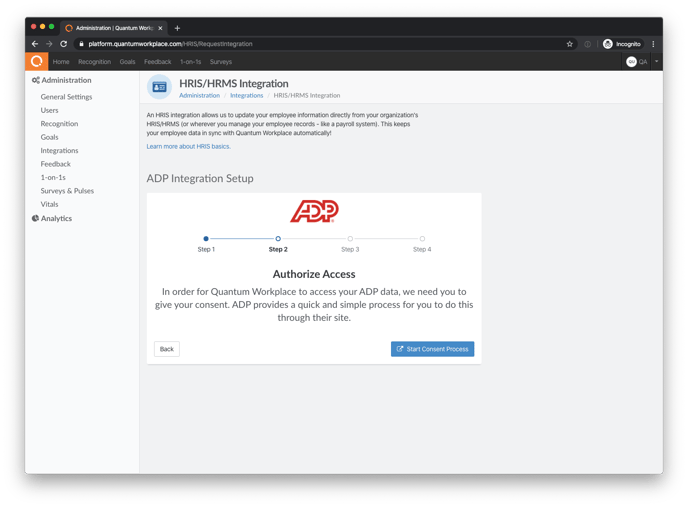 Clicking that button will cause a new window to open within ADP Marketplace. This is the Consent Request. Click Allow to confirm that Quantum Workplace should be able to import employee data from ADP Workforce Now® into your Quantum Workplace account.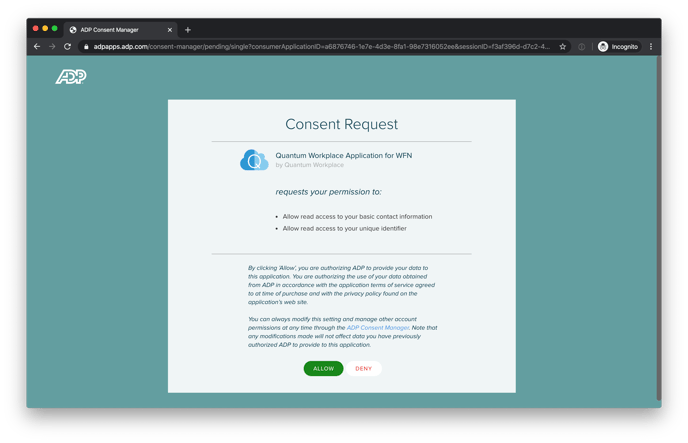 Next, within Quantum Workplace, click Enable Integration.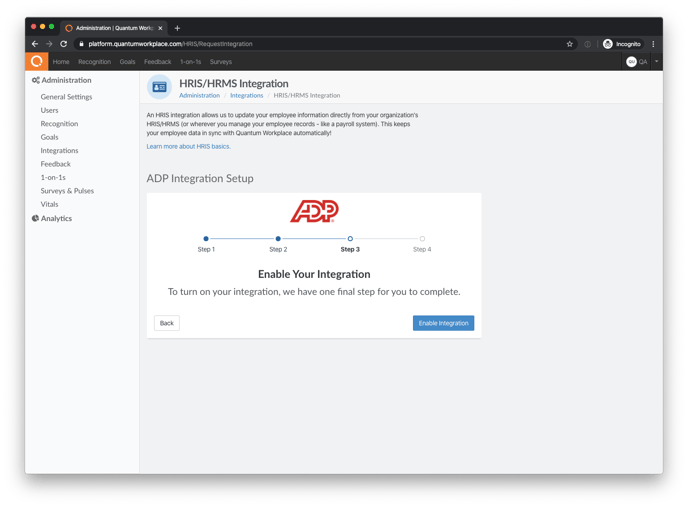 Await Confirmation from Quantum Workplace Team


Now that you have enabled your integration, Quantum Workplace needs to do some work on our end configure the integration. Your CSM will request an employee data file from you as a reference. Your CSM will be able to provide an estimate of the amount of time it will take the Quantum Workplace team to finalize the integration from here.
Managing your Integration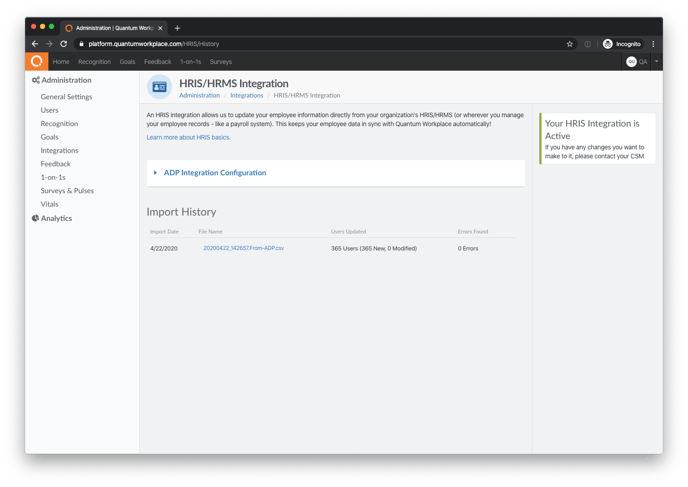 Once your CSM has confirmed that your integration is up and running, the integration will automatically add the most current employee demographic information from ADP Workforce Now® into Quantum Workplace every 24 hours. You can return to the HRIS/HRMS integration page to see a history of the integration running every day. You can click on the Excel file to see exactly which employee data was sent from ADP Workforce Now® to Quantum Workplace on a given date.
Data Fields
The following fields from ADP Workforce Now® will be read by the Quantum Workplace Data Connector:
employeeId
firstName
lastName
title
username
email
managerEmployeeId
ManagerName
hireDate
termDate
IsActive (active/terminated/leave/retired)
Employee Status
Status Reason
EmailSecondary
Date of Birth
Gender
Department
*Quantum Workplace recommends that you set Exit Surveys to automatically launch before the employee leaves the organization. By default, Quantum Workplace only receives the Exit Date from ADP for an employee after they leave the organization. However, we now have a feature that enables pre-exit surveys.
**At this time, the "Function" field is not available via the Data Connector due to a limitation of ADP's API.