Reporting Tools & Functions
What is the difference between BPTW and Engagement benchmarks?
Within your Engagement Survey reporting site, you will see two categories of benchmarks: BPTW and Engagement.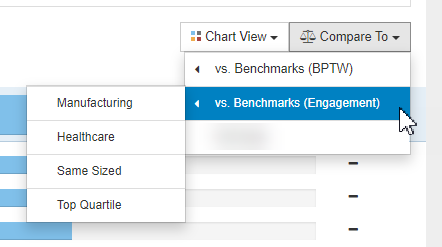 Engagement benchmarks represent data from organizations like yours that partner with Quantum Workplace to conduct an annual Engagement Survey. We recommend focusing on these benchmarks rather than BPTW benchmarks.

BPTW benchmarks represent data from companies that participate in Best Places to Work contests in cities across the United States. This data tends to skew higher than Engagement benchmarks, partly because companies participating in Best Places To Work are self-selected to be higher-scores on Engagement Surveys. These benchmarks are often aspirational.