In this article:
How Quantum Workplace can help Analyze Turnover
As an HR professional, you know that turnover is expensive- the Society for Human Resource Management (SHRM) estimates that companies will spend on average 1.5 times a terminated employee's salary to replace them. Beyond the financial toll that it takes, turnover can threaten your organizational success and productivity.
To fight turnover, you must identify your areas of opportunity to retain and engage those employees who could be at risk of turning over.
Quantum Workplace has several offerings to help you understand and predict turnover in your organization:
Turnover Trends tracks your turnover in real time so that you can view when and where turnover is taking place in your organization
Flight Risk Analytics uses a predictive model to provide a sense of the relative risk for turnover within your current employee population
For organizations that have launched an Engagement Survey with Quantum Workplace, we can retroactively add termination data to an Engagement Survey that you've previously conducted to allow you to compare responses between your current employees and those who have since left your organization.
Once the termination data has been added to your Engagement Survey reporting site to create your Engagement Survey Term Flag, you can compare perceptions of voluntarily terminated employees to the perceptions of your current employees in order to hone in on the reasons why employees are leaving your organization.
How does the Engagement Survey Term Flag Works
We can add new demographics to your most recent Engagement survey to allow you to compare the responses of your active/current employees to those of terminated employees. Within the population of your terminated employees, we can divide that group into voluntary and involuntary terminations so that you can examine how Engagement Survey data differed between active employees, involuntarily terminated employees, and voluntarily terminated employees.
Once we have added your termination data, you'll be able to see how engaged (or disengaged) termed employees were before they eventually left your organization and how their engagement level compares with that of your current employees.
This will essentially provide you with additional demographics to slice and filter your data by within your Engagement Survey reporting site. You can slice by Active vs. Terminated Employees, Involuntary vs. Voluntary Terminations, and Term Reason (i.e.the reasons employees gave for leaving the organization.)
Please note that all data will still be aggregated to maintain confidentiality in survey responses; you will not be able to see the response of an individual, or terminated employee.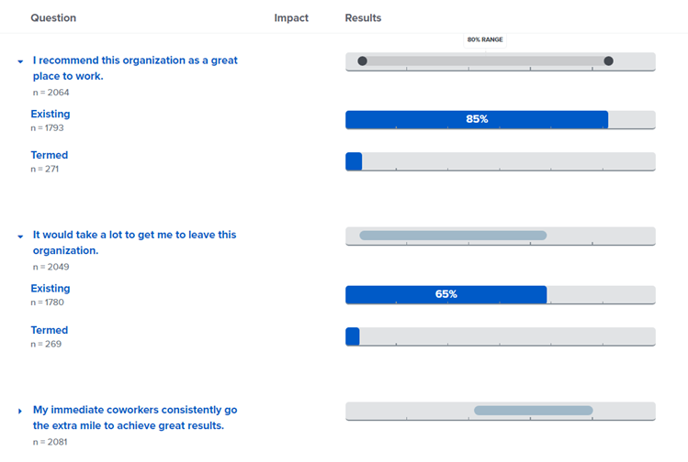 How to Add the Engagement Survey Term Flag
We will need the following information for all employees who were invited to take the engagement survey:

Current Employment Status: Active or Terminated
Term Type: Involuntary, Voluntary, Retirement, N/A (Current Employee)
Term Reason (Optional): reasons included here can vary by customer but can include both voluntary and involuntary reasons such as "Left for another work opportunity", "Left to pursue further education", "No Call/ No Show", "Terminated for poor performance", and "Seasonal".

If you have established an HRIS integration with Quantum Workplace OR if your organization is actively conducting an Exit Survey in our Surveys tool, reach out to your Customer Success Manager to see if Quantum Workplace can create the Engagement Survey Term Flag you using your existing data.
If neither of the above situations applies, your Customer Success Manager can provide you with a file that includes the Employee ID and Email Address of every employee who was invited to take the Engagement Survey. Your team will need to update that file to include at least Current Employment Status (Active vs. Terminated) and to include Term Type and Term Reason if that data is available. We can load in your termination data using Current Employment Status only, but we strongly recommend including Term Type as well if possible. This is because employees who voluntarily left your organization will provide the data points you're most interested in. By including Term Type, you will be able to hone in on this population to spot the possible reasons why your employees are leaving voluntarily. Were they less likely to see growth and development opportunities? Were they less hopeful about the future of the organization?
When Should We Add the Engagement Survey Term Flag?
We recommend waiting 3-6 months after your engagement survey to add the Engagement Survey Term Flag.
The specific timing you should use ultimately depends on how much turnover you experience in a year; if turnover is low, you may need to wait a full 6 months (or possibly longer) to conduct this analysis. If you have a high employee headcount and experience high rates of turnover, you may need to only wait 3 months after your engagement survey to have enough data for a meaningful analysis.
How to Analyze your Turnover Data

Once the termination data has been added to your reporting site, you will be able to apply your new termination demographics like like any other demographic filter of slice. We recommend that you only make the termination data available to administrators or high-level leaders within the organization. We recommend beginning your analysis in these two ways:
Identify the items and categories with the biggest differences in favorability between employees who are termed and active employees. Were any of the items with the biggest deltas your drivers of engagement?
Look at the areas that were rated most highly among your termed employees. Of those, were there any areas that both termed and current employees rated highly? Understanding what people enjoyed about the organization, even if they ended up leaving, gives you a strong signal of what your top organization strengths are. These are areas you can "talk up" with job candidates and continue to invest in for your active employees to make sure this remains a strength.
Once you've looked at the above areas, you can get a more in-depth understanding of what is driving turnover by applying a few key filters.
Filter by team/department and immediate manager to see if there are specific teams at increased risk for turnover, or if turnover is spread out relatively evenly throughout the organization. If there are specific pockets of your organization that have an increased risk for turnover, the actions you take might be focused around those teams; otherwise, the opportunities to reduce turnover might be best addressed at the organization level.
Filter by job function. You likely have certain job functions that are known to turn over at a relatively high rate, but are there any critical roles or hard-to-fill positions with relatively high turnover?
Filter by tenure to see if employees with a certain tenure show an increased risk of leaving your organization.
Finally, if you included term reasons, we recommend looking at the specific reasons that employees gave for leaving.

See Also: How to Estimate the Financial Impact of Turnover
We're here to help! Contact your Customer Success Manager or Insight Analyst to add the Engagement Survey Term Flag.