You can save any goal as a draft before officially launching it in Quantum Workplace.
Overview
When you create a goal in Quantum Workplace, you have the option to save it as a draft, which gives you the opportunity to continue to edit all aspects of the goal before you officially mark the goal as live in Quantum Workplace. When a goal is saved as a draft, it is only visible to the goal owner, anyone in the upline of the goal owner, and Admin users of Quantum Workplace; draft goals are not visible to any contributors or followers.
If your organization uses 1-on-1s, you can easily include your draft goal in a 1-on-1 conversation with your manager (or other trusted colleague) using the Goal Conversation Booster. We strongly encourage managers and employees to discuss goal-setting together.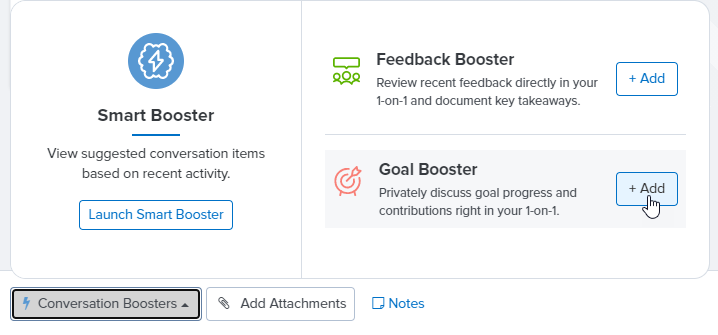 How to Save a Draft Goal
When you create a goal in Quantum Workplace, you have the option to save it as a draft by clicking the Save Draft button on the goal creation page. You can save a draft of any goal that has a goal name, regardless of whether you have entered key results for the goal or updated any of the goal configurations.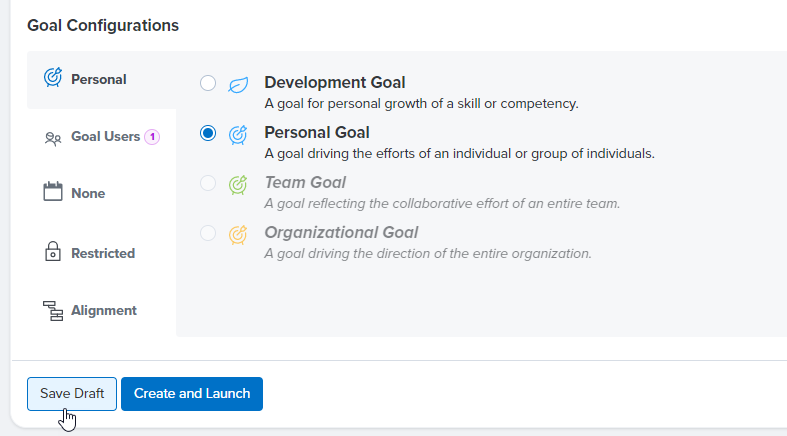 Once you click Save Draft, you will be taken to a new screen that displays your draft goal. From this page, you can edit and/or add all details about your goal-- including the key results, whether the goal is public or restricted, the goal type, and the due date. You can also add contributors and followers to the draft goal, although they will not be notified that you have added them to the goal until you officially launch the goal.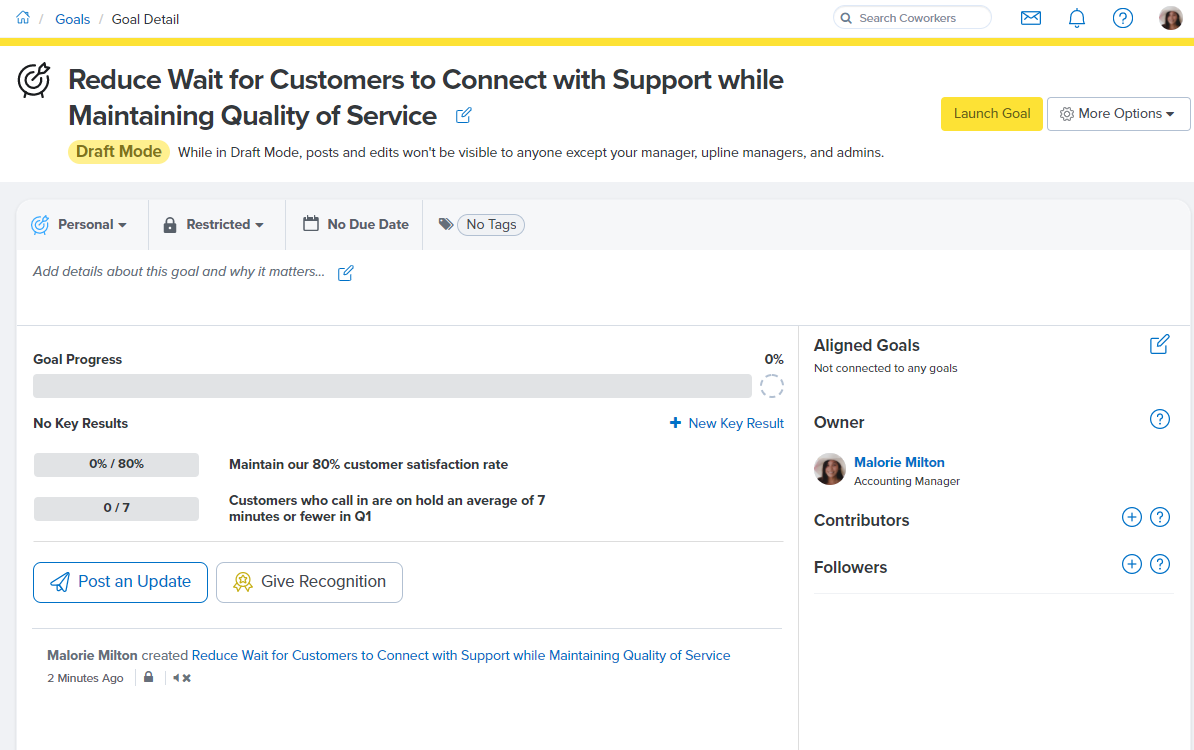 When you are done editing your draft goal and are ready to officially launch it (add it as an open goal in Quantum Workplace), click Launch Goal in the top right corner.

How to Find your Draft Goal
You can find your draft goals on both your Home Page and your Goals page.
On your Home Page, any draft goals you have created will appear in the panel on the right side of the screen. You can click on any draft goal to edit or launch it.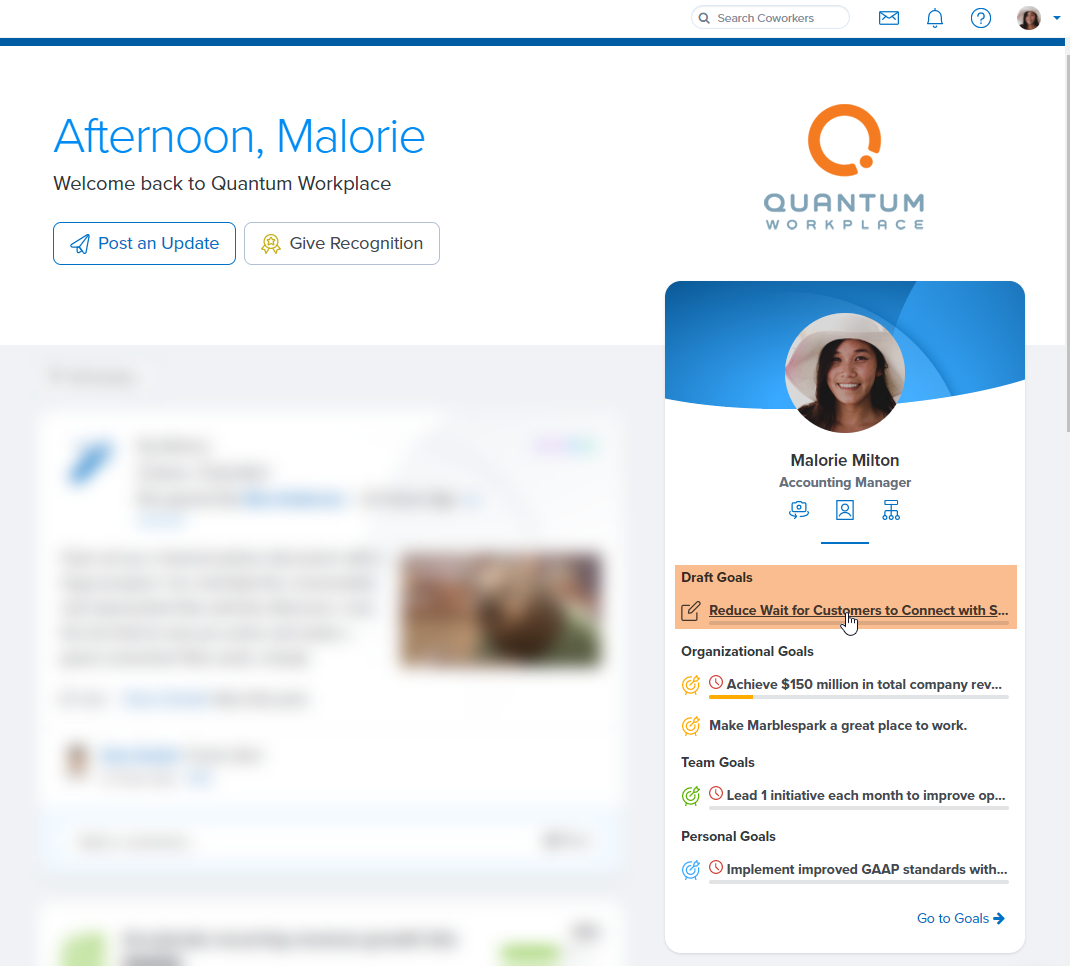 Alternatively, you can find your draft goals on the Goals page.
Draft goals do NOT appear in the default "Your Goals" view that you see when you first navigate to your Goals Home page in Quantum Workplace. In order to view your draft goals, locate the Quick Filters section on the top right of the page and click on What is being drafted?

This will take you to a view of all draft goals for which you are listed as the goal owner. Click on a draft goal to edit or launch it.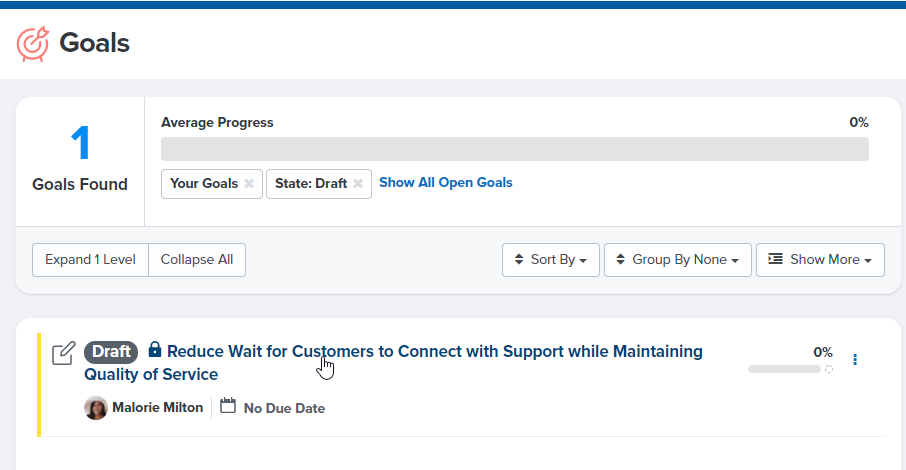 For Managers: How to View Your Downline Report's Draft Goal
As a manager, you will have access into any draft goal that is created by an employee in your downline. You can view draft goals from within your employee's Snapshot or by searching for the draft goal from your Goals page.
Once you have opened your employee's snapshot (by searching for their name and clicking the Snapshot icon), you will be able to view all of their goals, including draft and open goals from the Goals tab: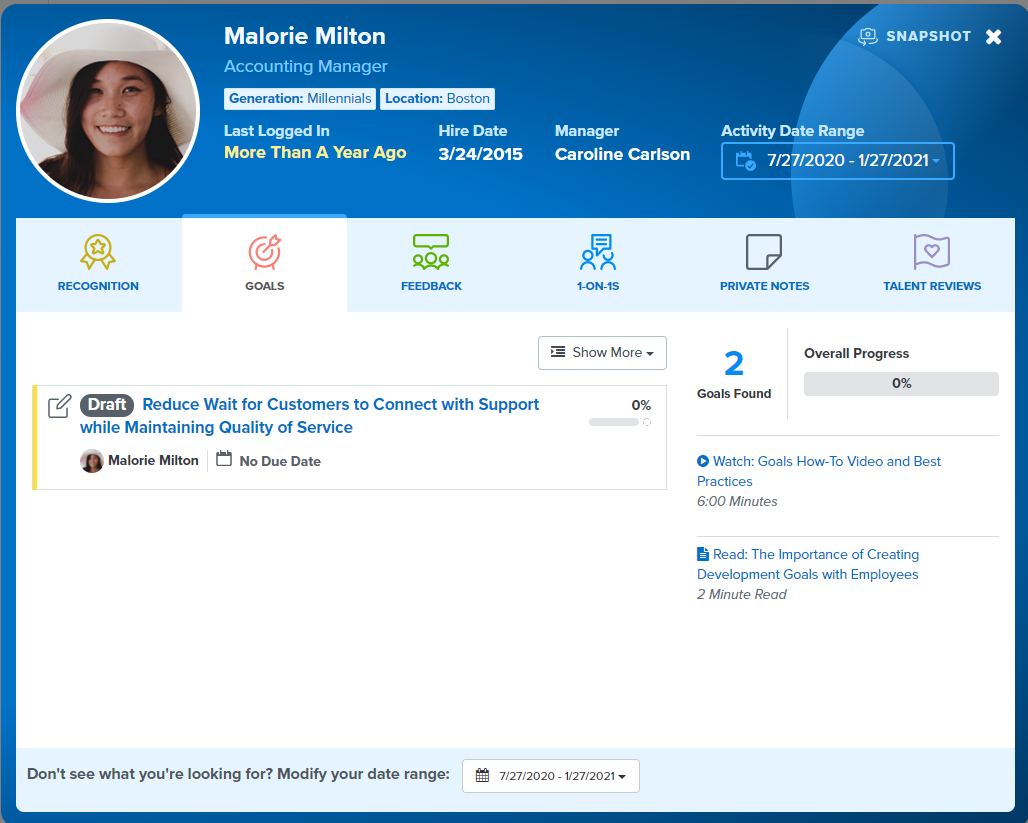 To find a downline employee's goal from the Goals Home Page, first click Show All Open Goals to remove the Your Goals filter.

Next, locate the State dropdown menu on the right side of the screen. From the State menu, select Draft in order to view draft goals that you or any member of your downline has created.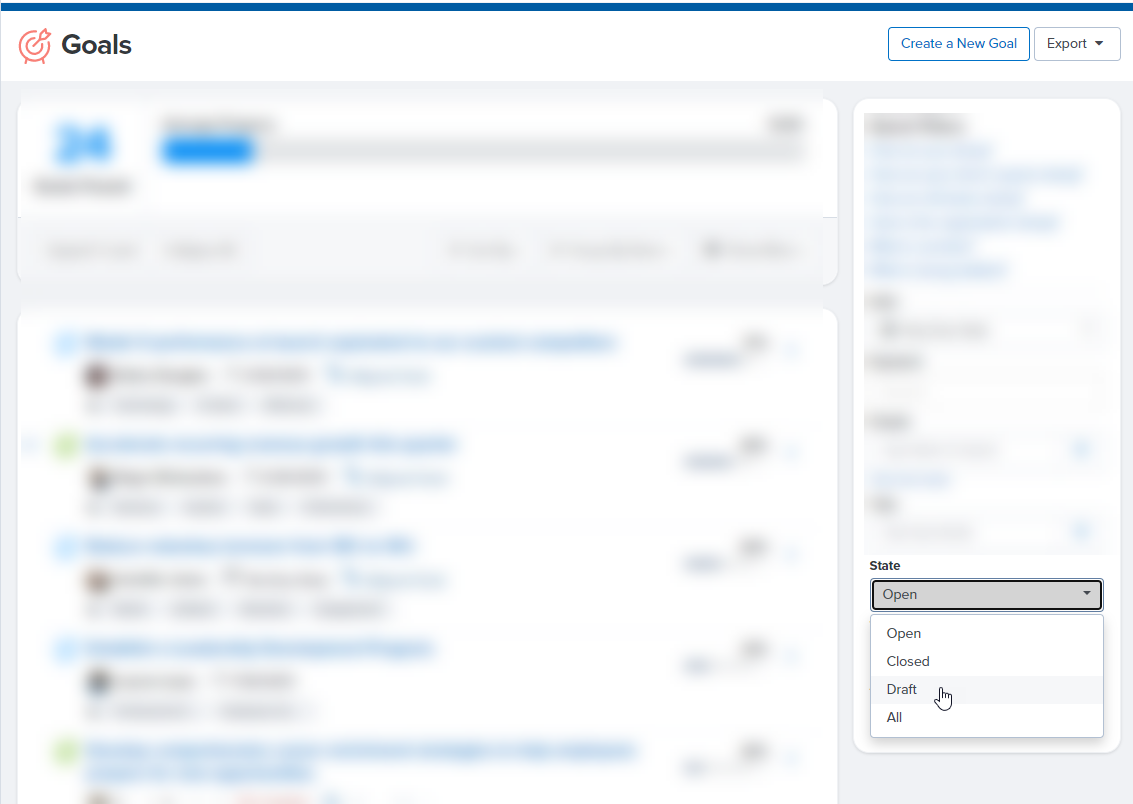 How to Add a Draft Goal to a 1-on-1
Employees and managers who have access to 1-on-1s can add their draft goals into a 1-on-1 conversation using the Goal Conversation Booster.
From within your 1-on-1, click the Conversation Boosters button from the bottom left corner.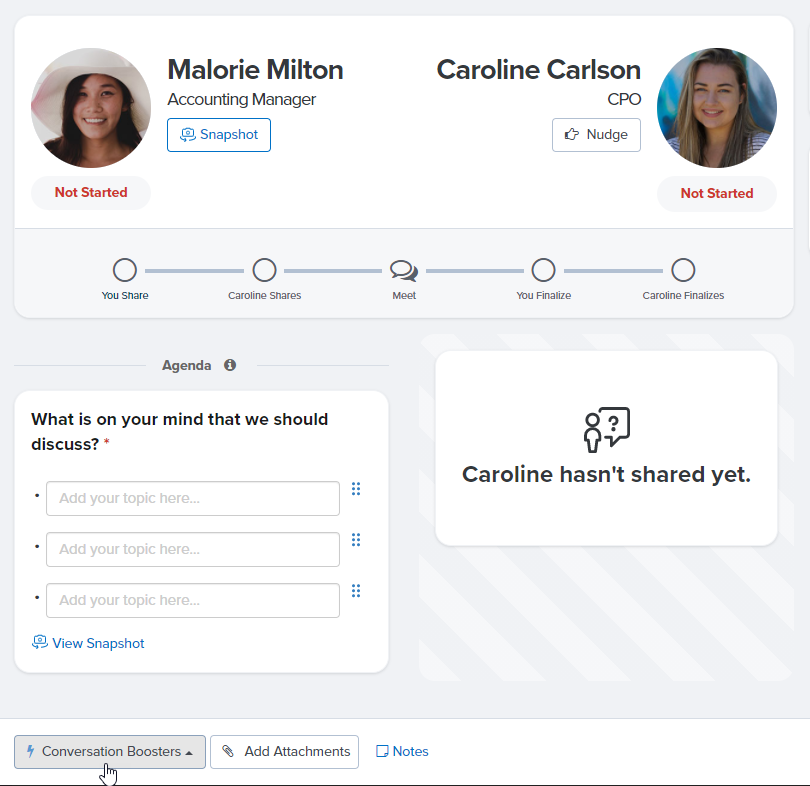 From the window that appears, click + Add next to Goal Booster.
Now you will see the Goal Conversation Booster has been added to the bottom of the 1-on-1. Click Select Goals to continue.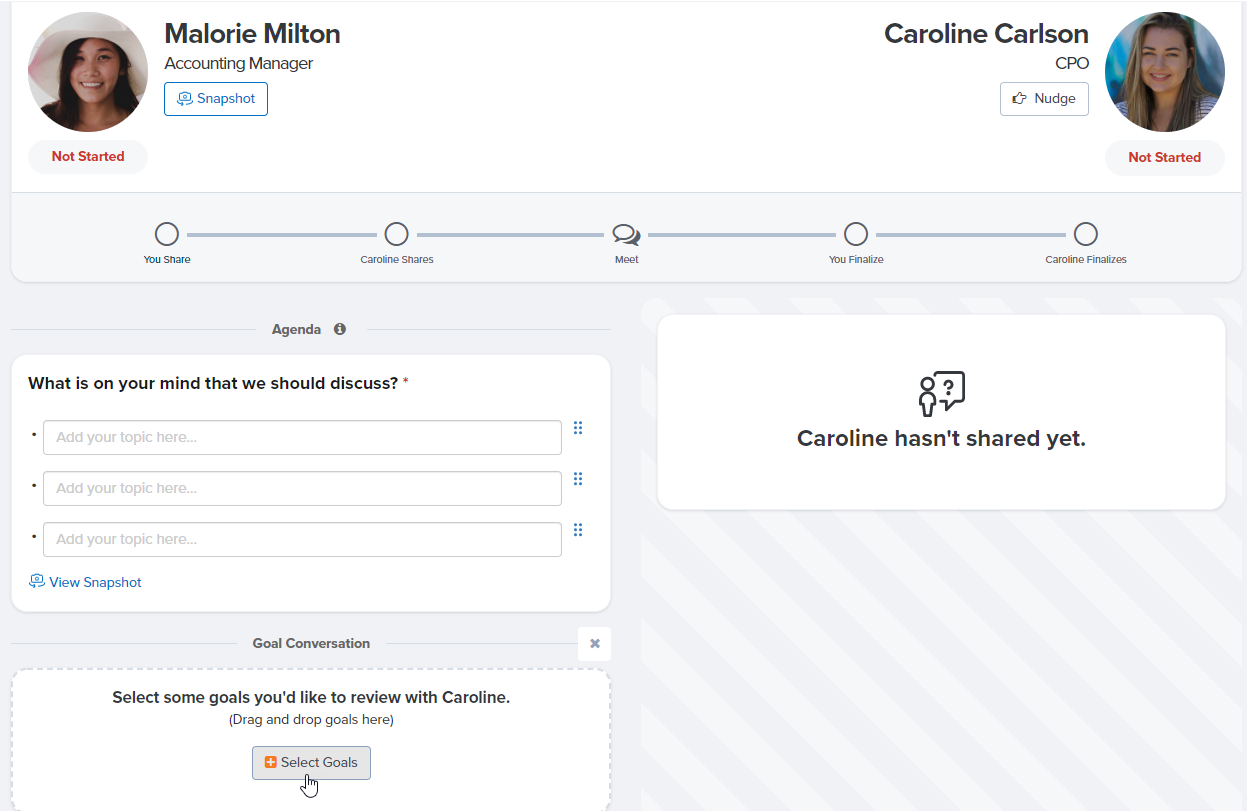 This will open up the Snapshot of the employee (e.g. the person answer the employee topics of the 1-on-1) in a panel on the right. Both draft goals and open goals are included in the snapshot. Click Select next to the draft goal you would like to add into the 1-on-1.