🚀Featured


Best Practice Surveys Now Available in Pulse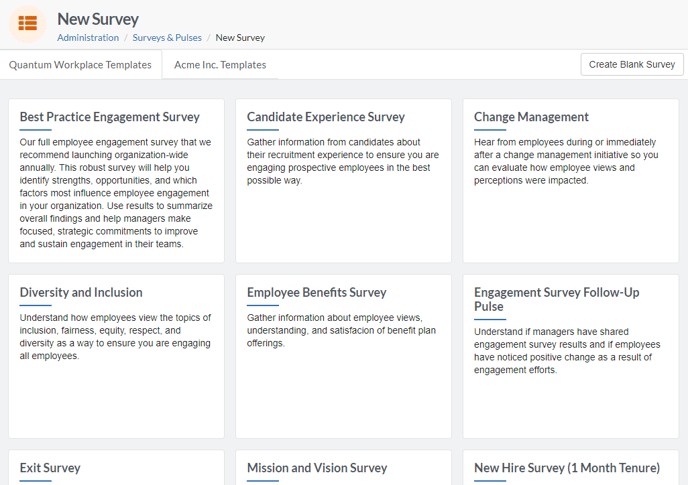 It's easier than ever to launch an effective, expert-approved survey in Pulse. Now when you open Pulse Survey, you'll have the option of launching one of our best practice surveys on a variety of topics (including New Hire and Exit Surveys, Diversity & Inclusion, and much more.) Each of the 16 available surveys has been designed by the Quantum Workplace team of Engagement experts to take the guesswork out of launching surveys.

Want to leverage our expertise but still customize your survey? No problem! You can easily customize any of our best practice surveys-- our system will save your edits AND retain our best practice questions for your future reference. Or, if you prefer to create your own survey from scratch that's fine, too!

To check out these new templates, navigate to Surveys & Pulses within Administration and click New Survey.


Turnover Rate Analytics

You already know that turnover can have a tremendous impact on your company's bottom line. It's now easier than ever to keep tabs on turnover throughout your company with the new Turnover Rate feature in Analytics. You can view your turnover rate by quarter and even examine how turnover varies across different departments or any other demographic included in Quantum Workplace.
Your Turnover Rate data will be based on your employee's hire and exit dates as listed in User Management; you will likely need to update this information in order to get accurate Turnover Rate data.



A New Way to Conduct Feedback: Introducing Focused Feedback BETA


Is your team looking for a way to leverage Feedback but concerned about vetting the quality of feedback that employees receive? Our newest addition, Focused Feedback, can help you whether you're brand new to Feedback or looking to fine tune your current process. When Focused Feedback is enabled for a particular Feedback cycle, the manager of an employee receiving feedback will be required to review the Feedback that an employee has received and summarize it. That summary, rather than the verbatim Feedback, is then shared with the employee so that they know exactly what to take action on.

Click here for instructions on how to use Focused Feedback.


Focused Feedback is in BETA. Contact your Customer Success Manager to enable Focused Feedback for your organization.
📝Noteworthy
Add your Company Logo to your Quantum Workplace Home Page


📣You asked and we delivered! Administrators can now easily add their company's logo to their company's Quantum Workplace Home Page, which will be visible to all users. Simply open General Settings within Administration and select the Home Logo tab to drag and drop a file of your company's logo (.jpgs and .png files both work)! Your employees will now see your logo on their Quantum Workplace Home Page in lieu of the Quantum Workplace logo.
Mobile App: Add Comments to 1-on-1s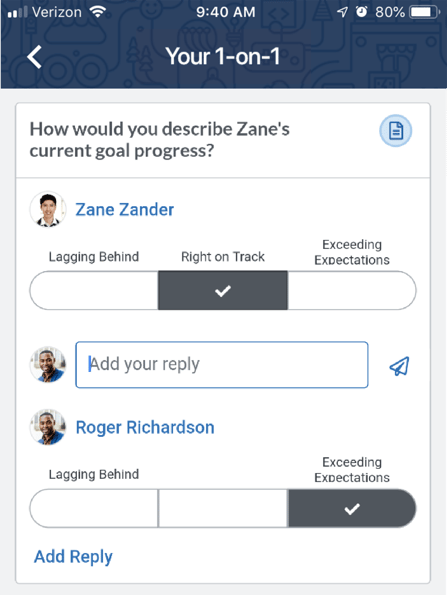 Your Quantum Workplace Mobile App is more powerful than ever. You can now add comments to your 1-on-1 via the Mobile App, making it easier to document key points from your 1-on-1 conversation, whenever and wherever it's most convenient for you!



Note: You'll need to download the most recent version of the Quantum Workplace mobile app in order get the ability to comment within 1-on-1s.
Pulse Heat Map Export


Our latest addition to our Pulse Analytics, the Heat Map, is now exportable into Excel. Now you can view all data for your Pulse Survey in one Excel spreadsheet. 🚀