Use Quantum Workplace's powerful Theme, Sentiment, and Text Analysis features and the AI-Powered Smart Summary to accurately find the story in your survey comments.
In this article:
Overview
Survey comments offer color and narrative to your survey analytics. However, unstructured data is notoriously difficult to turn into insight. And as your comment count increases, this problem just gets worse.
Theme analysis and sentiment analysis offer powerful tools to help users find the story in survey comments. Quantum Workplace's proprietary algorithms use natural language processing (NLP) to classify comment themes and sentiment. With the help of machine learning, these algorithms get smarter as administrators modify the automated theme and sentiment classifications.
Text Analytics brings together sentiment and themes to help users detect patterns and insights in their unstructured data.
Smart Summaries allow admins to quickly understand their users' thoughts and opinions for any given survey question.
These analysis capabilities extend to comments submitted in a non-English language. Non-English comments will automatically appear in the feed translated to English, however, the original comment in its original language can still be viewed by clicking Show Original Language on the associated comment card.
Theme Analysis
As comments are submitted, Quantum Workplace's NLP engine classifies comments into one of x universal workplace themes.
Check out Quantum Workplace's glossary for a complete list of our themes.
These labels are clearly displayed for each comment in the Comments report.

View Themes by Amount and Sentiment
Additional theme information is listed in the Themes card in the right-hand column of the Comments report.
Additionally, the Themes list in the lower-right of the Comments report displays all themes within your current comments, sorted by Count. For a different view, click Sentiment to see a visualization of the Positive, Negative, and Mixed scores.
Themes by Amount: When the Count option is enabled, view a breakdown of all of the themes in the survey as well as the number of comments associated with each theme.


Themes by Sentiment: When the Sentiment

option is enabled, view a breakdown of all of the themes in the survey and the favorability, at a glance, for each theme.

Hover over the sentiment visual for an exact percentage.
Edit Themes
Admins can edit the themes associated with a comment and select the new theme(s).
To edit a comment's theme:
Click Edit Themes for the associated comment
In the new field that appears:


To add a new theme: use the drop-down arrow to view a list of themes or manually enter a theme
To remove a theme: click the theme's corresponding x

Click Save
Manually edited themes appear in a gray tag, rather than the blue tags used for automated themes. Hover over an edited theme to view the admin who created the theme.

After editing a theme, refresh your page to view to ensure the theme counts are reflected.
Sentiment Analysis
Sentiment analysis is enabled for surveys by default. At the survey close, our NLP engine classifies comments with one of four sentiment classes:
Negative (Red): represents things that employees don't like, think can be improved, or both.
Positive (Blue): represents things that employees like, think are going well, or both.
Mixed/Neutral (Gray): represents things that employees have either mixed or neutral feelings about.
Unclear (White): represents a comment that can't be confidently identified.
These labels are clearly displayed for each comment in the Comments report:

Additionally, the sentiment distribution displays the breakdown of sentiment within your current comments.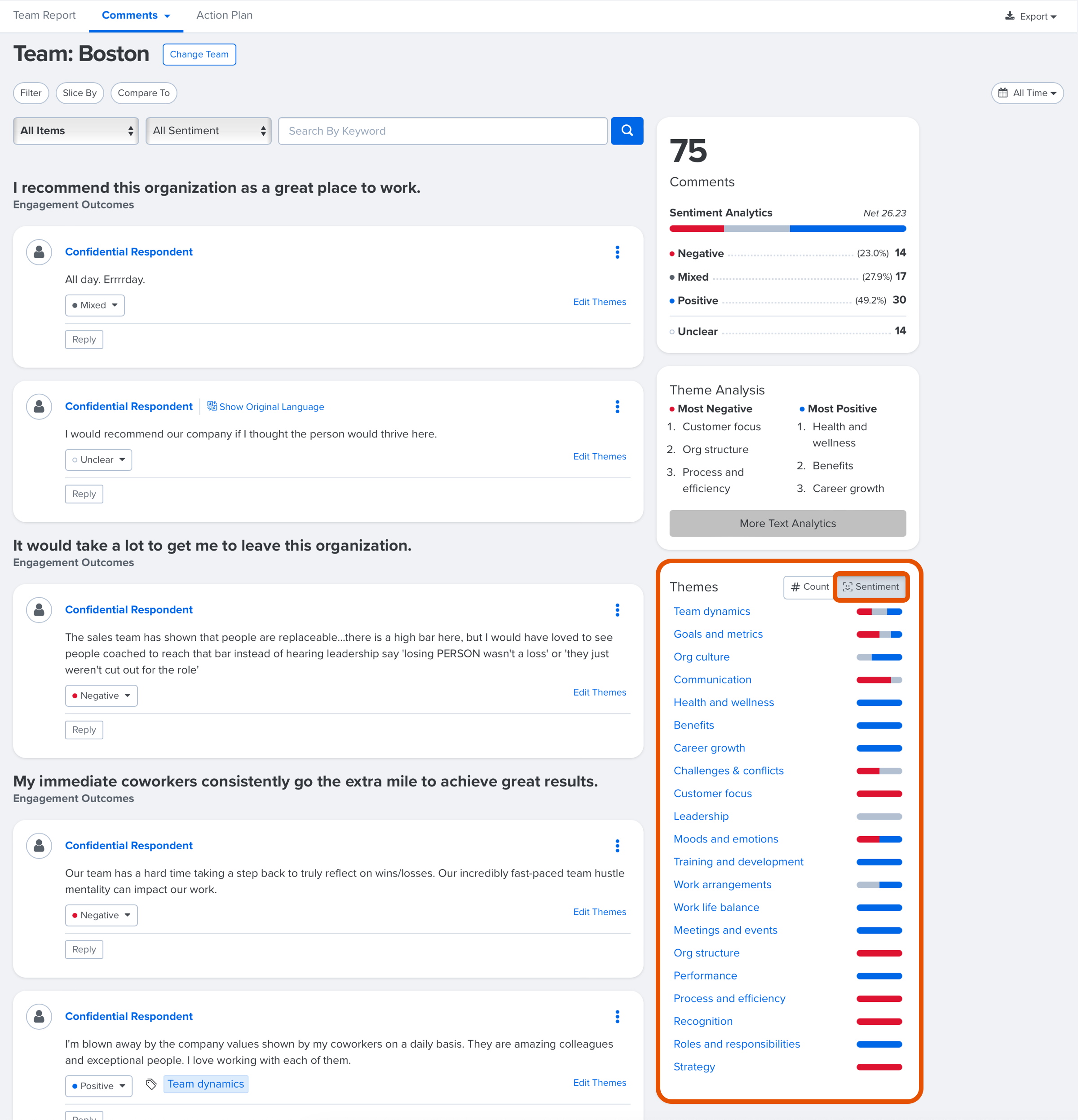 Modify Sentiment
Admins can edit the sentiment associated with a comment and select the new sentiment.
Learn about how Quantum Workplace measures sentiment.
To edit a comment's sentiment:
Click the comment's current sentiment to expand a drop-down of all possible sentiments
Click the new sentiment
Text Analytics
Text Analytics brings together comment themes and sentiments to help users find the story in unstructured data.
Most Negative & Most Positive Themes
In the Theme Analysis card, you can see the three Most Positive and Most Negative themes in the two columns.
Click More Text Analytics to view a Theme Sentiment Bubble Chart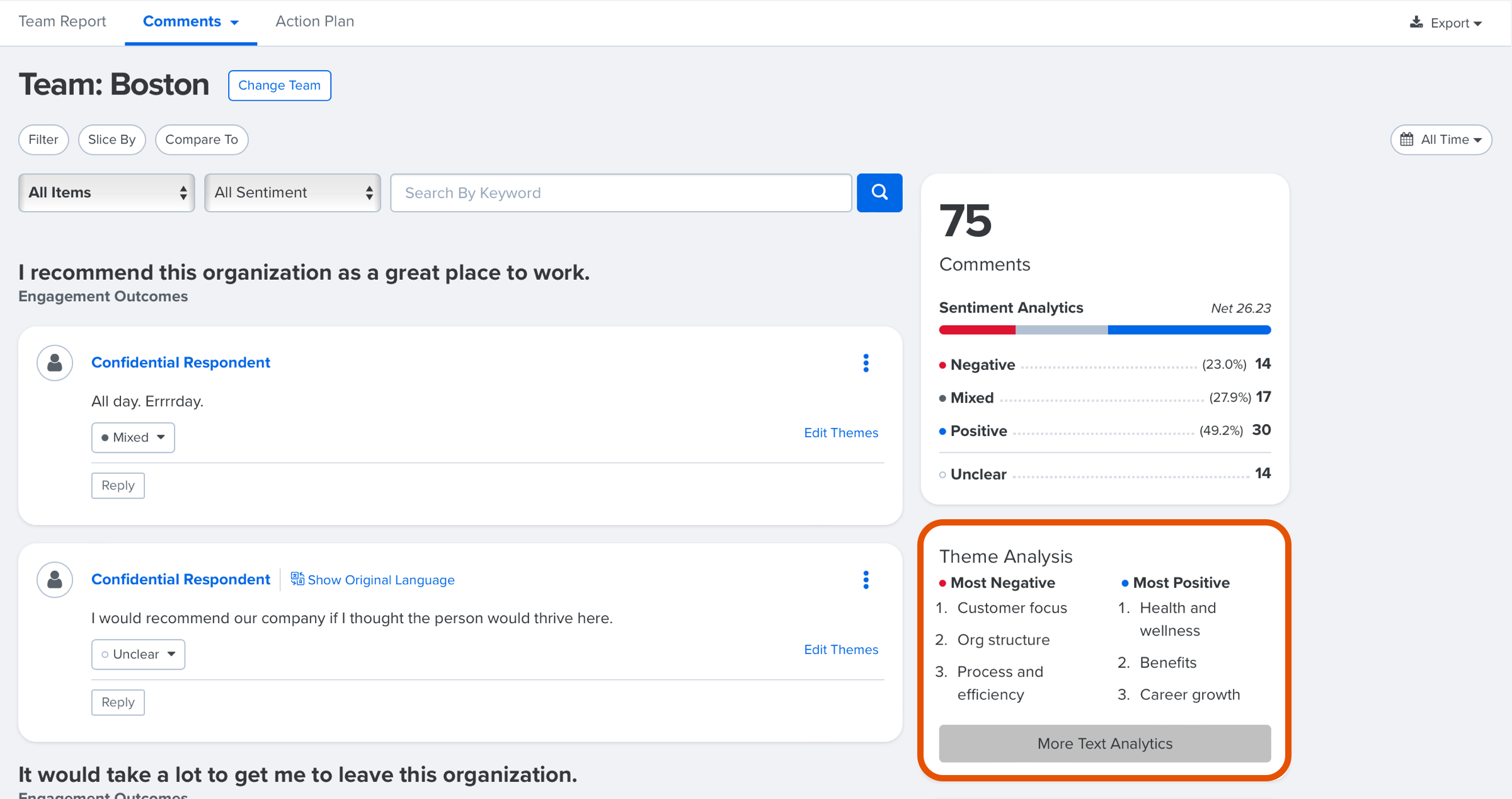 Theme Sentiment Bubble Chart
By clicking More Text Analytics, you can view the prominence and net sentiment of your themes visually via a bubble chart.
To navigate and understand the Theme Sentiment Bubble Chart: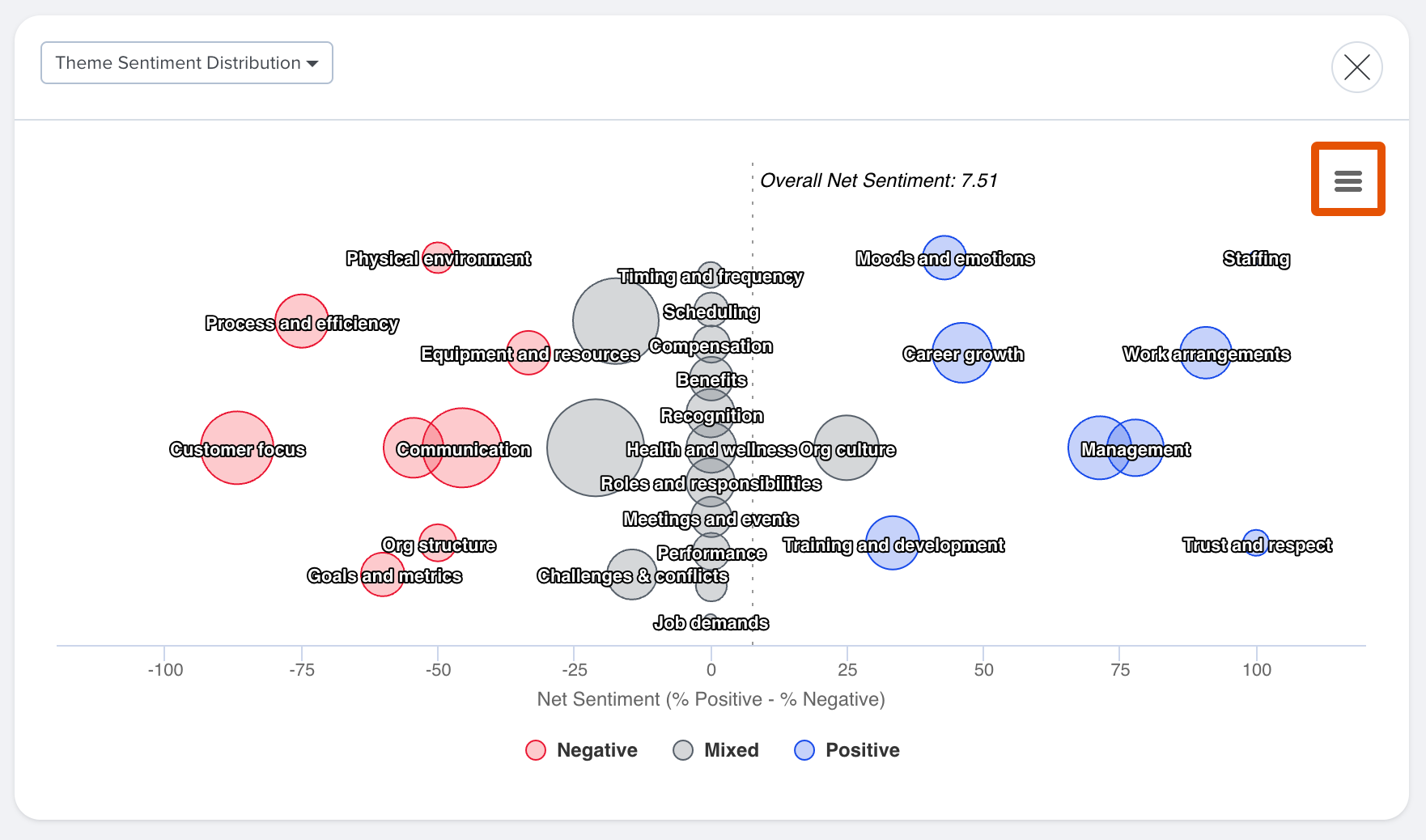 View the chart in full-screen or download the chart in various formats by clicking the ☰ icon to open additional options.
Net Sentiment (X-axis): The result of taking % positive - % negative

The more negative a theme's net sentiment, the further left it appears on the x-axis
The more positive a theme's net sentiment, the further right it appears on the x-axis

Theme Frequency (Bubble Size): The size of each bubble represents the frequency this theme appears in the current comments; the larger the bubble, the more frequently it appears
Y-axis: The placement of themes along the Y-axis is randomized and has no relation to the data
Smart Summary (BETA)
This feature is in BETA. We are interested in collecting user feedback to shape its future functionality. Please reach out to your CIM/CSM if you are interested in sharing feedback with our product team.
The Smart Summary feature, available to admins, uses generative AI to accurately summarize your employees' voices for a survey question so you can focus on deeper comment analysis and post-survey engagement.
This feature is especially helpful for larger organizations where comment volume can be overwhelming for smaller teams.
To help with survey analysis, Smart Summaries complies with active filters and slices. Additionally, other than the survey's specified min-n threshold, there is no minimum or maximum number of comments to use the Smart Summary. Learn more.
Create a Smart Summary
To create a Smart Summary for a question:

From the Comments report, use the search fields to identify a question
In the Smart Summary card for a question, click Generate Summary


This process may take a moment depending on the volume of comments

Review the generated summary and share with relevant stakeholders
FAQs
How does Quantum Workplace calculate sentiment?
Our automated text analytics uses the Bag of Words model to detect sentiment, which essentially means that the tool breaks each comment down into units called n-grams and looks at the sentiment of each n-gram in order to approximate the overall sentiment of the comment.

Unfortunately, this methodology can also fail to detect sentiment: For example, in the comment I have nothing bad to say, the word bad could be classified as negative, causing the comment to be incorrectly coded as negative until the sentiment is manually changed by an admin.
How accurate is your automated theme and sentiment analysis?
We are currently seeing 80% or higher accuracy. Over time, as the algorithm gets feedback from users overriding its classification, it will learn from these signals and accuracy should only get better.
Does theme and sentiment analysis honor filters?
Yes, the sentiment distribution and theme lists respond to filtering by demographic, by question, by theme, or by keyword will adjust your comment count and sentiment distribution. (Please note that the Theme Sentiment bubble chart currently only responds to demographic filters.)
Can sentiment analysis be turned off?
Yes, contact your Customer Success Manager to turn theme and/or sentiment analysis off for any survey.