🕑 3 min read
🚀Featured
We're bringing the heat (map)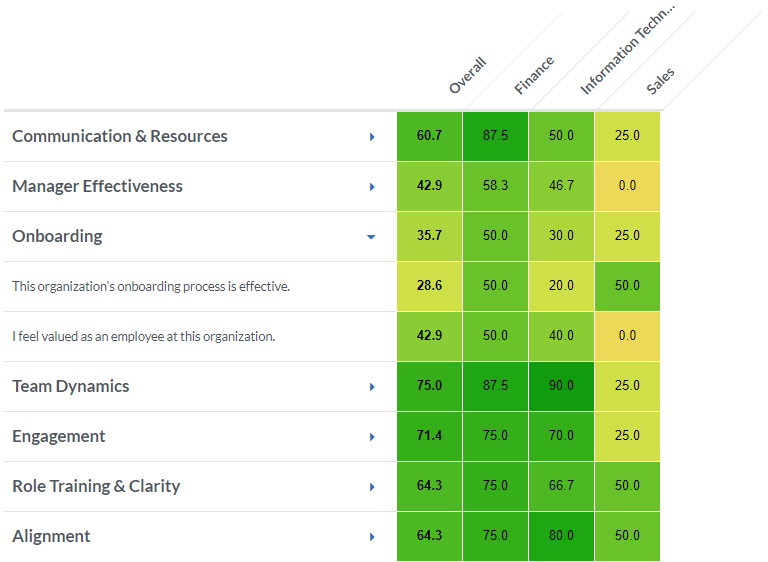 When it comes to data, a picture is worth a thousand words. That's why we are introducing the Heat Map in Pulse Analytics to help you quickly detect patterns in your survey results.
The colors on the Heat Map represent the range of results from light yellow for low scores to dark green for high scores. Select a slice to view the results!
One note: The new Heat Map is a little different on the Pulse analytics site vs the Engagement survey reporting site. We created the new Heat Map to give you better access to the big picture. It's quicker to find the highest and lowest scores across your company. In current Engagement reporting, the Heat Map only shows the high and low scores for each question or category.


We want to hear your thoughts on the Heat Map! After spending some time with the new tool, please feel free to share your input on this tool (and the rest of Pulse Analytics) by clicking the Send Us Feedback link in the top right corner of Pulse Analytics. We're excited to hear from you!
Pulse Survey Logic: Response Rules Beta
For example, an exiting employee selects "Benefits" as a reason they left your company. You can ask a follow-up question to understand which benefits they found lacking.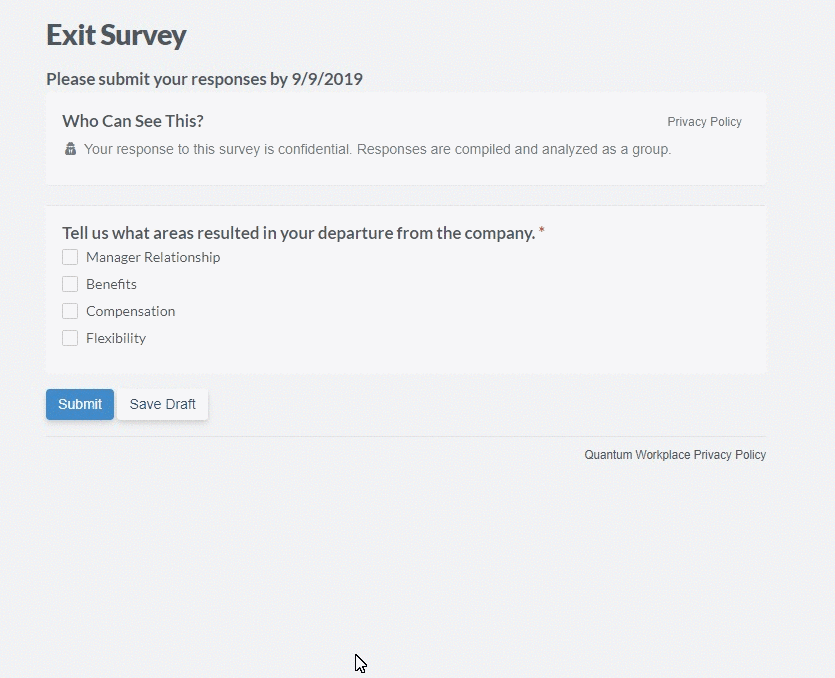 Response Rules can be used for the following question types:
Multichoice
Scaled
NPS
Self-Reported Demographic questions
Don't Forget! We have Survey logic available for demographics in Beta too! To participate in the Beta, email your Customer Success Manager.
📝Noteworthy
Goal Updates Now Available in Your Pocket + Faster Logins!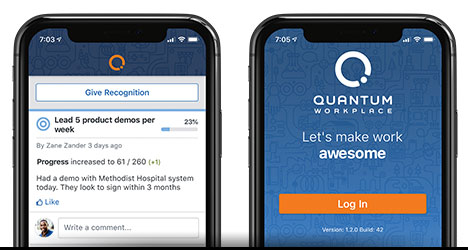 The mobile app has been updated to include goal updates and significant login improvements. With the updates in this shiny new version, all posts published to the news feed are conveniently available anywhere.
The login page also received a facelift, but the improvements aren't merely skin-deep. Logging into your Quantum Workplace account is now faster and easier. The updated app even remembers your login credentials so you won't have to log in as often!
What about SSO?
Since this is a workplace app, it has always been built with Single-Sign-On (SSO) in mind. The Quantum Workplace app has supported SSO since day one!
🛠Fixed
Feedback: For managers, the Inbox filter is a way to focus on the things that need attention -- those things require some action on their part. For a little bit, managers were unable to see feedback that required them to Add Feedback Providers unless they filtered for All Feedback. But now it's all fixed so that these show up in Inbox as they should. - Inbox Zero Hero
User Export: The user export has been enhanced to include all Focused Admins' settings — even for Focused Admins whose settings are defined by downlines. - BAM!
CSV Exports: Most of our CSV exports included employee IDs (EEIDs). Now we've ensured they are included in the Goals Dashboard and Feedback Analytics CSV exports. - YAZOO!
Question Translations: When adding a translation to a question on a template it got treated just like a change to a question. This caused a message to pop up about what happens when a question is changed. In reality, a translation isn't meant to be a change-- it's just a necessary addition that makes that same question more versatile. So now adding a translation won't show that message about changing the question. - FIXED