Easily Integrate with ADP Workforce Now®

We are excited to announce that we are partnering with ADP Marketplace to offer a streamlined way to integrate your employee data from ADP Workforce Now® into Quantum Workplace. For organizations that utilize ADP Workforce Now® as their HRIS provider, this integration will allow you to seamlessly sync your data so that any updates to your employee data in ADP Workforce Now® will be reflected in Quantum Workplace . Once the integration is finalized, you will be able to automatically launch new hire and exit surveys as employees join and leave your company, track how turnover rate and survey data vary between demographics, collect 360 feedback based on reporting relationships between employees, and more. Click here for instructions.
Enhanced Control over Manager Analytics for Surveys

If you've given managers access to their Pulse survey results in the past, you'll recall that Manager Analytics was an all or none offering that, once enabled, automatically gave managers access to survey results for their downline. We're introducing a new and improved Manager Analytics, now in BETA, that will allow you to limit the specific reports your managers should receive access to, determine whether managers should see results for the organization or for their downline only, and select a date in the future for managers to receive access to their data. These new enhancements will increase your control over what managers should see and when they should see it.
NEW 1-on-1 Templates to Align Managers and Employees during the COVID-19 Pandemic

The COVID-19 pandemic has had an immense impact on almost every aspect of our workplaces and employee experience overall. As organizations and employees navigate the transition to remote work and this period of uncertainty, ensuring that your managers and employees are aligned is more critical than ever. To help you get your managers and employees on the same page, we have added two new templates to 1-on-1s. The "Weekly Alignment" will help ensure employees are focused on the most important goals, while the "Performance Check-In" is designed to ensure that managers and employees are aligned on performance expectations. Both of these 1-on-1 templates are available to all customers, regardless of whether your subscription currently includes access to 1-on-1s. If your organization has used 1-on-1s in the past, these new templates have already been added to your 1-on-1s Administration page.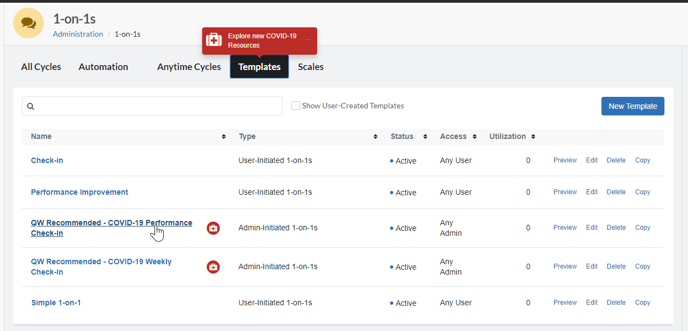 Mark Goals as On Track or Off Track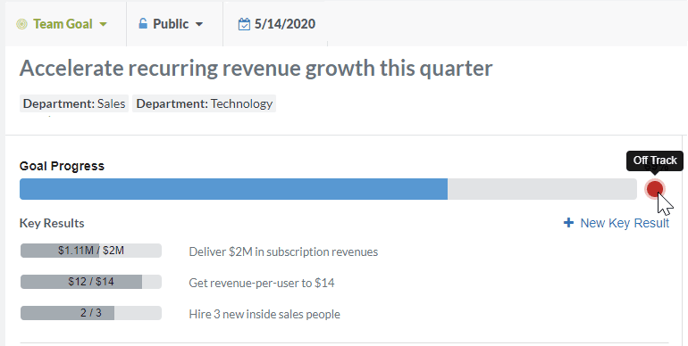 Have you ever wanted to see at a glance whether your team was on track to meet their goals? We are introducing a new way for goal owners to easily signal the status of a goal for all users to see. Now when an employee updates a goal, they have the option to signal that the goal is On Track or Off Track. By default, the goal will not have a status until the Goal Owner adds one.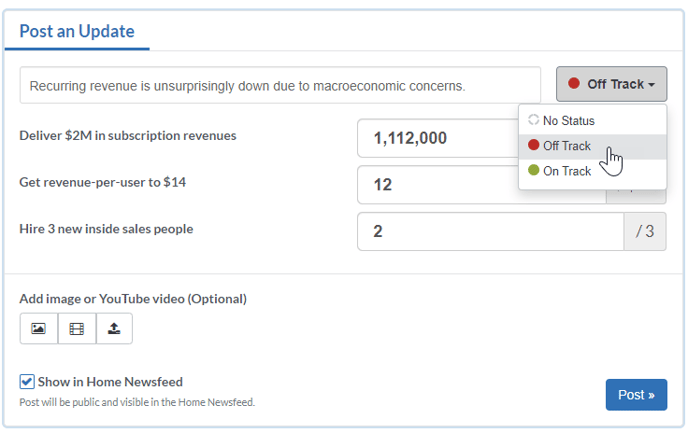 Once a status of On Track or Off Track has been added, all users will be able to see the goal status, marked with either a red or a green dot, from the Goals Home page, the individual Goal page, and from the Newsfeed.
User-Initiated 1-on-1s Now Default to No Calendar Invitation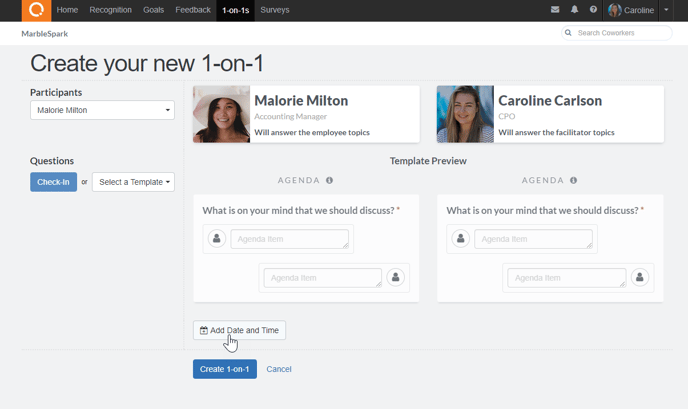 Previously, when users initiated their own 1-on-1s, by default they were prompted to select a date and time for the in-person meeting and would receive calendar invitations for that date and time. Users who did not want to schedule their in-person meeting for a particular day and time needed to click Clear Date to opt out.

This created confusion for users who wanted to launch a 1-on-1 without immediately selecting a date and time for their meeting, or who didn't realize that they would receive a calendar invitation if they left in the suggested date and time. To make this more user-friendly, 1-on-1s initiated by users will no longer default to including a date. Any users who want to schedule their in-person meeting when they create their 1-on-1 can click Add Date and Time to easily select a date and time for their meeting. If a user chooses to schedule the in-person meeting, both participants in the 1-on-1 will receive a calendar invitation for that date and time.
Users who do not opt to schedule their meeting when they first create the 1-on-1 can return to their 1-on-1 at any point to add a date and time for their meeting using the Scheduled Date field in the top left corner.