ADP Workforce Now® Integration Updates Exit Date in Quantum Workplace Immediately
All organizations that have an ADP Workforce Now® integration with Quantum Workplace will now see every terminating employee's exit date reflected in Quantum Workplace within approximately one hour of adding that exit date into ADP Workforce Now®. Previously, exit dates entered into ADP Workforce Now® were not shared with Quantum Workplace until the employee's actual exit date, which meant that you would need to manually add your employees to an exit survey if you wanted them to give them the opportunity to take the survey before their last day. Going forward, all terminating employees will be detected by Quantum Workplace and automatically invited to take your exit survey, based on your survey settings.
If you integrate with ADP Workforce Now®, please contact your Customer Success Manager for assistance.
Manage the 1-on-1 Approval Process via Email

When Admin users set up a 1-on-1 cycle, they can specify that all managers (that is, everyone answering the "facilitator" topics in a 1-on-1 conversation) must submit their responses for approval by their upline or Admin users of Quantum Workplace. This helps facilitate performance reviews and other conversations that are more formal in nature or require more oversight.

Now when an Admin chooses to send a 1-on-1 submission from a facilitator back to them to edit or review further, that facilitator will receive an email notification to alert them that they are required to make edits to their 1-on-1 responses. That email will include the name of the Admin who is sending their responses back and the suggested edits or clarification questions that the Admin has submitted.

Click here for more information approving 1-on-1s as part of a cycle.



Compare Survey, Feedback, and 1-on-1 Analytics by Management Level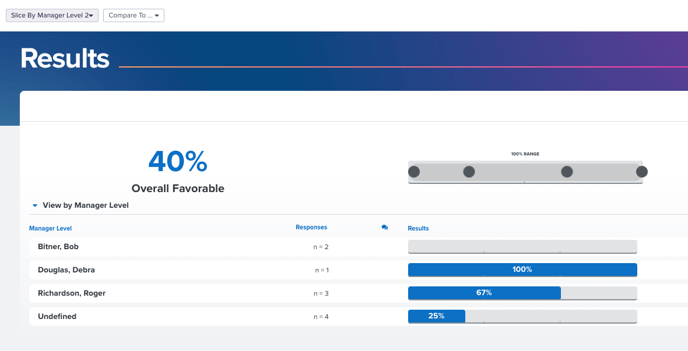 We are excited to introduce a new demographic attribute to Surveys & Pulses, Feedback, and 1-on-1s Analytics. For all Surveys, Feedback cycles, and 1-on-1 cycles that you launch going forward, you will be able to slice your data by "manager level" to see a comparison of responses for each people leader within a specific level of your organization's hierarchy. This will allow you to see how survey results differ for employees in the downline of each of your VPs, your directors, and every layer of management in your company. The manager level demographic is not available for the surveys and cycles that you've already launched.

To view survey data by manager level, you will click the Slice By: button and select a specific manager level to view a breakout of survey results for everyone in the downline of the managers in that level. The layers are structured such that manager level 1 represents your CEO or president, and manager level 2 represents the next level of leadership that reports to your CEO (e.g. your VP or director-level leaders), such that slicing by manager level 2 will allow you to compare how survey results differ between different VPs' downlines.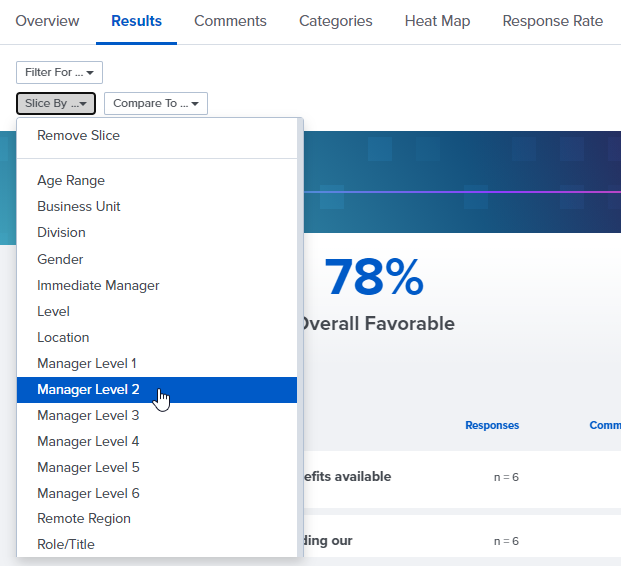 You will also be able to filter by your manager level data in order to view the downline results results for any manager in your organization:
Manager levels will be available as an attribute for Admins to slice their data by for all future surveys and cycles. You can make the Manager Level demographic available for managers in your organization to slice by from within General Settings in Administration.




Fixed:

Duplicate Calendar Invitations have been Fixed for Rescheduled 1-on-1s

Any time that an employee schedules a user-initiated 1-on-1, they and the colleague that they're meeting with receives a calendar invitation for the date and time the meeting was scheduled for. We fixed an error with the calendar invitation that occurred when users rescheduled their 1-on-1s in which both the new time slot and the original time slot both appeared on the calendar. Going forward, calendar invitations will reflect the rescheduled date and time for the meeting only.

1-on-1s: Scroll to Question Hyperlink Fixed

1-on-1 users will receive an error message if they attempt to submit their responses to a 1-on-1 before they answer all of the required questions; this message includes a link that takes the user directly to the required questions that they have not yet completed. This link was previously broken but is now working correctly.