In this article:
Overview
Access Settings give you the option to configure custom roles and assignments to provide survey access in ways that fit your organization's needs.
Assignments can be thought of as the who, it specifies who has access to specific areas of your survey's analytics, i.e. the entire survey, their downline only, a specific branch of your org tree, etc.
Roles can be thought of as the what, it determines what assigned users can see and do via filters, slices, reports, and other capabilities provided to them.
Non-admin users can only access a survey's analytics if they're given an Assignment and Role for the specified survey.
Accessing Access Settings
To navigate to a survey's Access Settings page, click and expand Analytics in the left-hand navigation menu, then click Surveys & Pulses.
Click the specified survey to see the analytic's Overview page, then click Access Settings in the top-right.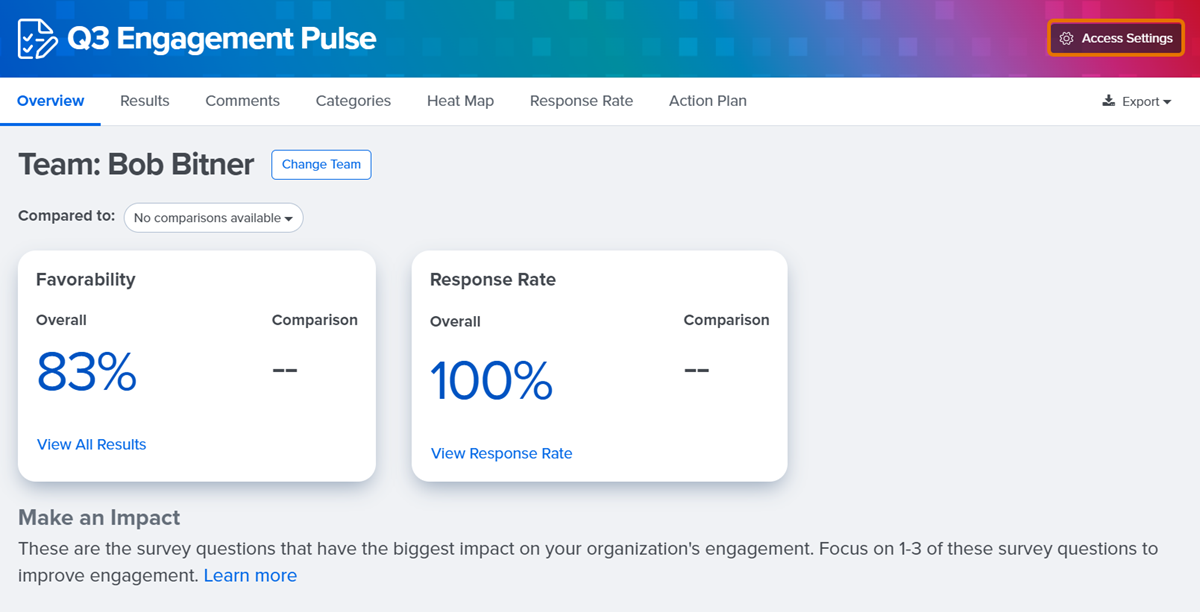 From the Access Settings page, navigate to the Assignments and Access Roles tab to assign users and configure custom roles for your survey's analytics.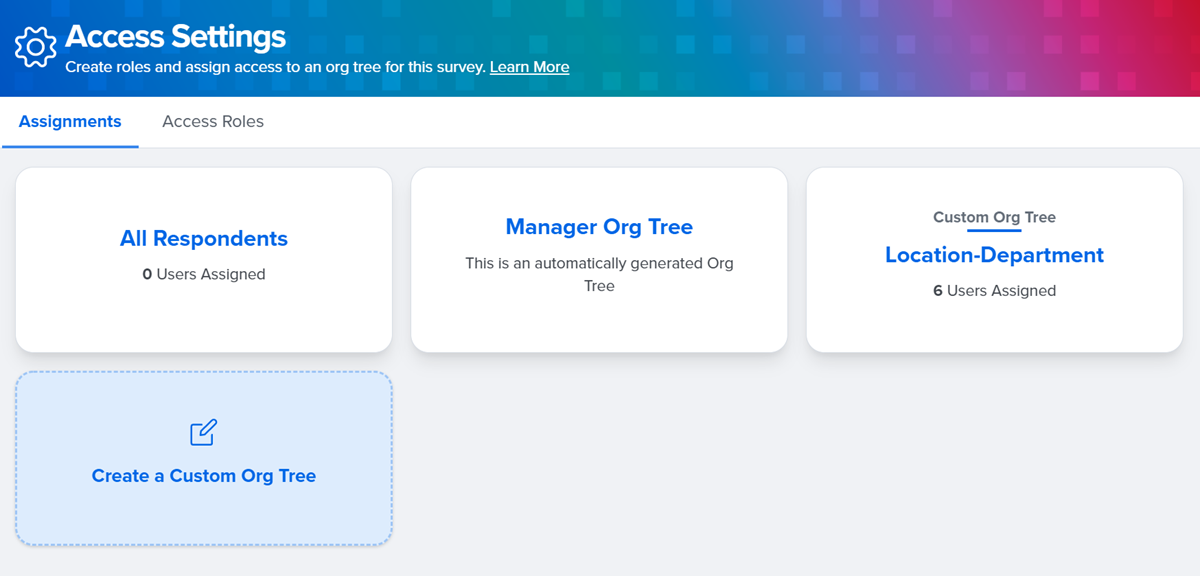 Assignments
As an admin, Assignments give you the flexibility to give analytics access to specific areas of your organization.
For example, an Assignment can give a user visibility into the entire survey, for their own downline only or a branch on an org tree.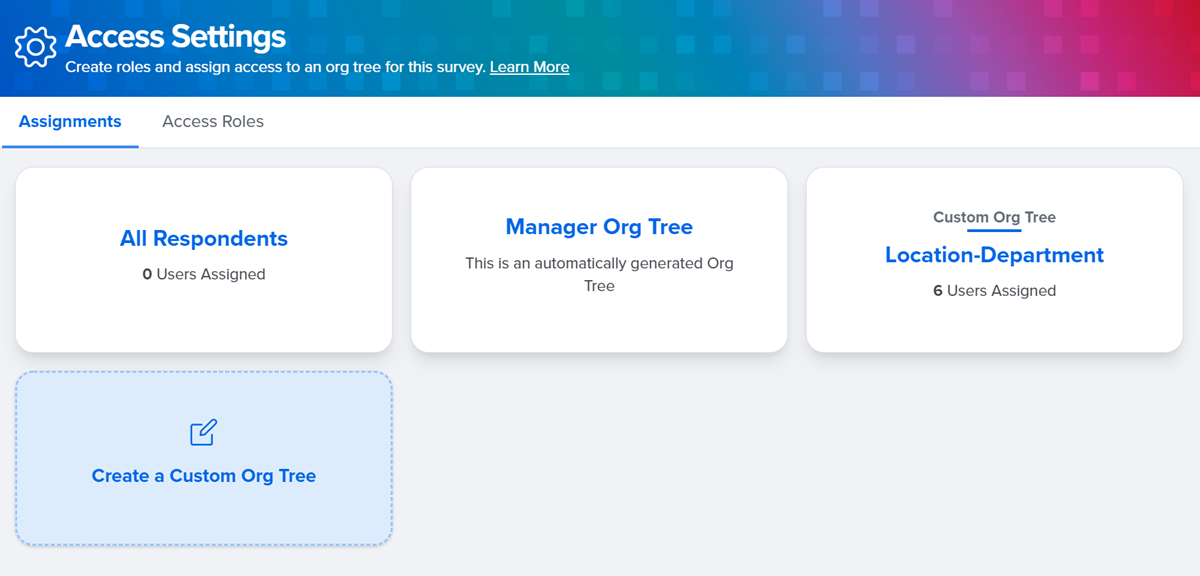 There are three types of Assignments:
All Respondents:

Provides access to all respondents and org trees for the survey

Note: All Respondents replaces the legacy, Analyst assignment.

Manager Org Tree:

Automatically gives managers access to their own downline

Custom Org Tree:

Assign any user, with any Role, to any branch of the tree

Create a Custom Org Tree: Create an Org Tree to your specifications, learn how.
How to Assign Users to a Custom Org Tree
To assign a user to a Custom Org Tree, begin by clicking the desired Custom Org Tree, in this case, the Location-Department tree.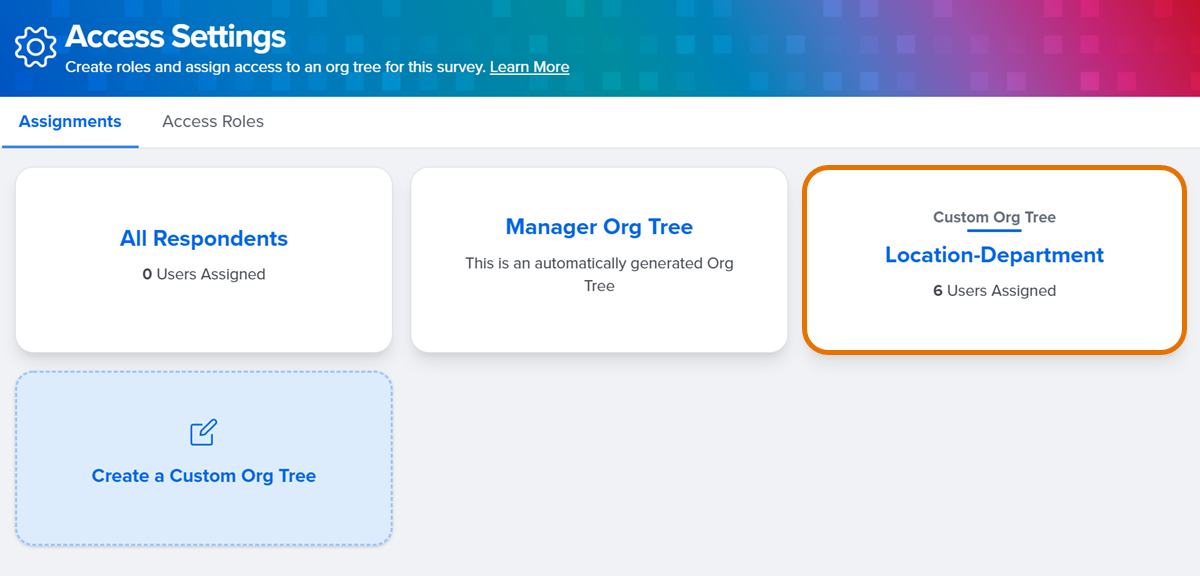 When viewing the various branches, click the Add icon at the end of the corresponding row to assign a user to that branch along with its downline, if any.
In the GIF below, an employee named Zane is being added to the HRBP role for the Boston office's Finance branch for the Location-Department tree.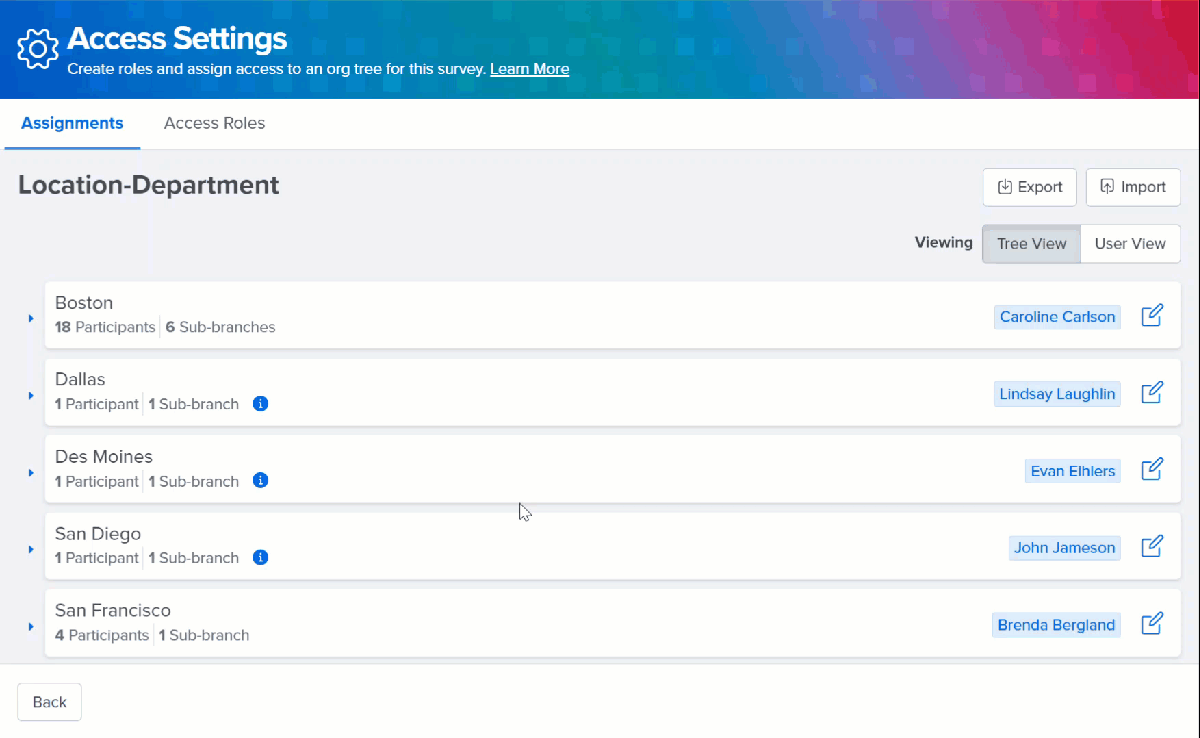 Access Roles
As an admin, you have complete flexibility in customizing what users have access to. For example, a Manager role can give users some access to filtering and slicing survey data but does not give the role access to comments, replies or the heat map.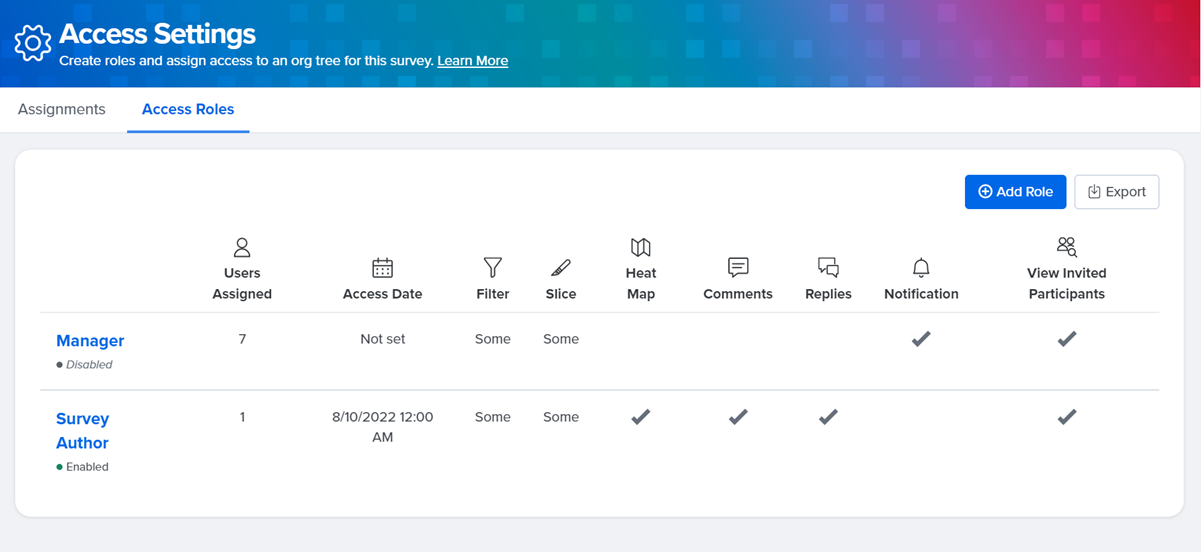 To streamline this process, every people leader in your organization is automatically given the Manager role. Some of these automatically created roles include:
Manager Role
When a survey is launched, the Manager role is automatically created and all managers in your organization are automatically added to this role.
The Manager role's filter and slice settings are determined by your General Settings

. These settings can be personalized per survey.

Survey Author Role
When a survey is launched by a Focused Admin, the Survey Author role is automatically created.
The View Themes and Manage Themes settings are automatically enabled on the Comments report for this role. Other settings can be personalized per survey.
Additional Roles
An administrator can manage the existing settings for Focused Admins and create additional roles to grant access to other leaders and managers in your organization.

Learn more about Focused Admins.
You can also create any additional roles you need by clicking Add Role. From there, you can set up new roles as needed- whether it's to provide survey access to your HRBPs, senior leadership or plan a phased rollout of the survey analytics.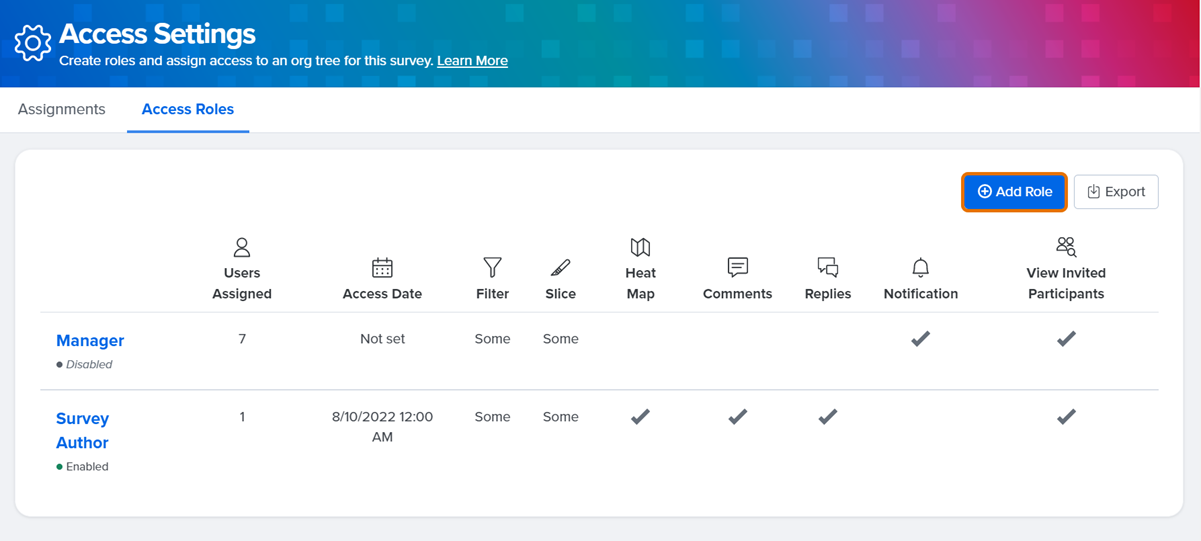 Access Role Settings
When creating or editing access role settings, there are various settings you can configure for the specific role. This section will cover what you should know about each setting.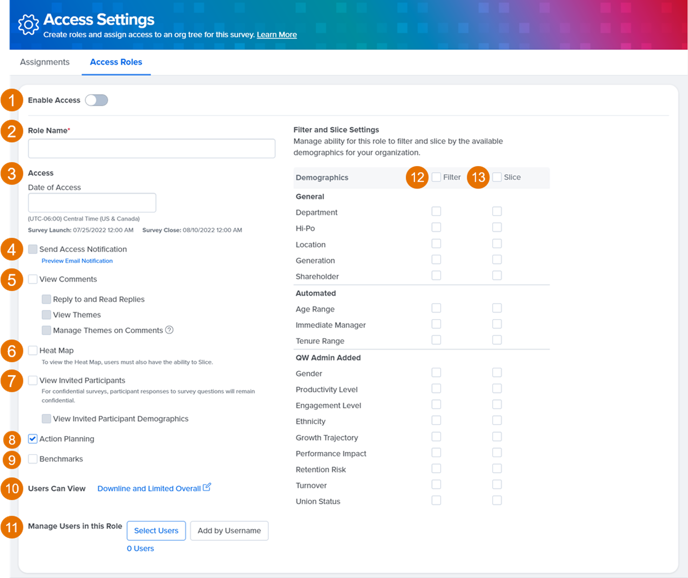 Enable Access: Toggles whether the role is active or inactive, the Date of Access setting still applies
Role Name: The name of the survey's role, must be unique
Date of Access: Specify the date and time when users gain access, the Enable Access setting still applies
Send Access Notification:If enabled, sends a notification to all users in the role at the Date of Access, the Enable Access setting still applies

View Comments: Specify if users can view the Comments report

Reply to and Read Replies: Specifies if users can reply to comments and read the conversation with the survey participant
View Themes: Specifies if users can view comment themes
Manage Themes on Comments: Specifies if users can add, remove or change a comment theme

Heat Map: Specify if users can view the Heat Map report, this requires the ability to slice by demographic
View Invited Participants: Specify if users can view the list of respondents for the survey

View Invited Participant Demographics: Specify if users can view the demographic attributes for each respondent, only attributes that can be sliced or filtered by the role are visible

Action Planning: Specify if you can take advantage of Action Planning from the beginning of the survey to effectively increase employee engagement
Benchmarks: Specify if benchmarks are available to compare with your analytics
Users Can View: Determines the upline access for this role, click the current option to change between views:

Downline Only: Gives users visibility into their downline's results


Downline and Limited Overall: Gives users visibility into the results of their downline and the organization overall, but slices & filters can not be applied to the org's overall results


Downline, Limited Upline and Overall: Gives users visibility into the results of their downline, the organization overall and their upline, but slices & filters can not be applied to the org's overall results or the upline's results



Manage Users in this Role: View, add and remove users from this role


Users can be added by usernames or in-bulk via CSV file uploads

Filter Settings: Determines which demographic attributes this role can use to filter results
Slice Settings: Determines which demographic attributes this role can use to slice results