In this article:
Overview
Surveying your organization is the first step of many in the journey to understand and impact engagement. A critical step in that journey is taking action based on insights surfaced from the survey. Employees who see action following a survey are 12 times more likely to be engaged the following year than those who don't experience follow-up.
Action planning will enable teams and organizations to create action plans around their most impactful survey questions. Teams building their action plans will be able to leverage Quantum Workplace's Best Practice "Action Items" from the "Actions Library."
Analytics dedicated to action plans will help empower leaders by uncovering the information needed to enable organizations to understand and support their admins and managers with targeted programming.
About Action Planning
If Action Planning is enabled for a survey, access can be customized on a role basis for non-Admin users.
Upon survey close, all users with Survey Analytics access for that survey will be able to utilize the Action Plan page for action planning. Survey questions with Insights will be available for users to pull into their action plans as Focus Areas.
To add a question from the survey to your action plan, the question must have an Insight. Automated Insights can also be included in your action plan. Learn more about Insights.
To maintain meaningful and focused Insights- the available Insights in the Focus Area are limited to Automated Insights at a global level, the user's node and any manual Insights created by the user.
Enabling Action Planning in the Survey Creator
In the Survey creator, select the Enable Action Planning checkbox to take advantage of the Action Library during the survey-creation process. This helps to better strategize how you improve engagement while creating the survey, not after it launches.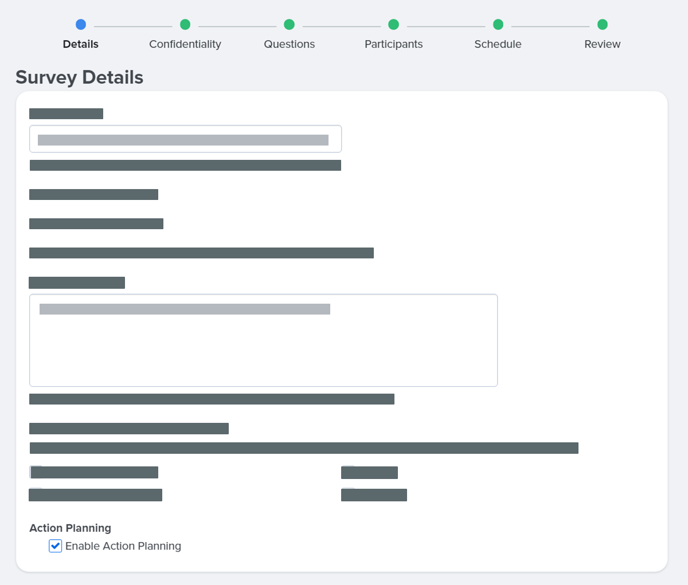 When Action Planning is enabled for a survey, admins can choose to enable or disable Action Planning for each role. Click here to learn more about roles and assignments.
How to Create an Action Plan
To start building your action plan, analyze your survey data. Slice and filter the data and use the various reports available to you in Survey Analytics to identify interesting data points or trends within the data. Create Insights to capture any interesting data. You can identify questions with Insights in the Results report by their purple bookmark icon under the Insights column.
As you evaluate the Insights that you've created, focus on 1-3 survey questions that you and your team want to invest in. Click here to learn about How to Create an Effective Employee Engagement Action Plan.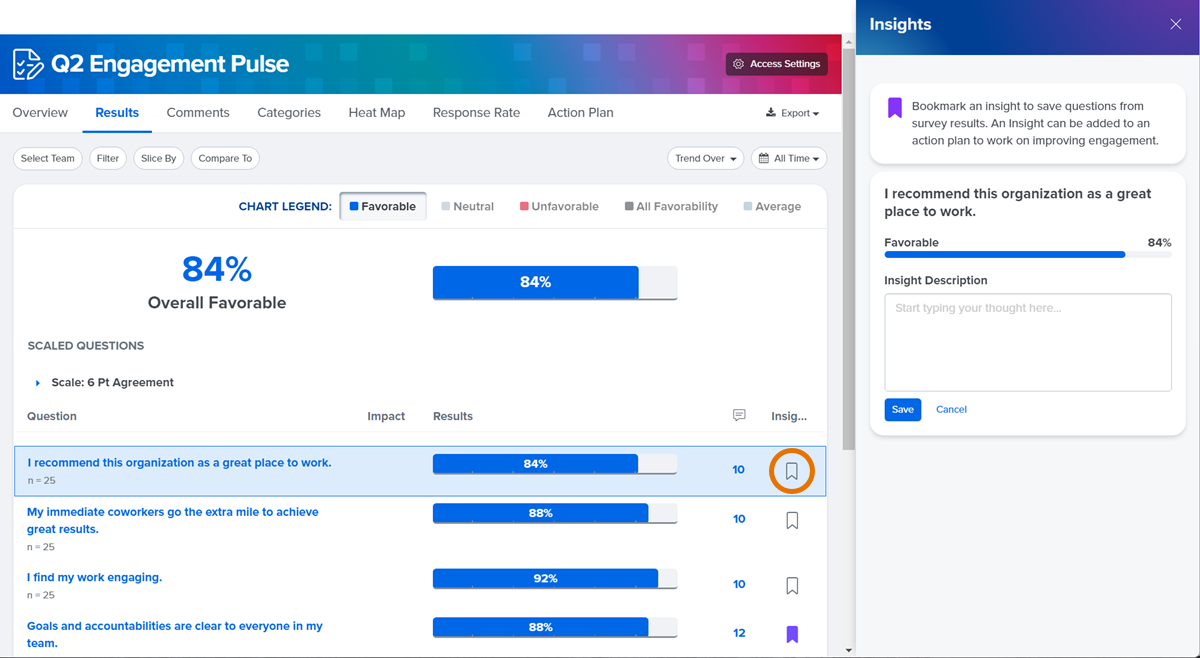 Questions with Insights can also be found on the right-hand side of the Action Plan page under Questions with Insights.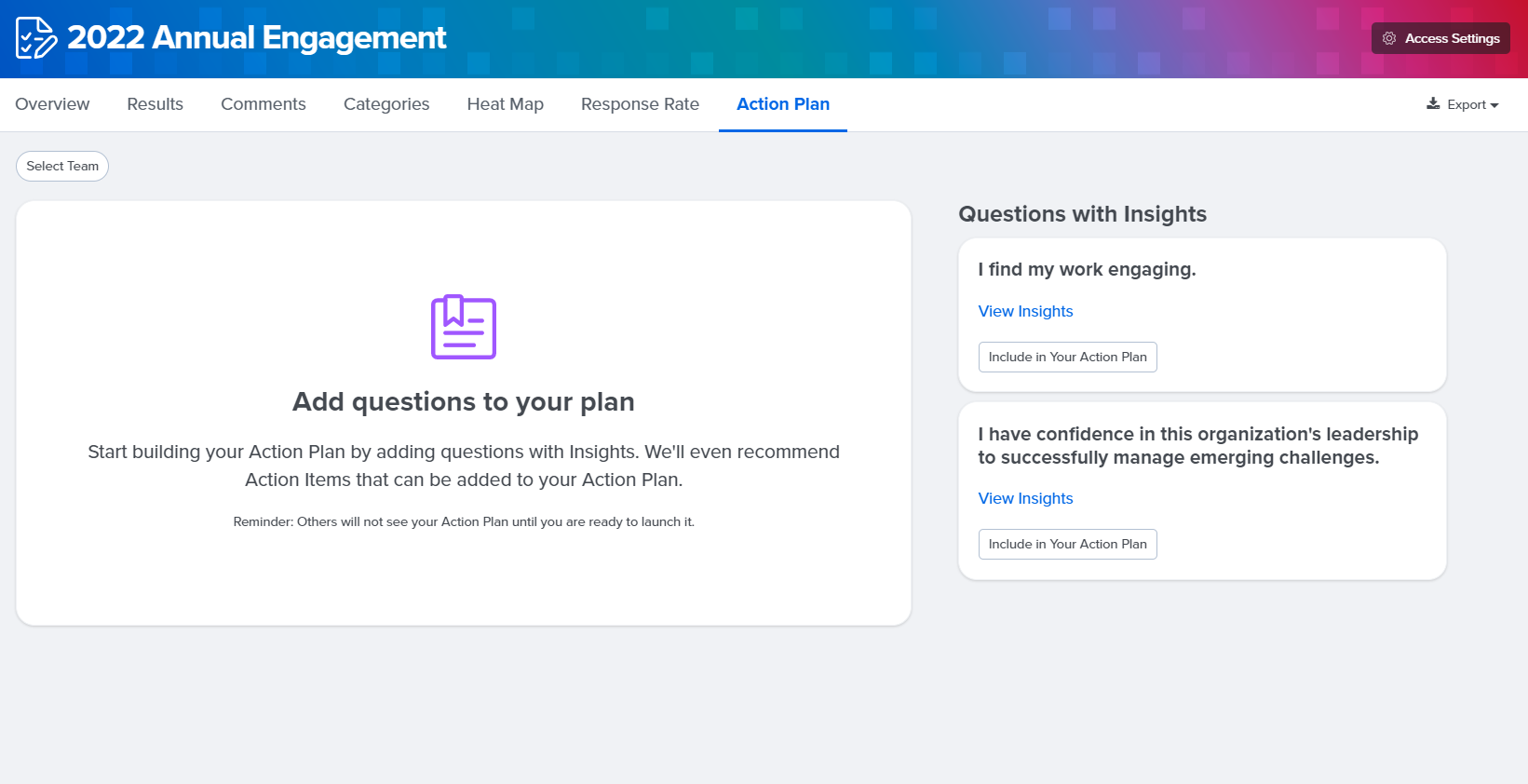 Once you have identified your questions, click Add to Action Plan, or Include in Action Plan, respectively, to add the survey question, with the Insight, to your action plan.
Once a part of your action plan, the survey question will be designated as a Focus Area, indicating your intent to invest in that survey question with actions to support the favorability of the Focus Area. To view or hide the Insights associated with that Focus Area, click View Insights.
How to Add or Edit an Action
Once you begin populating your action plan with Focus Areas, you can add Action Items to those Focus Areas. Action Items can be added to your Focus Area in one of two ways, via the Action Library or created manually.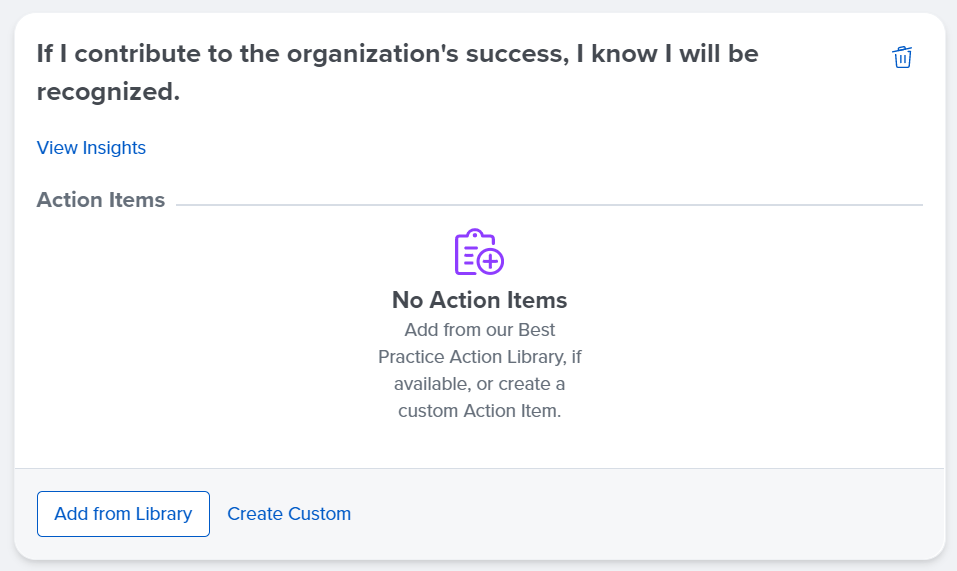 If there are no Best Practice Actions associated with a focus area when creating your action plan, the Add from Library button will not be available. In these scenarios, the Create Custom will be the only option.
Action Library
To add an Action Item from the Action Library, click Add from Library. Select the Action item from the library that you wish to include in your action plan for that Focus Area by clicking Add Selected.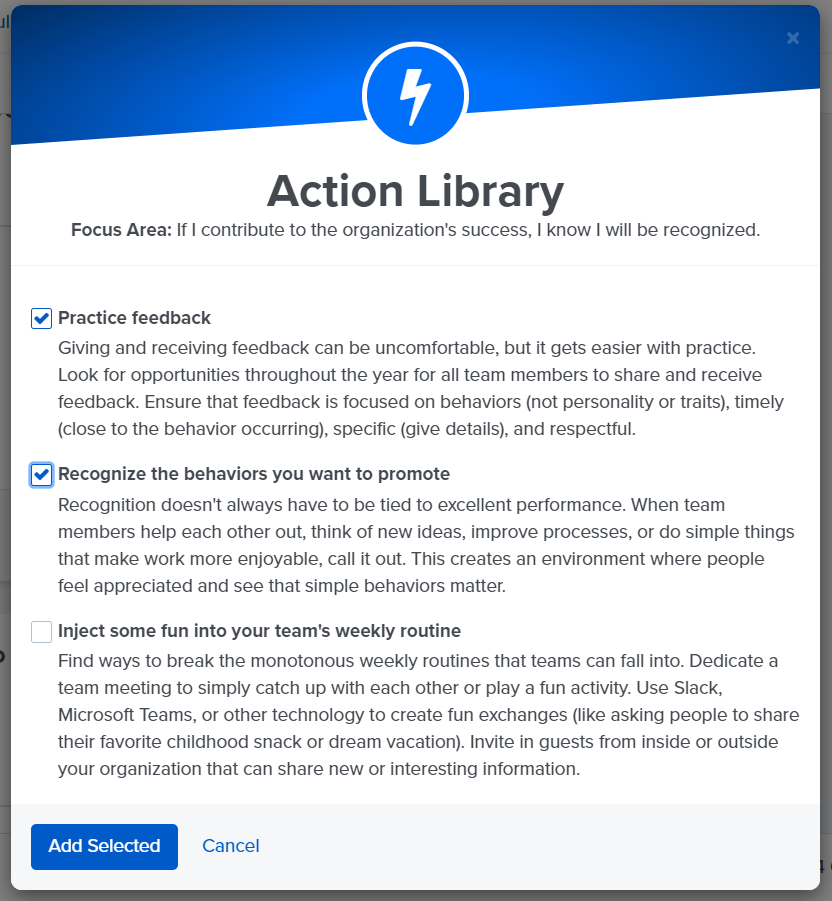 The Action Item will appear in your Action Plan as a part of the intended Focus Area.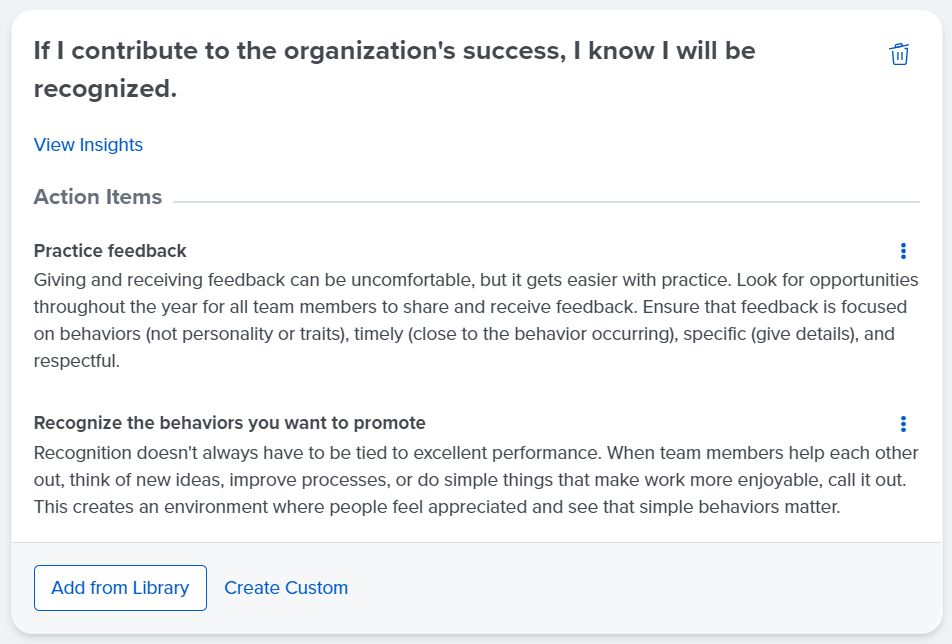 For the vast majority of Quantum Workplace's standard engagement survey template questions that are not outcome items, the Action Library will contain suggested best practice Action(s). New best practice actions are regularly being added to the Action Library.
Action Library suggestions are not available for custom questions or questions that are outcome items for the survey. Action Items from the Action Library can be edited after being added to your Action Plan.
Creating a Custom Action Item
To create a custom Action Item, click Create Custom within your Focus Area.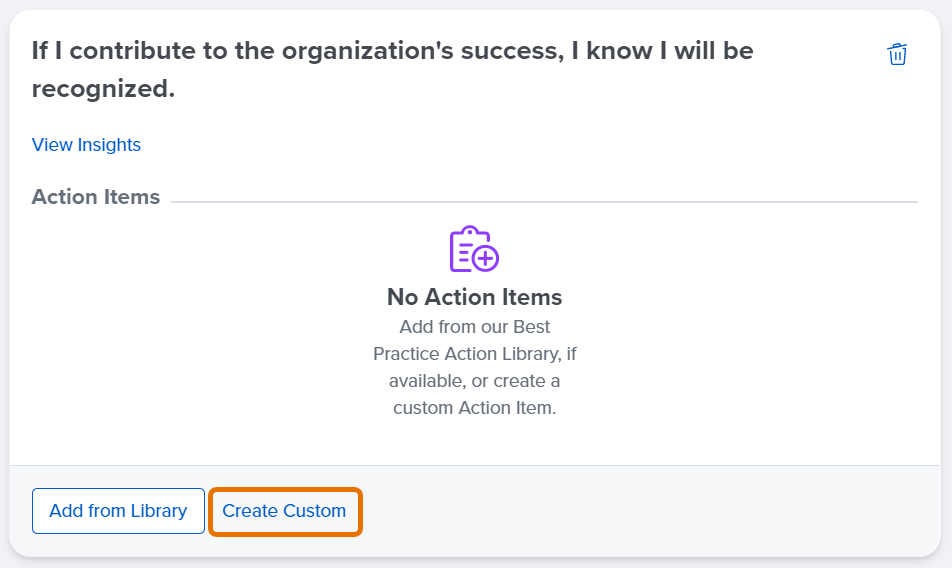 Within the Add Action Item pop-up, complete the Add Title and Add Description fields. Click Add to add this to your Action Plan.
The Action Item will appear in your Action Plan as a part of the intended Focus Area.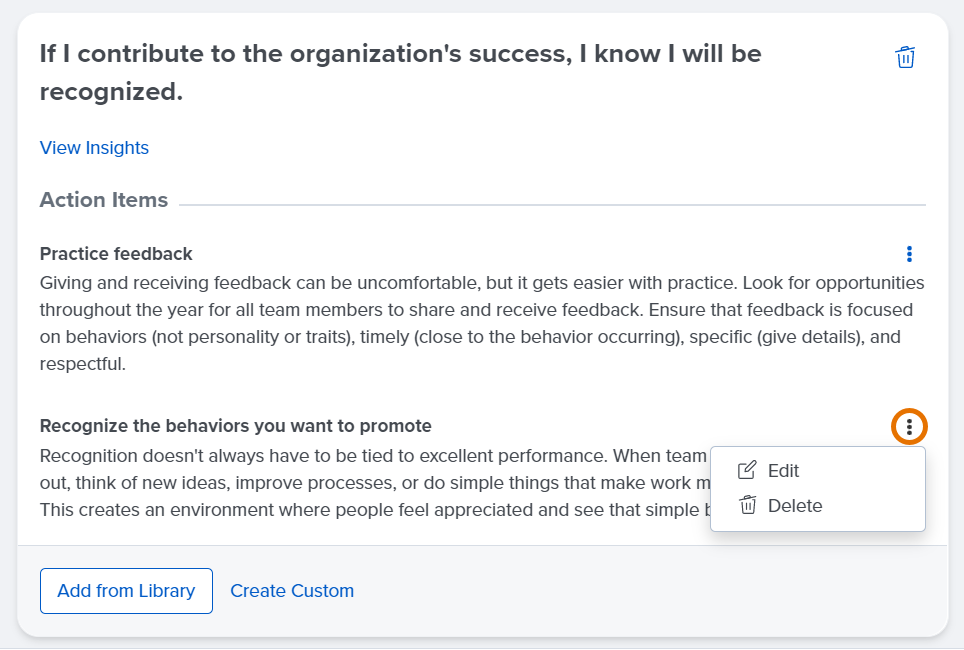 Once an Action Item is a part of your action plan, you can edit it by clicking the ⋮ icon on the Action Item and selecting Edit or Delete.
Launching and Updating your Action Plan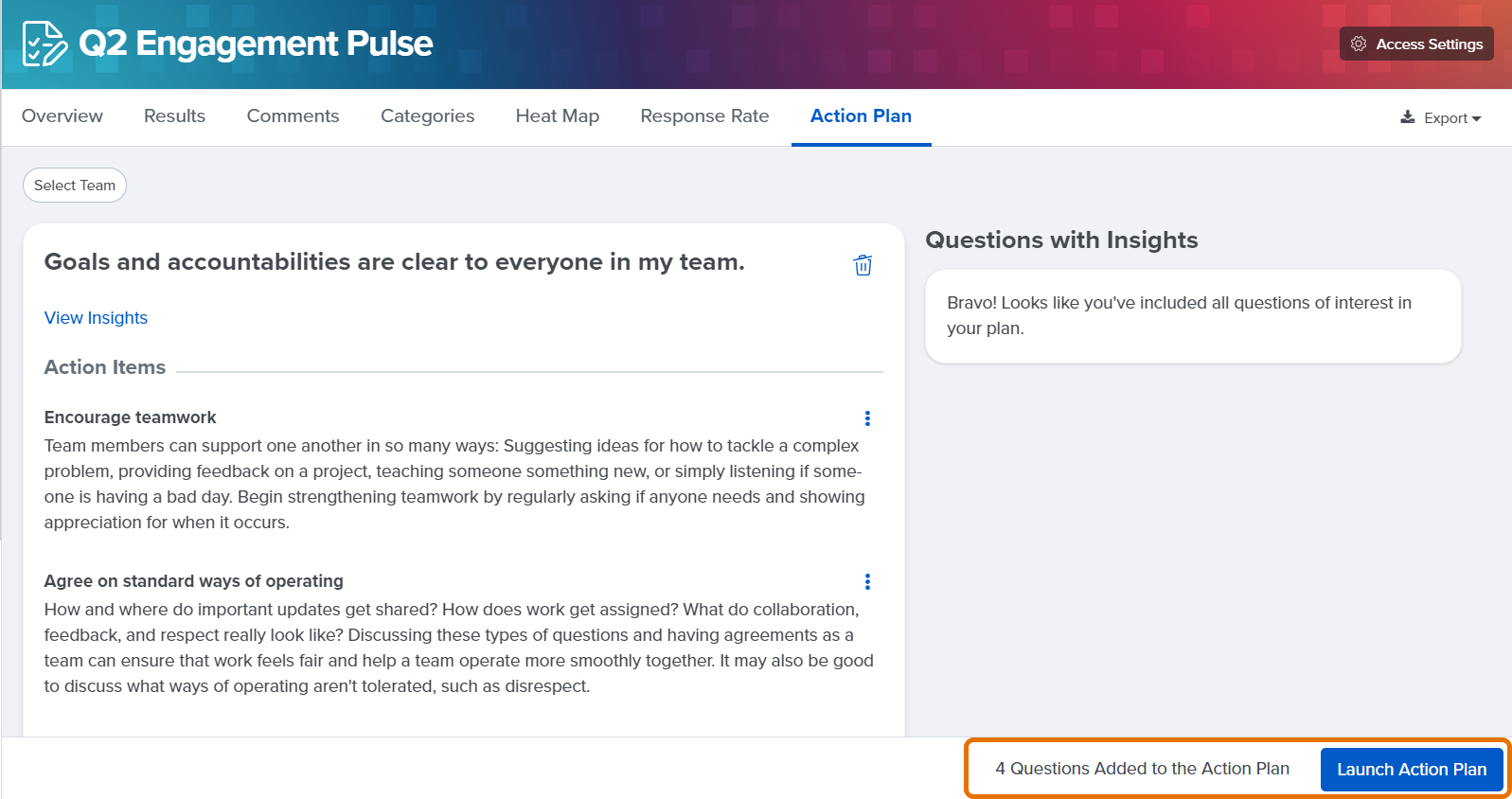 Once you have finished drafting your action plan, launch it via the Launch Action Plan button in the bottom-right corner of the page. Launching your action plan will enable you to execute your plan. Once launched, you will be able to update your action plan by investing in, and completing, your Action Items.
To mark an action item complete, click the checkmark icon immediately to the left of the item.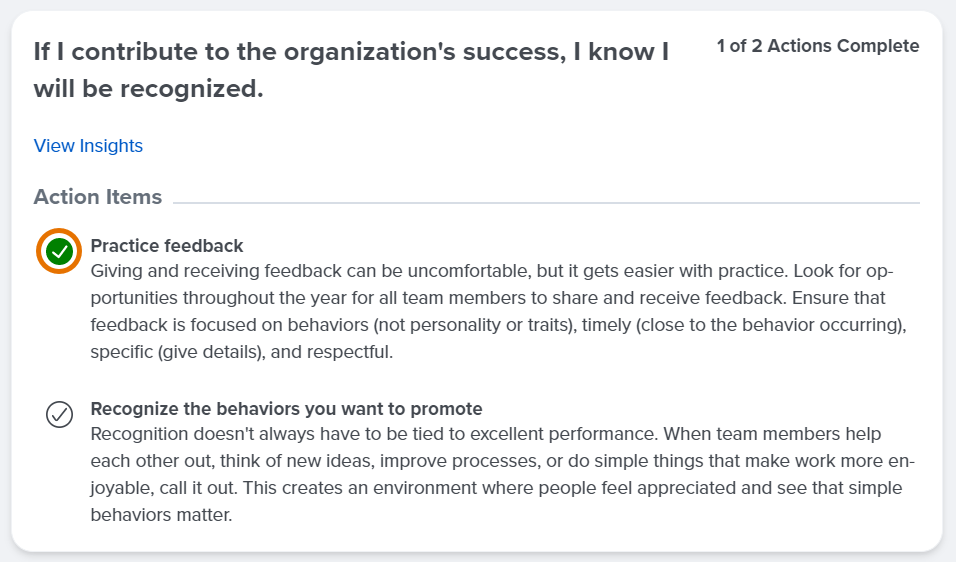 To add more Focus Areas to your plan or edit other aspects of your action plan, use the Edit Action Plan button in the bottom-right corner of the page.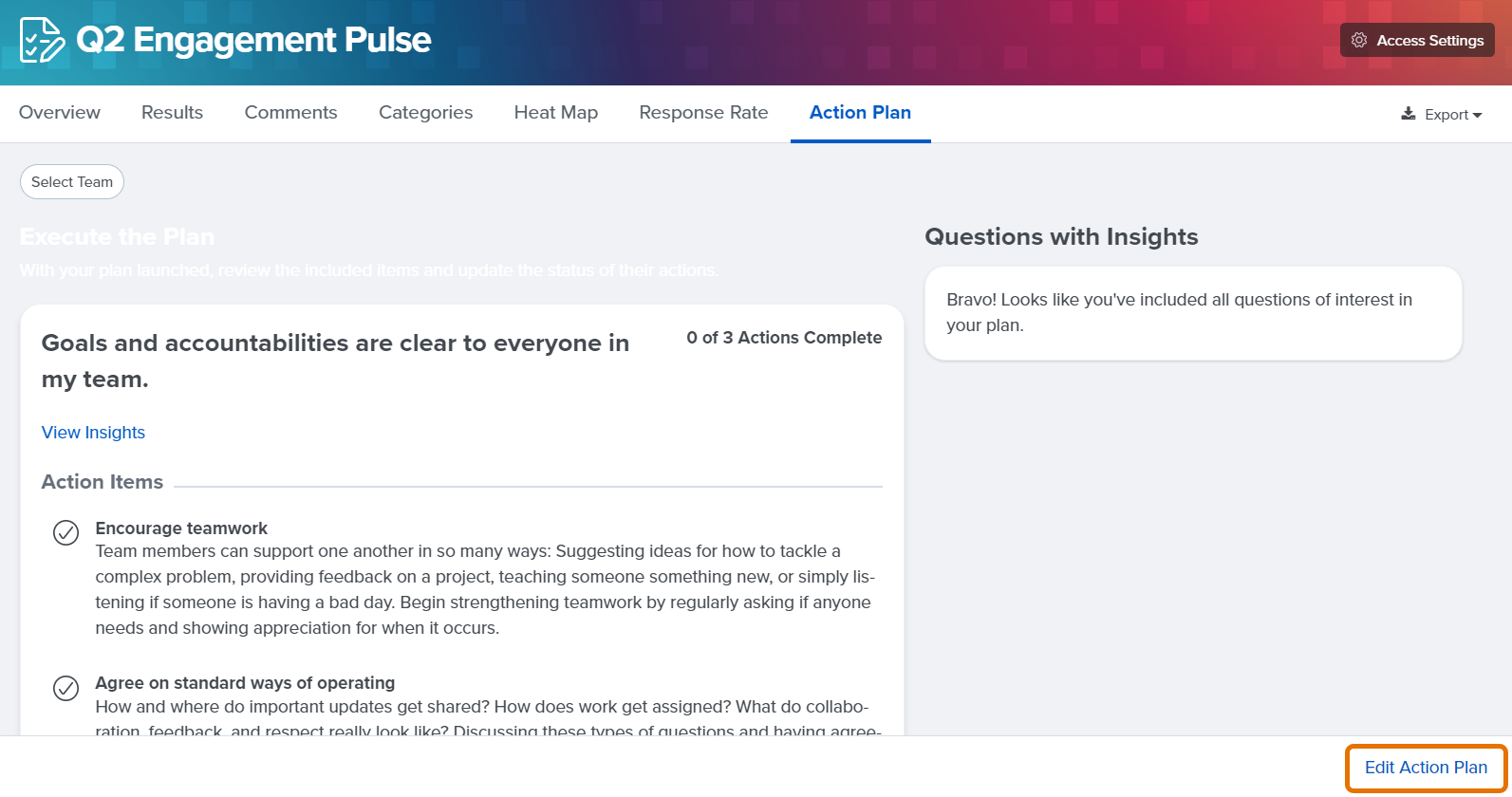 Navigating Action Plans within your Organization
Users with access to the survey results within Survey Analytics, like managers of managers or users with admin permissions, can view the action plans of their colleagues by using the Select a Team. functionality.

Action Planning Analytics
Admins can utilize Action Planning analytics to better understand the action planning happenings in their organizations via the Action Planning export and the Plan Tracking & Question Adoption reports.
To access Action Planning analytics, click and expand Analytics in the left-hand navigation menu, and click Action Planning.
The Plan Tracking Report
The Plan Tracking report contains information about the action plans and their status for each manager by survey. The three statuses are defined as:
Not Started – A Focus Area has not been added to the plan

Started – A Focus Areas has been added to the plan

Launched – The user has launched their action plan
The report also notes the number of action items for each action plan, as well as, the number of action items marked complete.
Use the Survey dropdown to filter the action plan data to a specific survey.

The Question Adoption Report
The Question Adoption report details the survey questions being utilized in action plans within your organization.
A summary of action plans, questions per plan, and action items per plan are displayed for additional visibility into action planning at the organization.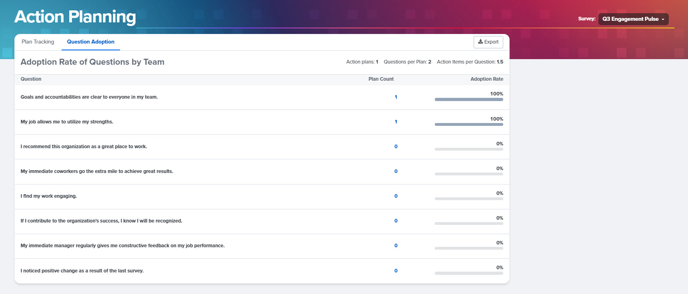 The Action Planning export
Within Action Planning analytics is an Excel export that provides additional visibility into action plans. Included in the export are the names and descriptions of the Focus Areas and Action Items for each manager, along with detailed information about the action plans within the organization.