In this article, you'll learn how Admins can initiate 1-on-1 conversations for any group of employees (this can be the whole organization or a subset of the population.)
Click here for instructions on how to create a 1-on-1 template as an employee using Quantum Workplace.
How to Create a 1-on-1 Template
Creating a 1-on-1 template gives you the opportunity to guide discussions between employees and their managers. These questions are to be reviewed and completed online by each participant before meeting in person for a more engaging and productive conversation.
Once you create a template, it can also be reused or modified for future 1-on-1s.
To create a template, navigate to Administration in the left-hand navigation menu and click 1-on-1s. Then click Templates, followed by New Template in the top-right.

Enter a name for your template in the text field and click Save and Continue. It's a good idea to name the template relevant to the types of questions you're going to include, e.g. Goal-Setting.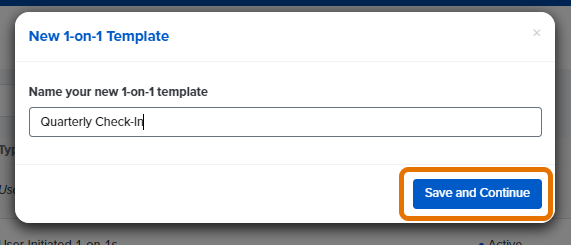 Click the + icon followed by Add Question to begin adding questions to the 1-on-1.



There are two things to point out when creating questions:
1. Click the Question Type drop-down to see all available question types. The default type is Open-Ended, however, you can choose between Multichoice, Scaled, Bullet Point, NPS or Agenda depending on the response you're looking for.
2. Use the Required toggle to specify whether each question requires a response or not in order to submit their responses.

Before entering the question text, specify whether the question is for the employee, facilitator or both. Then, enter the question text for the selected responders.
Please note, if you have Both Sides enabled, the text for both sides can be different.

Click Preview Template to see what the template will look like for the 1-on-1 participants.
Continue to click the + icon to add new questions or sections as you see fit. Once you've created your question set, click Finalize & Activate to make this template available for future cycles.
How to Launch a 1-on-1 Cycle
From Administration, select 1-on-1s. Click
New Cycle.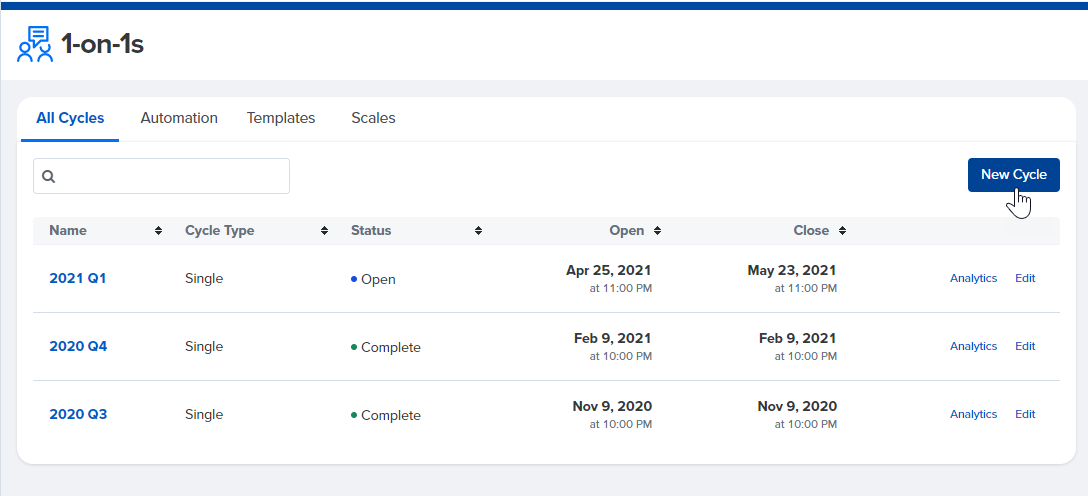 This takes you to the Cycle Setup page: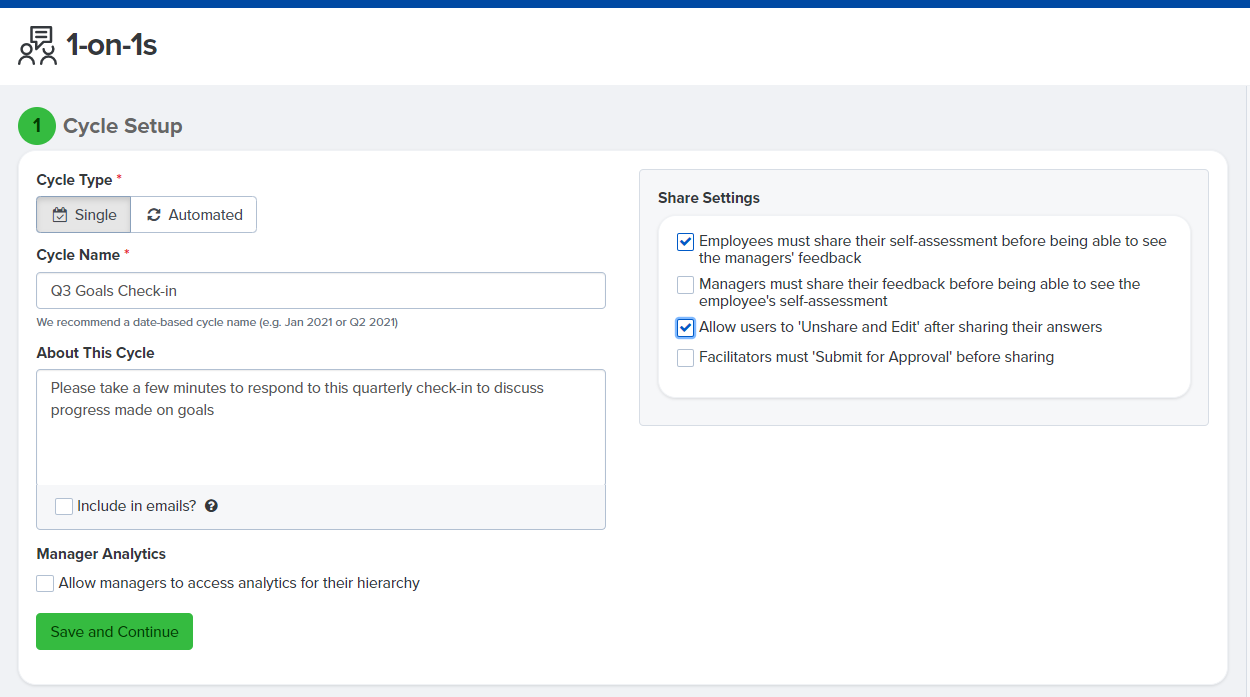 Cycle Type: Leave this set to single unless you intended to create a recurring cycle. The rest of this guide covers how to launch a single cycle. Click here for instructions on how to create an automated 1-on-1 cycle.
Cycle Name: Enter a title for this cycle
About This Cycle: Add any context or instructions about the cycle that you would like to include on the email invite. Check the Include in Emails? box.
Manager Analytics: Optionally, check the box here to allow managers to access aggregate Analytics for their employees (this includes direct reports and all down-line employees). Managers and Upline Managers will always be able to view 1-on-1s that occur in their downline individually-- checking this box just allows for managers to view aggregate analytics for the cycle.
Share Settings: Customize settings for the 1-on-1. The most popular configuration is to select boxes 1 (selected by default) and 3. Click Save and Continue.


Note on Share Settings: If you specify that Facilitators must Submit for Approval before Sharing, your managers will not share their 1-on-1 directly with their employees and employees will not be notified when their manager submits the 1-on-1 for approval. By default, once an Admin (or upline manager) approves the manager's 1-on-1 responses, the employee will be able to view them. Please contact your CSM if you would prefer to require managers to share their responses with the employee once they have been approved by an Admin or upline manager.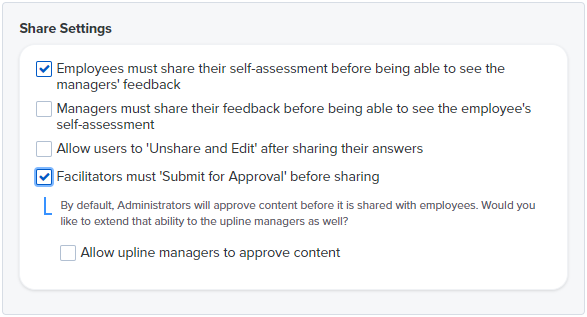 Step 2: Participants
6. Click Add Participants to select the employees who will participate in this 1-on-1 cycle with their managers.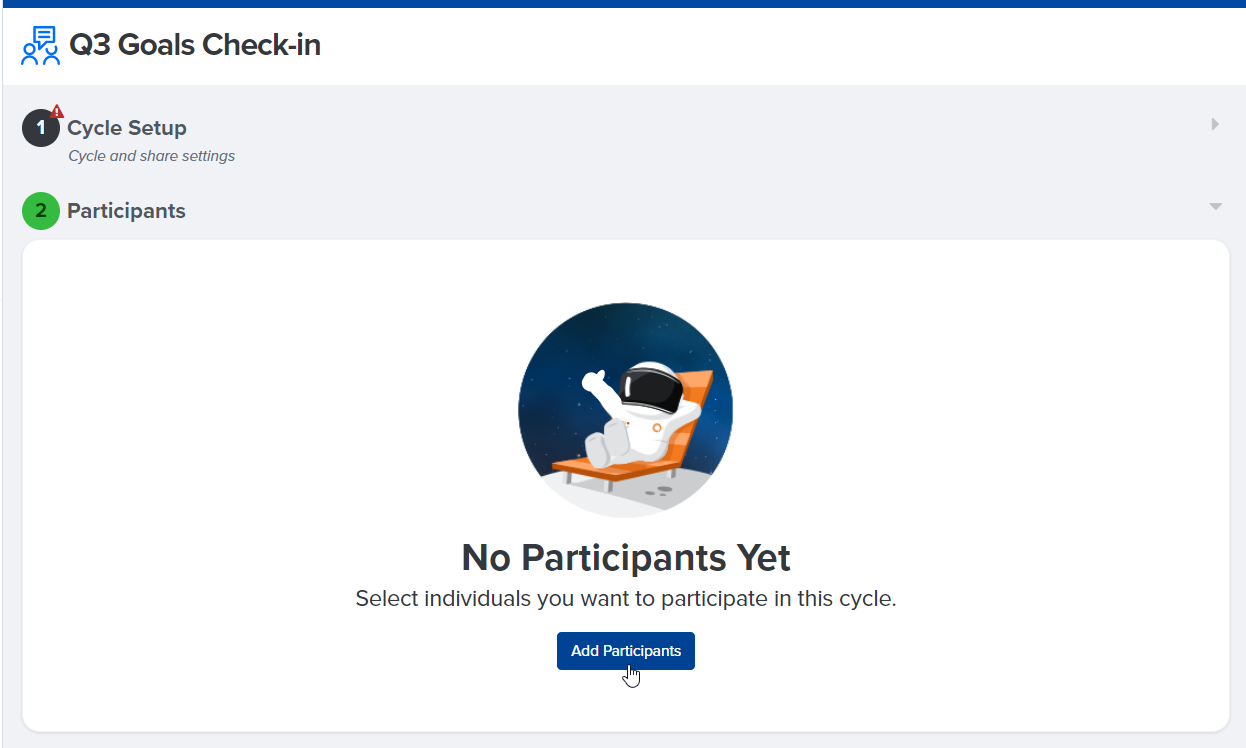 By default, the managers of the employees that you add to the 1-on-1 cycle will be invited to answer the manager/facilitator prompts in the 1-on-1, but you can manually remove the manager on file and invite a different person to answer the manager/facilitator prompts for any given employee.
You can use the People Search and Filter by demographic functionality to find employees and to invite a specific subset of your employees (e.g. a department) to participate in this 1-on-1.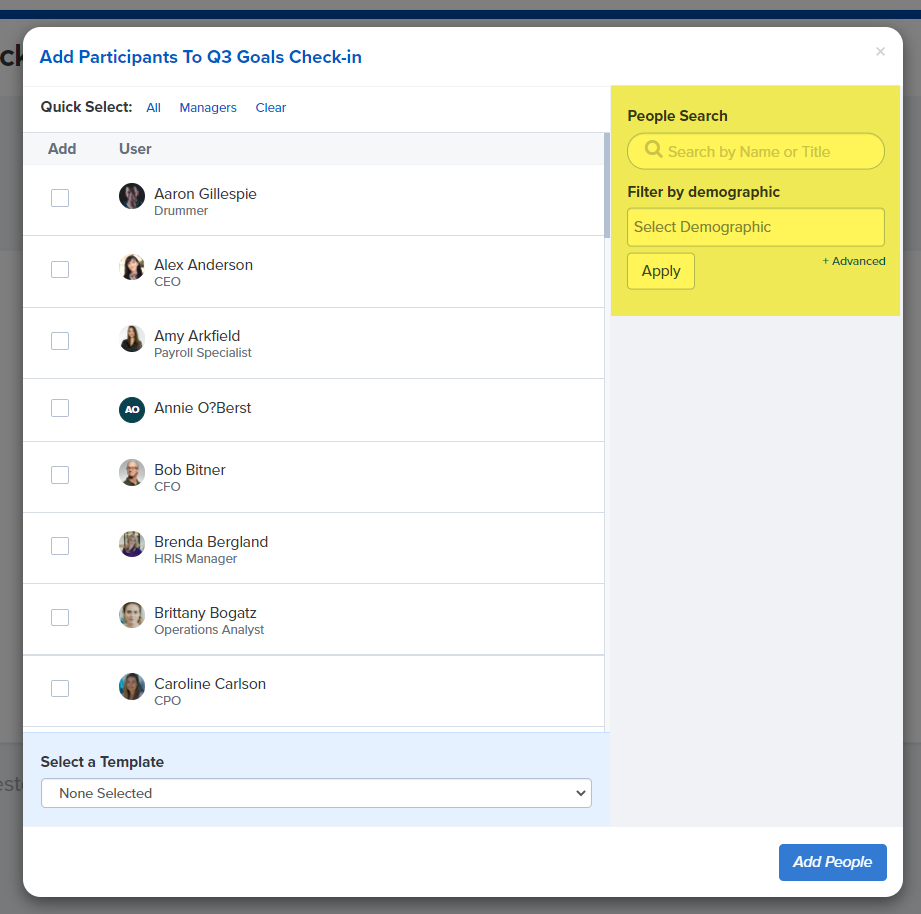 7. Once participants are selected, select the template that you would like to use for this cycle from the drop down and click Add People.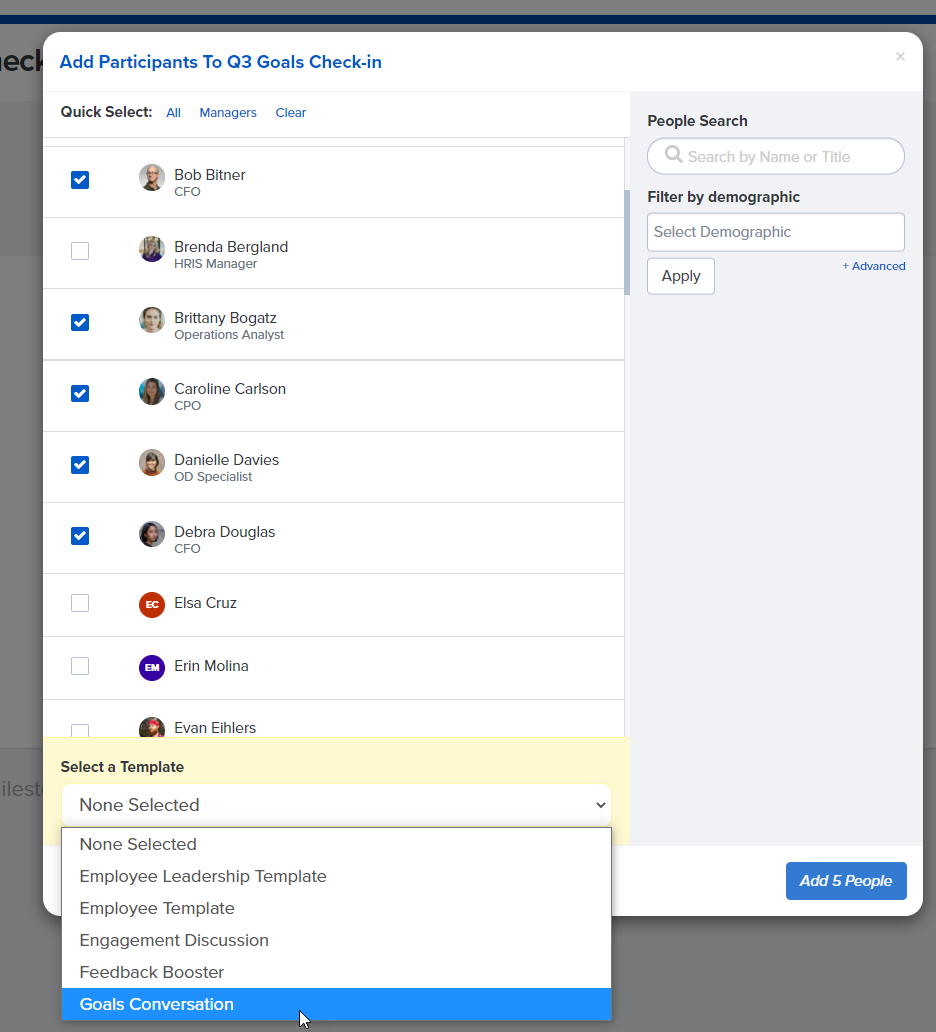 Note: You can select different templates for different groups of employees.


8. From the bottom left, click All Done.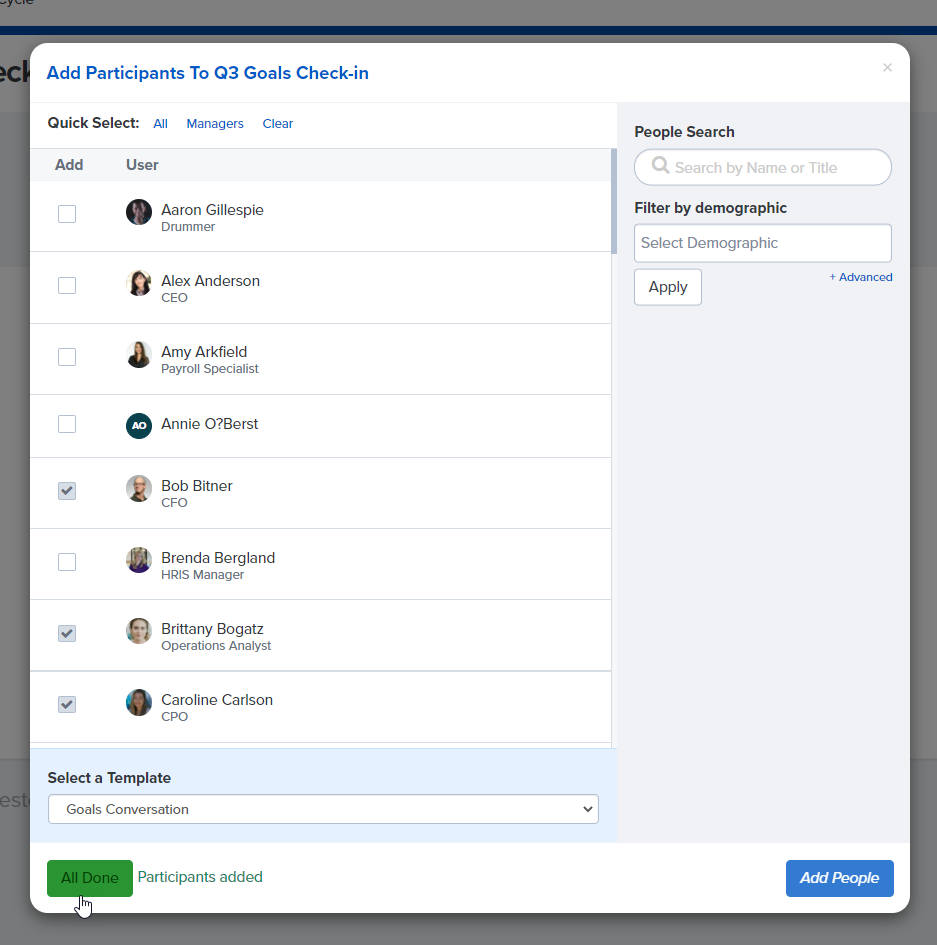 Once you click All Done, you will see the name of every employee and manager pairing who is slated to participate in this 1-on-1 cycle: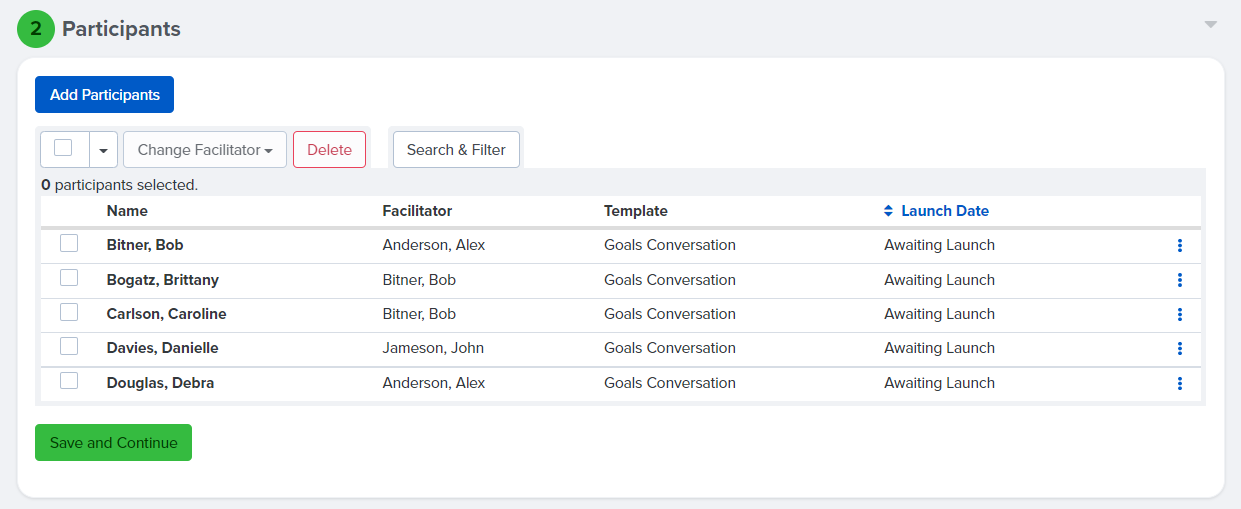 Note: A red exclamation mark next to an employee's name indicates that they have no manager on file and will not be able to engage in the 1-on-1 cycle until you manually add a facilitator for them. Select the box next to their name and click Change Facilitator to assign their facilitator.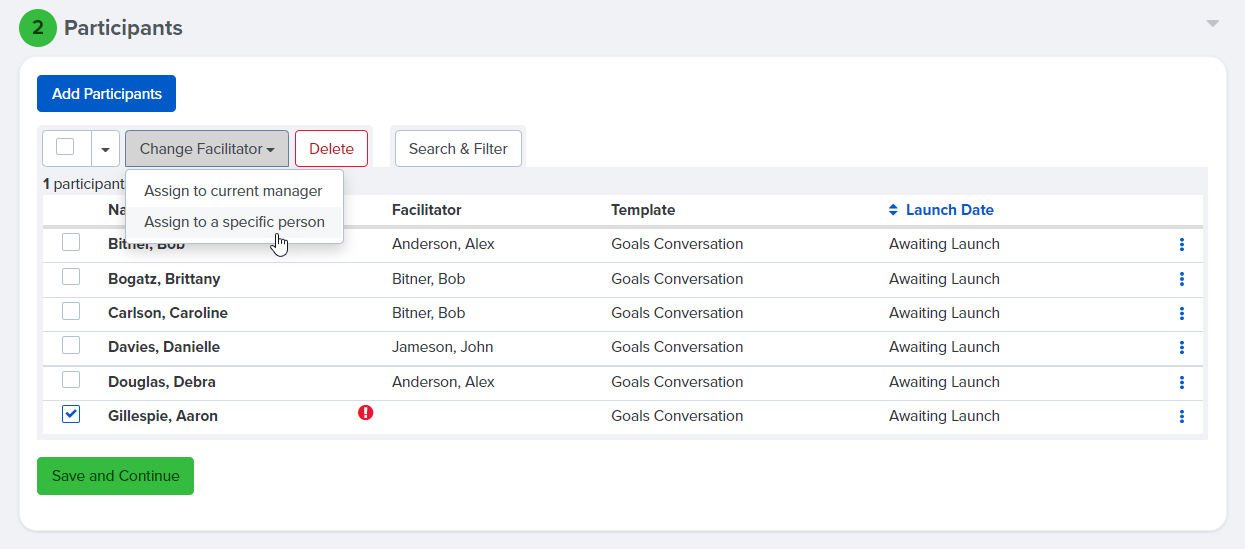 Set Schedule & Milestones
9. Set the dates for each milestone associated with the cycle. Select the date and time by clicking into each field and using the calendar picker to select the date and time.

Note: The cycle lock is the last date to fill out a 1-on-1; neither the Employee or Facilitator will be able to complete the 1-on-1 after this date. If you need to extend a 1-on-1 or update any of these dates at a later point, return to this section to update these milestones.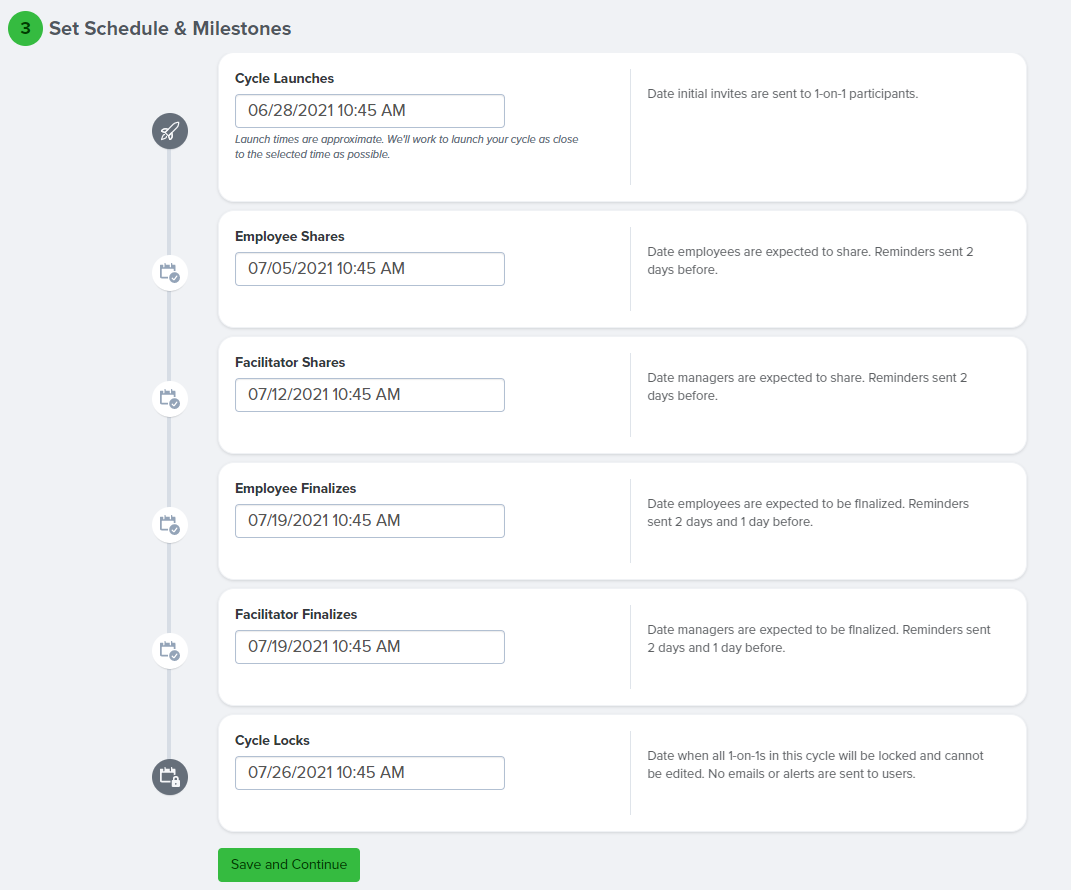 10. After you've set your dates, click Save & Continue and Launch/ Schedule Launch.