In this article, you'll learn how Admins can initiate 1-on-1 conversations for any group of employees (this can be the whole organization or a subset of the population.)
Click here for instructions on how to create a 1-on-1 template as an employee using Quantum Workplace.
Creating a 1-on-1 Template
If you haven't already created the particular template (question set), you want your employees and their managers to discuss in this 1-on-1, you'll need to complete this step first. This is where you will specify which questions employees and managers should respond to when they complete their portion of the 1-on-1 online before meeting in person to discuss. Creating a template gives you the ability to use a particular question set in the future.
To create a template:
Navigate to Administration and click 1-on-1s.
Click the Templates tab.
Select New Template.


Name your template; click Save and Continue. The name you give your template can be descriptive of the types of questions your employees and managers will fill out as part of this 1-on-1 (e.g., Goal-Setting).

Click New Question to begin adding questions to the 1-on-1. You can create scaled, open ended, Bullet Point, Agenda, or NPS items to the 1-on-1.
Alternatively, you can add a section header or pull in a conversation booster.

TIP: You can click Preview Template to see what the template will look like to the 1-on-1 participants.
6. Click Finalize & Activate to make this template available when you set up your cycle.


Launching a 1-on-1 Cycle
From Administration, select 1-on-1s. Click
New Cycle.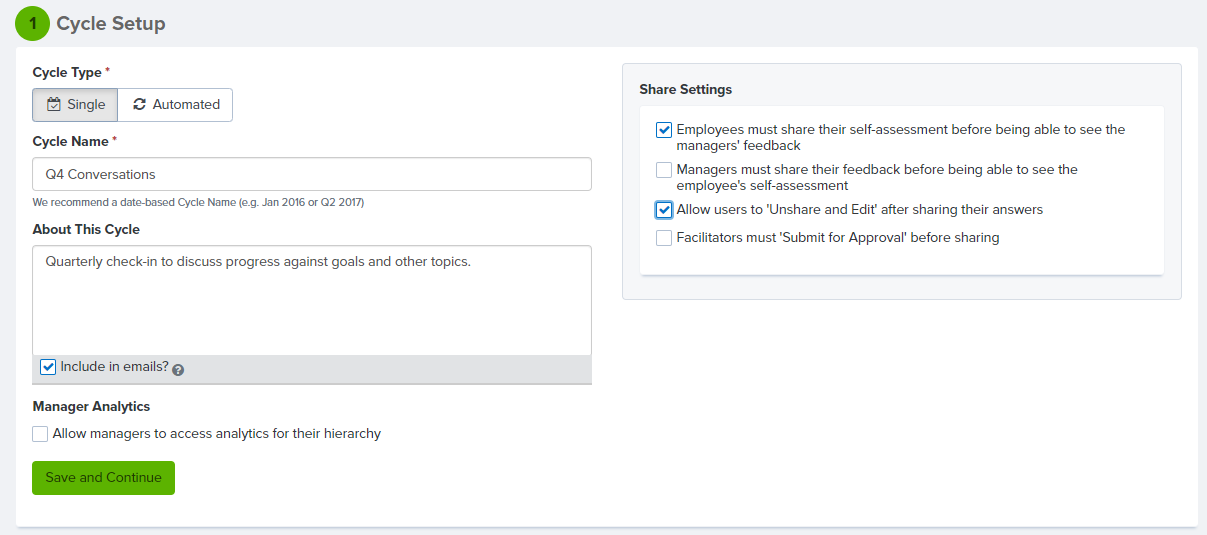 Cycle Type: Leave this set to single unless you intended to create a recurring cycle. The rest of this guide covers how to launch a single cycle. Click here for instructions on how to create an automated 1-on-1 cycle.
Cycle Name: Enter a title for this cycle
About This Cycle: Add any context or instructions about the cycle that you would like to include on the email invite. Check the Include in Emails? box.
Manager Analytics: Optionally, check the box here to allow managers to access aggregate Analytics for their employees (this includes direct reports and all down-line employees). Managers and Upline Managers will always be able to view 1-on-1s that occur in their downline individually-- checking this box just allows for managers to view aggregate analytics for the cycle.
Share Settings: Customize settings for the 1-on-1. The most popular configuration is to select boxes 1 (selected by default) and 3. Click Save and Continue.


Note on Share Settings: If you specify that Facilitators must Submit for Approval before Sharing, your managers will not share their 1-on-1 directly with their employees. Instead, all Admin users will be notified that the manager has submitted their 1-on-1 for approval. If you have allowed upline managers to approve content, the manager's direct manager will be notified as well. Employees will not be notified when their manager submits the 1-on-1 for approval.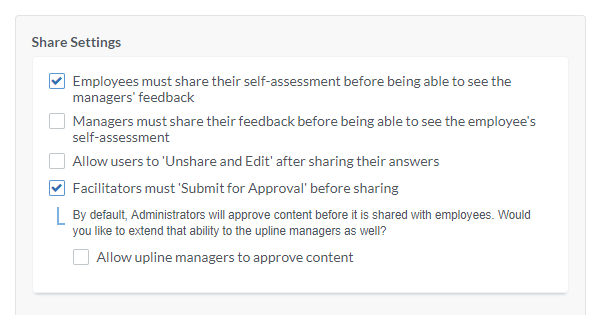 Step 2: Participants
6. Click Select Participants to add the employees who will have 1-on-1s with their managers; by default, if you add in employees their managers will be invited to participate in their 1-on-1. You can use the People Search and Filter Functionality to find specific employees.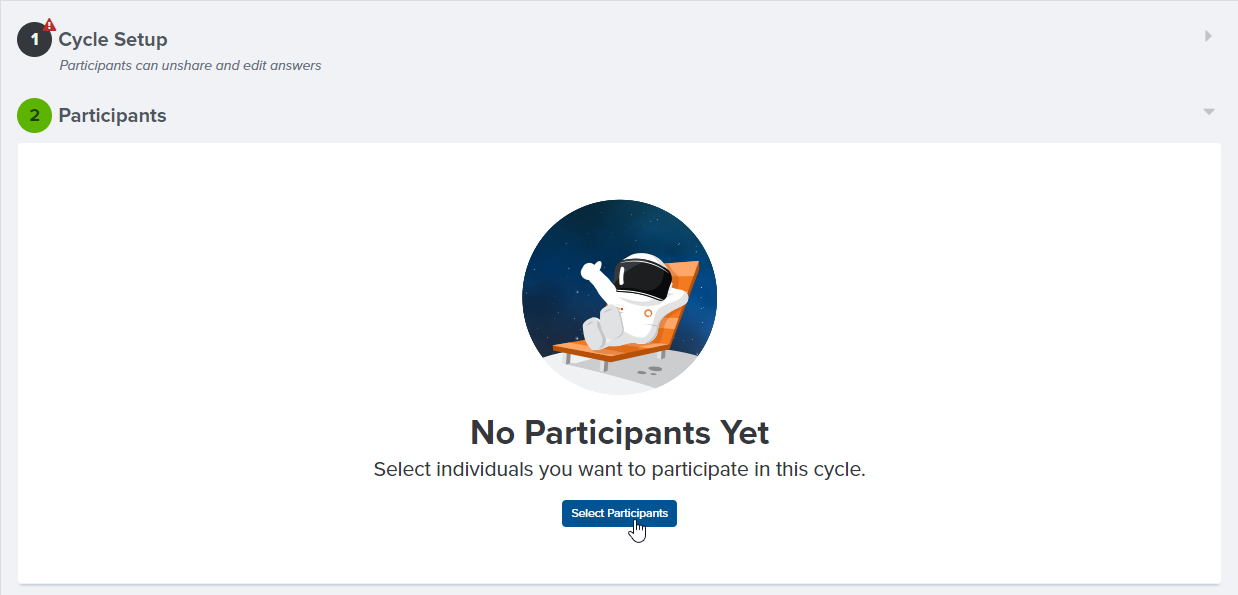 7. Once participants are selected, select your Template from the drop down and click Add X People (where 'X' is the number of participants you selected).
Note: You can add different templates for different employees.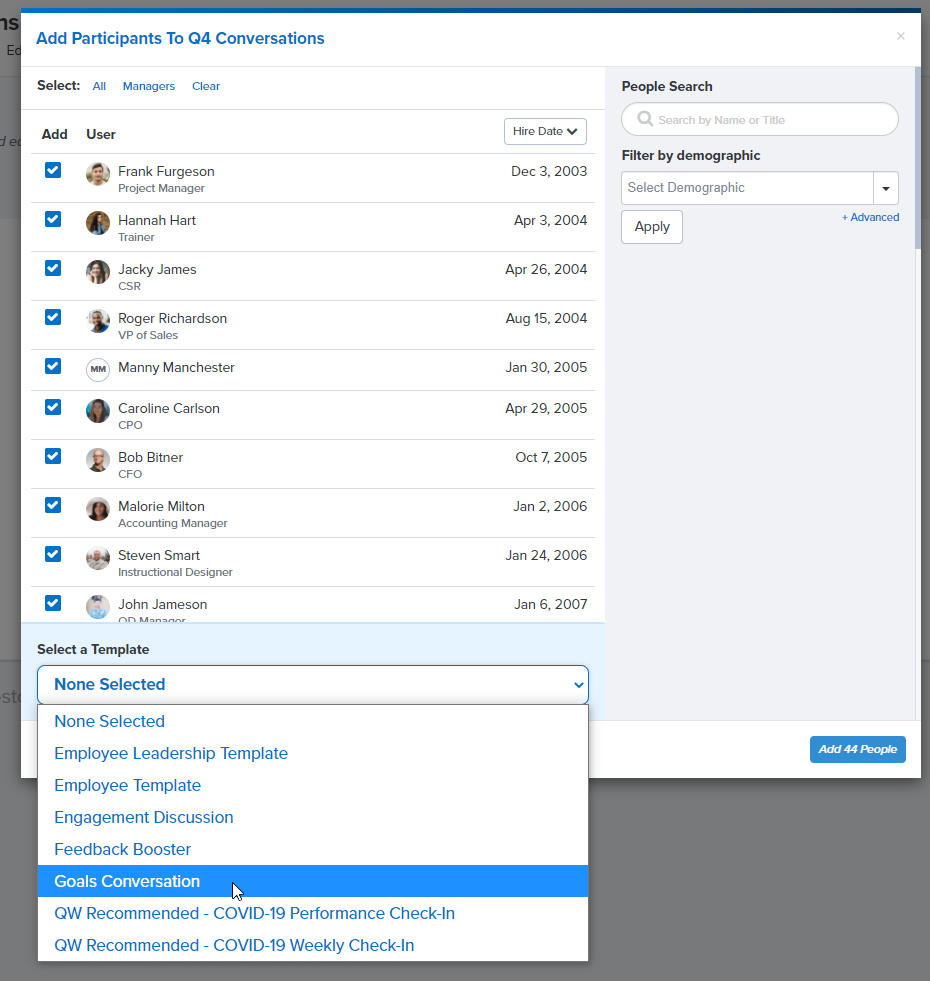 8. From the bottom left, click All Done. In the resulting screen, you will be able to see every employee who has been added to participate in the 1-on-1.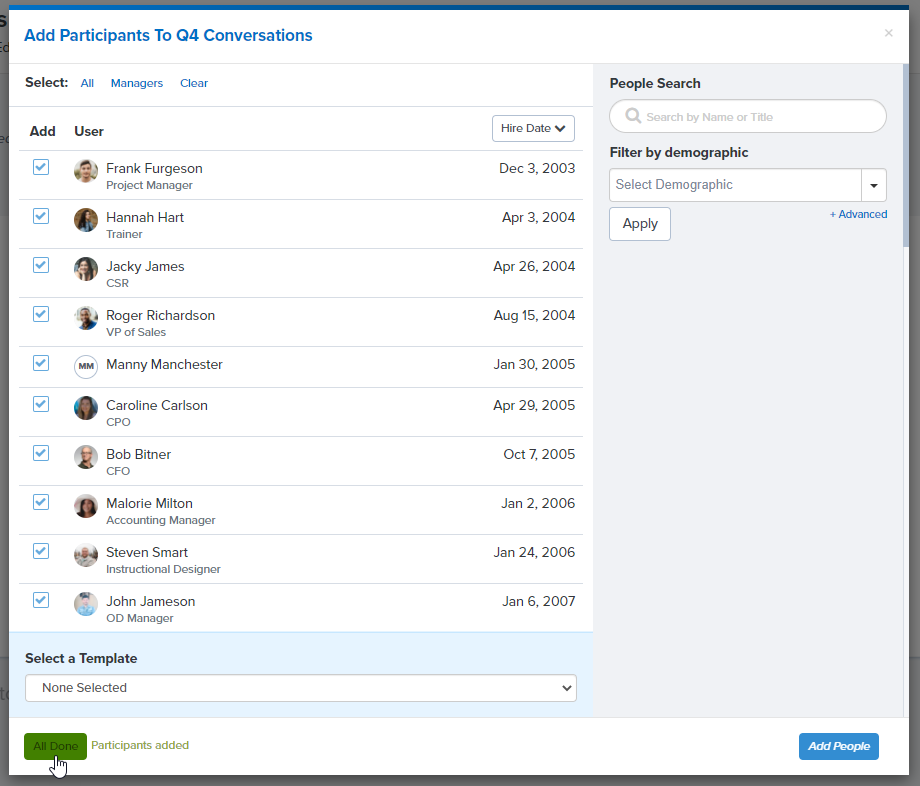 Note: A red exclamation mark next to an employee's name indicates that they have no manager on file and and will not be able to engage in the 1-on-1 cycle until you manually add a facilitator for them. Select the box next to their name and click Change Facilitator to assign their facilitator.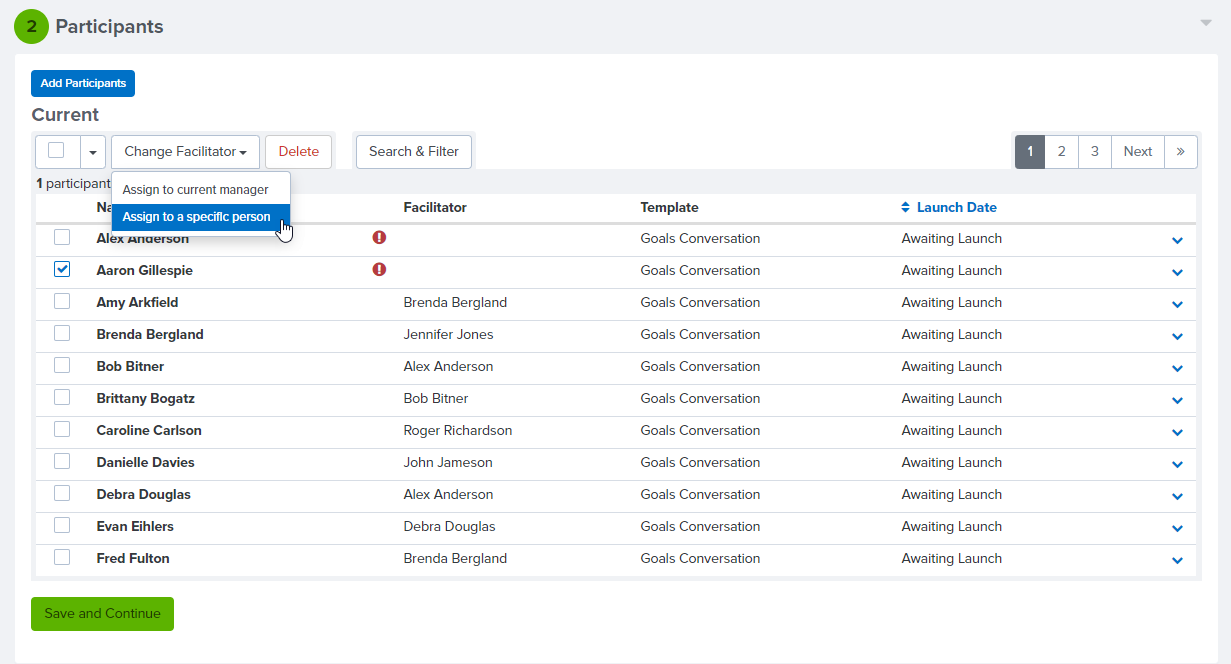 Set Schedule & Milestones
9. Set the dates for each milestone associated with the cycle. Select the date and time by clicking into each field and using the calendar picker to select the date and time.

Note: The cycle lock is the last date to fill out a 1-on-1; neither the Employee or Facilitator will be able to complete the 1-on-1 after this date. If you need to extend a 1-on-1 or update any of these dates at a later point, return to this section to update these milestones.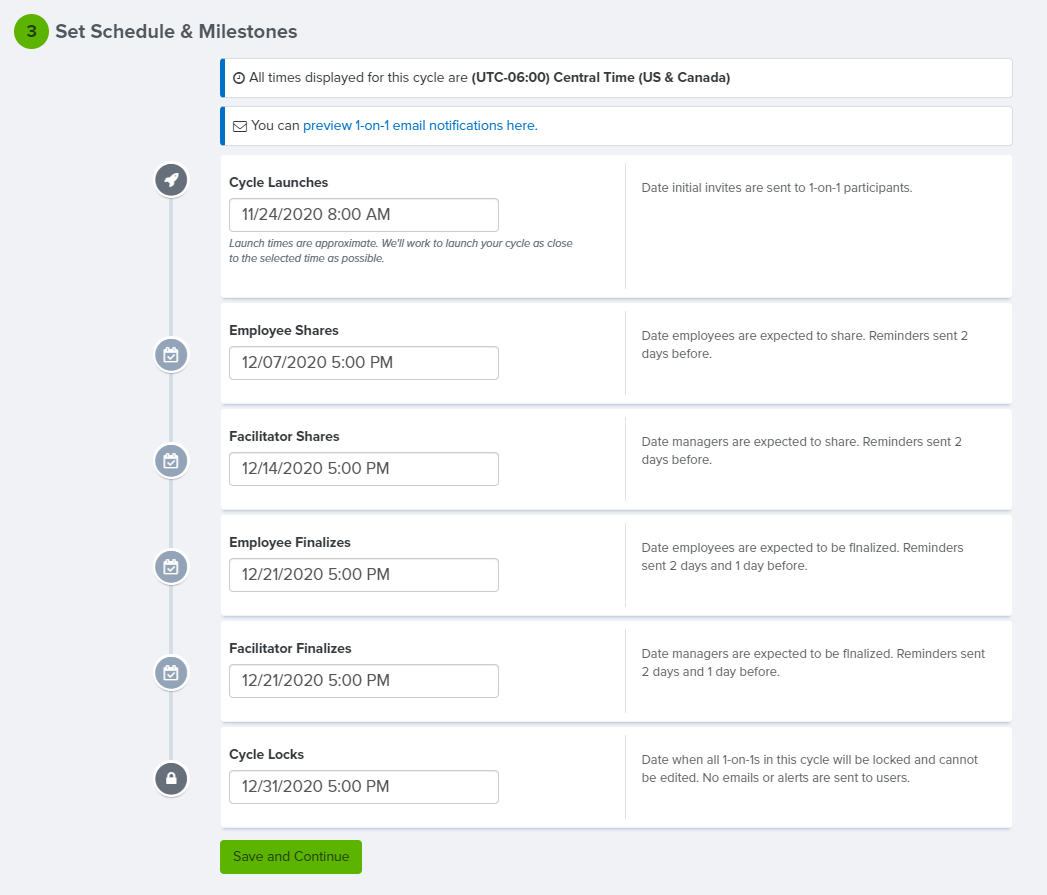 10. After you've set your dates, click Save & Continue and Launch/ Schedule Launch.